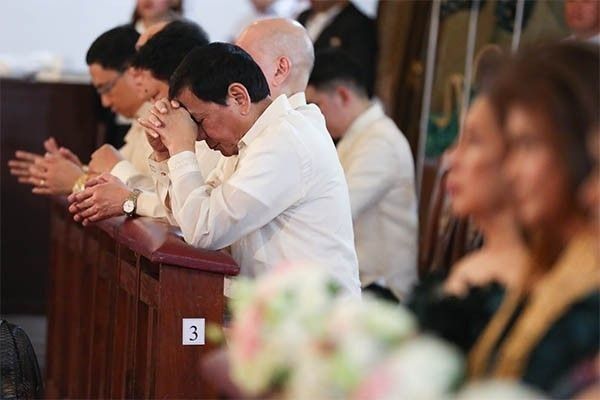 In this September 16, 2017 photo, President Rodrigo Duterte prays during the mass at the wedding of Waldo and Regine Carpio at San Agustin Church in Intramuros, Manila.
Presidential photo/King Rodriguez, File
CHR: Duterte's 'kill bishops' remark may embolden violence vs clergymen
MANILA, Philippines — The Commission on Human Rights raised alarm on President Rodrigo Duterte's renewed verbal attacks on the church as these might feed violence against members of the clergy.
The acid-tongue Duterte on Wednesday intensified his assault on religious persons by saying Catholic bishops are "useless" and better off dead.
"These bishops, kill them. They are useless fools. All they do is criticize," Duterte said in a mix of English and Filipino.
CHR stressed that the harsh words of the chief executive, who has been openly critical of the Catholic Church and its officials, may reinforce impunity.
"Statements that could embolden the violence against priests and other religious persons are gravely alarming in the face of continuing attacks against those deemed as critics of the government," CHR spokesperson Jacqueline De Guia said.
She also called on the government to take the concerns of religious people as "valid challenges from the ground and as means to improve, rather than degrade, protection of human rights for all" instead of calling them "useless."
Panelo: Duterte's remark only for 'dramatic effect'
His spokesperson, Salvador Panelo, downplayed Duterte's remark, saying the president was just using "hyperbole."
"We should be getting used to this president. He is making these statements for dramatic effect," Panelo said, who later on added that he agrees with his wife's statement that the president only meant to "kill them with kindness."
Palace officials often dismiss Duterte's controversial pronouncements as jokes.
Last week, Duterte engaged in a verbal tussle with Caloocan Bishop Pablo David, one of his critics. He alleged that the bishop of Caloocan is involved in illegal drugs.
Several clergymen have been killed since Duterte took the helm of the nation. Critics say that the verbal attacks of Duterte might have fed violence against priests.
In several instances, Duterte lambasted the Catholic Church, calling God "stupid" and questioning its teachings, such as the Genesis creation story.
The comments raised comments not only from the Roman Catholic Church, but other Christian churches as well.
To ease the rift between the Church and Duterte, the government held a dialogue with leaders of religious denominations. But the result of the talk remains unclear.