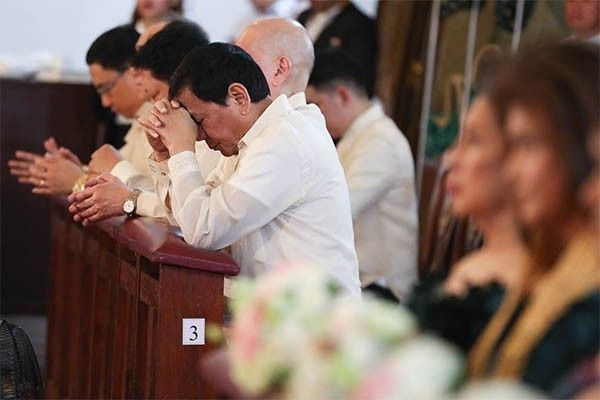 President Rodrigo Duterte prays during the mass at the wedding of Waldo and Regine Carpio at San Agustin Church in Intramurous, Manila on September 16, 2017.
King Rodriguez/PPD, file
Palace: Church officials should cease 'hostile language' too
MANILA, Philippines — Malacañang on Tuesday called for a ceasefire between President Rodrigo Duterte and some leaders of the Catholic Church who have criticized the president and his policies.
"It's always bilateral. If there's going to be cessation of hostile language, it has to be from both institutions," presidential spokesperson Harry Roque Jr said in a press briefing.
He issued the call a week before the scheduled dialogue between Duterte and Davao Archbishop Romulo Valles, the president of the Catholic Bishops' Conference of the Philippines, on July 9.
"I think it's not just the president who should be told that, as we hold this dialogue, that perhaps there should be ceasefire. It should also be told to some leading Church leaders as well," Roque said.
'Duterte no sitting duck'
The president's mouthpiece, however, warned that Duterte will not hesitate to retaliate if he gets criticized by the Church leaders again.
"If they talk against the president, expect that he will respond. He is not a sitting duck," Roque said.
Tension arose between Duterte and the Church leadership when the acid-tongue president called God "stupid" and questioned the Genesis creation story, which is part of the beliefs of Christians and of Jews.
The comments raised protest from Christian churches apart from the Roman Catholic Church.
To ease the rift between the Church and Duterte, the government formed a committee that will hold a dialogue with leaders of religious denominations.
Roque said on Monday that "it it not farfetched" said that some Catholic Church officials could partner with communist rebels to topple Duterte. The statement came days after Roque said there were no Church efforts to oust the president despite the critical stance of some leaders on many of his policies and actions.
The Valles-led CBCP did not issue a statement on Duterte's comment about the supposed stupidity of God allowing Adam and Eve to be tempted into eating the fruit of the "tree of knowledge of good and evil," an allegorical story used to illustrate free will.
READ: Palace now claims Church officials could back ouster plot
Duterte: My God will not create hell
A week after making a promise to keep quiet about the tiff with the Catholic Church and with Christian churches, Duterte spoke anew about his views on God and his critics from the religious sector.
In a speech during the founding anniversary of Southern Leyte last Monday, Duterte asked his critics not to use God to attack him.
"This is why I burst out of anger. They accused me and that made me curse out loud. To those religious who keep on criticizing me, this is how it is: Do not use God. Do not include him in your criticisms against me, 'God sentenced you to rot in there,'" the president said.
"Because when I answer, I will include your God as well because you used him against me. That's why I said that. Do not use God regardless if you're a priest or a bishop. Just work hard there," he added.
Duterte also claimed that his God is "not foolish unlike the other gods who would create a hell." Christians believe there is only one god.
"My God does not have heaven nor hell," Duterte said.
"Why would you create a hell?… What is my sin? Womanizing?...Would you still place me in hell? God is all forgiving. He does not know how to put you in hell. That's not true," he added.
"My God is tougher. I can make him maul your God. He's better."
Some Catholic bishops have been assailing Duterte's crackdown on illegal drugs, which has left about 4,000 drug suspects dead. Duterte, however, claimed that the Church has no moral ascendancy to criticize him because of its supposed failure to curb the sex abuses involving some priests.
Despite his differences with the Church, Duterte agreed to meet with Valles to discuss the relationship between the government and the religious sector. The meeting will take place on Monday in Malacañang. — Alexis Romero, with Job Manahan