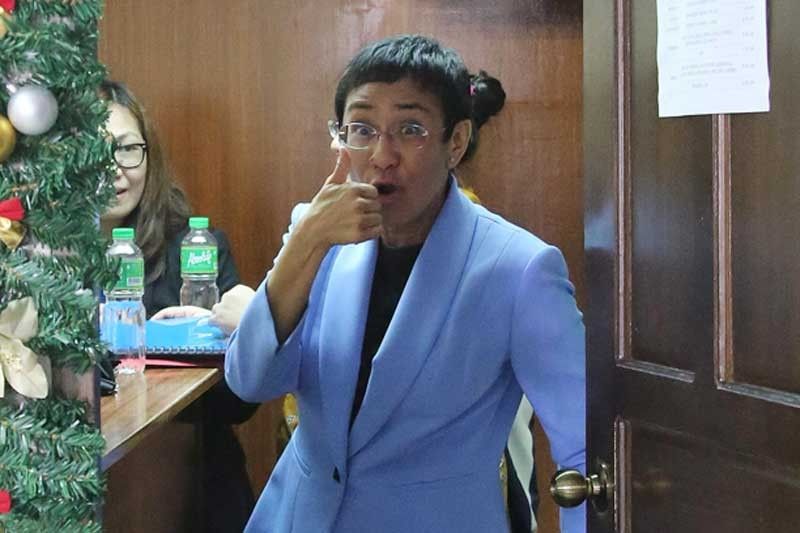 Rappler CEO Maria Ressa gives a thumbs up after posting bail of P60,000 at a court in Pasig City yesterday.
Michael Varcas
Rappler CEO posts bail, evades arrest
MANILA, Philippines — A Pasig City regional trial court (RTC) judge ordered yesterday the arrest of news website Rappler's chief executive officer Maria Ressa for alleged tax evasion charges but the veteran journalist posted bail.
In a one-page decision, Judge Danilo Buemio of the RTC Branch 265 issued the arrest warrant and recommended P60,000 bail for Ressa's temporary liberty.
Law enforcers were not able to serve the arrest warrant against Ressa after her lawyer posted the P60,000 bail bond before they could get hold of a copy of the warrant.
Malacañang had previously denounced Rappler for news reports criticizing the Duterte administration's deadly war against illegal drugs that had resulted in the deaths of thousands of drug users and pushers.
Palace officials, however, denied that Ressa and Rappler are being persecuted by the Duterte administration.
As of 3 p.m. yesterday, Chief Supt. Bernabe Balba, director of the Eastern Police District (EPD), admitted that they have not yet received a copy of Ressa's arrest warrant.
"Personnel from the Pasig City police are in the court waiting for Judge Buemio to return and get the copy of the arrest warrant," said Balba in an interview.
Ressa had undergone fingerprinting but no pictures were taken of her since she brought along her mugshots.
Buemio set the arraignment of the case on Dec. 7.
The EPD director noted that they could not effect the arrest of Ressa anymore as her lawyer had already posted bail.
The Department of Justice had filed five tax evasion charges against Ressa and Rappler.
Four of the charges were filed at the Court of Tax Appeals while another was filed at the Pasig RTC.
Presidential spokesman Salvador Panelo said Malacañang will never interfere with the function of the judiciary and the legislative.
If the judiciary finds probable cause for an information filed, everyone has to respect the law on the matter, Panelo said at a press briefing yesterday. - With Alexis Romero, Paolo Romero, Rhodina Villanueva