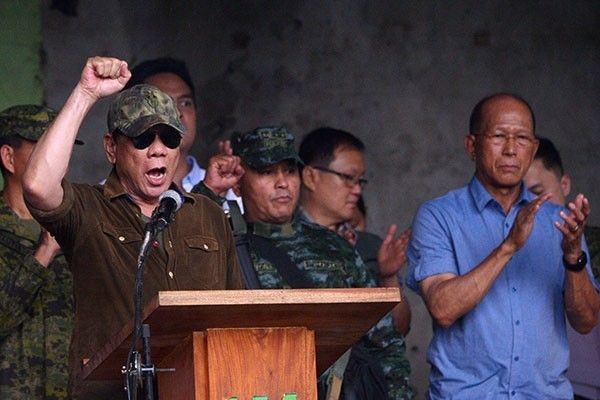 Defense Secretary Delfin Lorenzana said they would have to study the proposal of President Rodrigo Duterte to arm a "death squad" that would counter the New People's Army.
AFP/Ted Aljibe, File
Lorenzana wary of possible abuse, mistakes in proposed 'death squad'
MANILA, Philippines — Defense Secretary Delfin Lorenzana warned of "great danger of abuse or mistakes" on President Rodrigo Duterte's suggestion of creating a "death squad" to counter the New People's Army.
The president said that he wanted to arm a civilian unit to target the NPA's Special Partisan Units, which have been blamed for deaths of former communists and unarmed soldiers.
"We will study it very closely. Who will compose it, who will supervise it, who will be the targets. Who will be accountable," Lorenzana said.
The defense chief noted that there might be mistakes in identifying targets in undercover operations.
"One way to prevent this is for someone higher up to give the go signal after careful and thorough vetting. There should be no blanket authority among operatives," he said.
Sen. Antonio Trillanes IV, on the other hand, said Duterte's plan to create a death squad was only meant to instill fear among Filipinos.
"He is doing this because he feels that he is losing his grip on power and that fear is his only way to keep people in check," Trillanes said in a statement.
According to the opposition senator, the president only wants to deceive the International Criminal Court that he is only planning to create a death squad now and that he is not responsible for vigilante killings over the country in the past two years.
Trillanes also accused Duterte of diverting the attention of the media from several agreements entered by the government with China, the awarding of the third telco player to a "crony," and the P11-billion worth shabu shipment in Cavite in August.
"But, at this point in his administration, the public is already impatient and won't be intimidated anymore. They are demanding results based on his campaign promise of a better life," Trillanes said.
The senator pointed out that such "deceptive" tactics from the Duterte administration would not work with the ICC.
Earlier this year, the Philippines withdrew from its ratification of the Rome Statute that established the ICC. Duterte announced this a month after ICC special prosecutor Fatou Bensouda that she would be starting a preliminary investigation into allegations of extrajudicial killings in the Philippines.