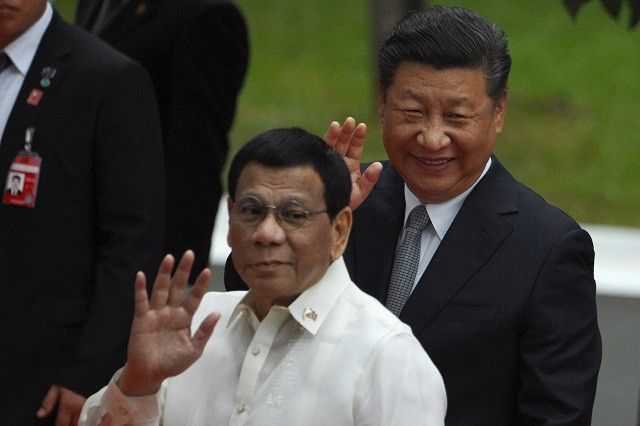 Philippine President Rodrigo Duterte and Chinese President Xi Jinping sign bilateral 29 agreements and deals on Tuesday, November 20
Ted Aljibe/AFP
China's Xi promises more aid to Philippines
(Philstar.com) - November 20, 2018 - 9:19pm
MANILA, Philippines — Chinese President Xi Jinping promised more aid to the Philippines on Tuesday evening, saying in remarks in Malacañan Palace that the support will come "in many forms."
"China will continue to do its modest best to help and support the Philippines. Our support will come in many forms from lending a hand to your counter-narcotics and counter-terrorism struggle," Xi said.
Rifles that China donated in 2017 have been distributed to police units, including the Special Action Force, which had been deployed to Marawi City when it was besieged by Islamic State-inspired terrorists.
Xi also said China would commit to "helping repair roads and bridges in Marawi and build new infrastructure there." China had previously turned over $3 million in heavy equipment to help in the rebuilding of the battle-scarred capital of Lanao del Sur province.
The five-month long conflict left the city center in ruins, thousands dead, and rehabilitation of "ground zero", also called the Most Affected Area, has yet to start despite a groundbreaking ceremony.
China was the only country that asked the United Nations in 2017 to support the Philippines' campaign to eradicate drugs despite criticism from human rights organizations.
China has also said it will defend the Philippines' human rights record from allegations of extrajudicial killings linked to the drug campaign.
READ: China to speak up for Philippines' rights record at UN, foreign minister says
Education, jobs and disaster assistance
"China will provide another 50 government scholarship grants for Philippine students on an annual basis from 2019 to 2021," Xi said, adding his country "will implement arrangement for Filipino teachers of the English language to work in China."
Xi was referring to an arrangement signed in April that would allow 100,000 Filipino English-langauge teachers to work in the mainland.
In 2017, the Department of Labor and Employment also mentioned the possibility for Filipino service workers to fill the demand for domestic workers in mainland China.
READ: Deployment of OFWs to China: Opportunities and pitfalls
Finally, Xi said his country would assist victims of Typhoon Ompong — a deadly typhoon that triggered landslides and killed at least 90 last September — by donating 10,000 tons of rice.

Following the remarks, 29 deals and agreements were signed by representatives of the two countries.