China to speak up for Philippines' rights record at UN, foreign minister says
October 31, 2018 | 9:35pm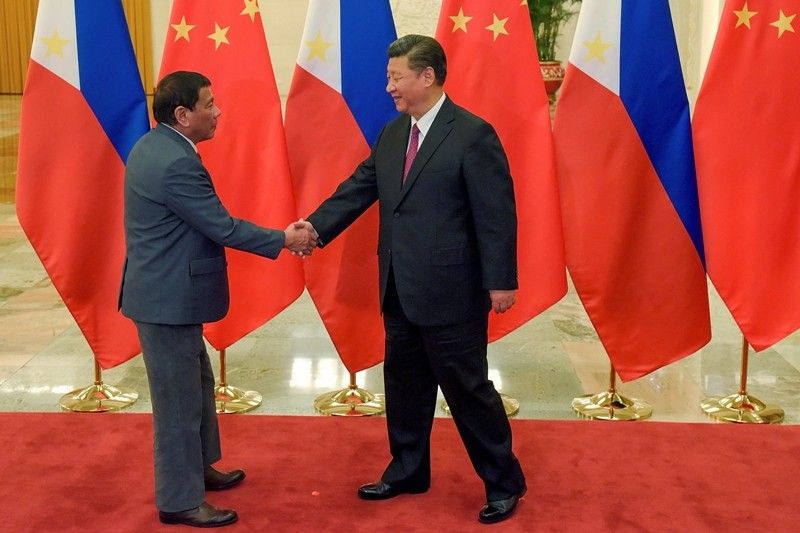 MANILA, Philippines — Chinese State Councilor and Foreign Minister Wang Yi has vowed to defend the Philippines at the United Nations and in other international human rights forums.
"China is continuing to provide support in terms of assistance in intelligence sharing and capacity building. We are going to speak up for the just causes of the Philippines in the United Nations, UN human rights organizations and other multinational occasions," Wang was quoted by state news website Xinhua.
China's foreign minister made the statement amid questions over reports of mass camps in the western territory of Xinjiang, where members of its Uighur minority are reportedly being held as part of a counterterrorism program.
China has, in the past, defended the Philippine government's campaign against illegal drugs against concerns on alleged human rights abuses. In 2017, its Foreign Ministry told the UN that "drugs are the common enemy for all human beings."
"We hope the international community can respect the judicial sovereignty of the Philippines and support its efforts in fighting drug-related crimes through cooperation," a ministry spokesperson also said then.
The Philippine National Police said in June that it had recorded 22,983 cases of "deaths under inquiry" since President Rodrigo Duterte took office in 2016. The Philippine Drug Enforcement Agency said earlier this month that 4,948 "drug personalities" have been killed in anti-drug operations since the "war on drugs" started.

READ: PNP: 22,983 deaths under inquiry since drug war launched
China, in March, also expressed support for the Philippines' decision to withdraw ratification of the Statute of Rome and leave the International Criminal Court after its prosecutor, Fatou Bensouda, announced a preliminary examination into alleged abuses in the Philippines' campaign against illegal drugs.
"The international community should give more understanding and support to those efforts instead of pointing fingers and casting blames," China's foreign ministry said then.
The ICC prosecutor's preliminary examination remains a sore point for the president, who rants against Bensouda and the court in his speeches.
Duterte has also been slammed by human rights organizations for his mysogynist comments and for attacking women's rights defenders.
READ: Int'l coalition slams Duterte admin's sexism, attacks on women rights defenders
Economic, security cooperation
China's foreign minister was in the country to highlight strengthening of economic and security cooperation between the two Asian neighbors.
He emphasized China's support of the Philippine president's campaign against narcotics and terrorism.
"President Rodrigo Duterte has launched fights against illicit drugs and terrorism. This is a just cause which is conducive to providing a tranquil environment for the economy and peoples' lives," Wang said.
Duterte has been pursuing warmer ties with China since 2016, when he announced his "separation from United States" while also saying, perhaps in jest, that the Philippines would "be dependent" on the regional power.
READ: Duterte announces military, economic break with US
Since then, the Philippines has secured at least $24 billion in investments from its neighbor, while an estimated 3 million Chinese nationals have been allowed entry into the Philippines for both travel and work.
Sea dispute
The West Philippine Sea, the part of the South China Sea that Manila claims, remains a point of contention between the two countries.
Despite winning a favorable ruling at the Permanent Court of Arbitration in The Hague in 2016, the Philippines has opted to pursue investments and economic ties with China, citing the country's inability to go to war over the dispute. Critics of the approach have said that there are other ways, like diplomacy, to assert Philippine sovereignty without going to war.
In July, Duterte said that he would commit to defending the Philippines' territory, but without resorting to war.
READ: Duterte's vow to defend West Philippine Sea lauded, supported
Wang: Situation in South China Sea has improved
Both Wang and newly-appointed Philippine Foreign Affairs Secretary Teodoro Locsin, pledged on Monday to continue joint efforts to advance consultation on the Code of Conduct in the South China Sea.
Wang says that thanks to the reneewed ties between the two countries, the situation in the South China Sea is improving compared to previous years.
"Countries concerned have returned to the track of dialogue and negotiations and consultations to properly handle the differences, together with the Association of Southeast Asian Nations countries, China and these countries are jointly upholding peace and stability in the South China Sea," Wang was quoted as saying in the Xinhua report.
Philippine and Chinese officials on this visit have lined up at least five economic agreements with China ahead of Chinese President Xi Jinping's November visit.
Finance Secretary Carlos Dominguez said the agreements include loans and guarantees, economic and technical cooperation, support for the feasibility studies on Philippines' infrastructure projects, and documents promoting cooperation on Mindanao infrastructure projects.

READ: Philippines lines up 5 economic agreements with China