PNP to get second batch of rifles from China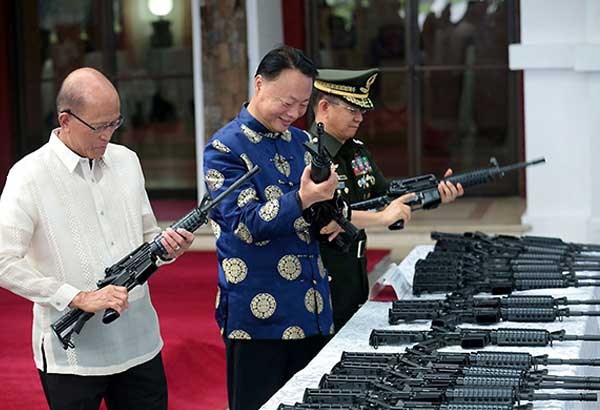 MANILA, Philippines — The 3,000 assault rifles donated by China to the Philippine military yesterday will be handed over to the Philippine National Police (PNP) as ordered by President Duterte, Defense Secretary Delfin Lorenzana said.
The rifles, the second of several batches, will just go through the Armed Forces of the Philippines logistics office for recording before these would be sent to the police office, he added.
"If you remember, the PNP tried to buy 26,000 firearms from a dealer in the US but it has taken them too long to deliver," Lorenzana said, pointing out that China is also there to meet this urgent requirement.
The first batch of assault weapons are currently being used by the PNP's elite Special Action Force (SAF) fighting alongside the military in Marawi City against the Maute-Islamic State terrorists. It is also being used in counter-insurgency, maritime protection, and all police anti-drug operations.
China's ambassador Zhao Jianhua said the turnover of the rifles is "another demonstration of the commitment we have to friendly and cooperative relations with the Philippines."
He hopes that the efforts to combat terrorism in the country would result in peace and stability in the Asian region.
Also in yesterday's ceremonies, Lorenzana downplayed the alarm raised earlier after several Chinese ships were seen near the Philippine-occupied island of Pag-asa in the disputed Spratly archipelago.
He said this is routinary and should not cause undue alarm among the Filipino troops deployed in the island town as the Chinese ships as well as those coming from other countries were out to pursue their missions in the contested region.
"So you saw a lot of ships there, saw ships in the distance. If you stand at the end of the runway in Pag-asa, you can see already the Subi Reef, the structures there. And then there are Chinese ships, fishing ships in the vicinity," Lorenzana pointed out.
The defense chief recounted his own experience when he visited Pag-asa last April and saw a Philippine Navy ship nearby and a number of Chinese ships anchored at the Chinese-reclaimed Subi Reef.
Pag-asa Island, aside from being a military outpost is also home to around 200 civilian inhabitants of Kalayaan town and is only around 12 nautical miles from Subi Reef.
"It's natural that you can see a lot of ships there but it doesn't mean that these ships are doing illegal things or harassing other people. They are just there maybe to pursue their missions in accordance to their claims," Lorenzana said.