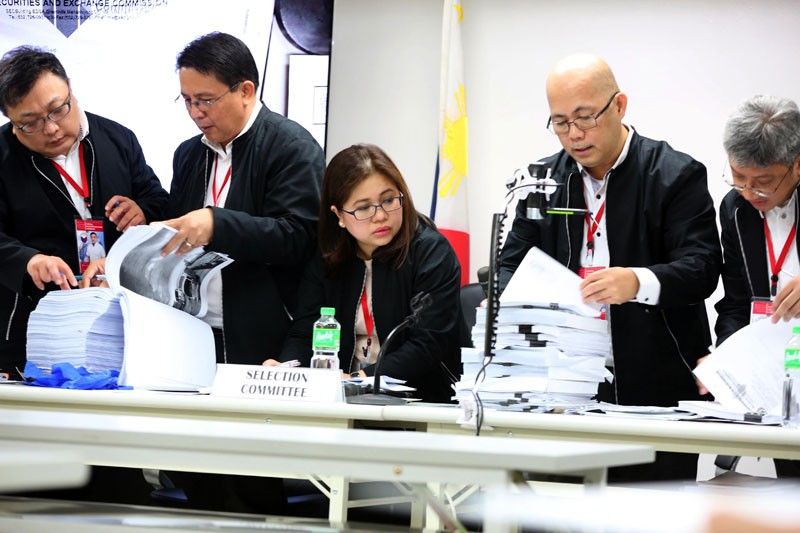 National Telecommunications Commission selection committee chair Ella Lopez (center) leads the opening of bid documents submitted by representatives of companies eyeing to become the third major player in the telecommunications industry during a screening at the NTC office in Quezon City yesterday.
Boy Santos
China firm, Dennis Uy group win 3rd telco license
MANILA, Philippines — A consortium of a Davao-based businessman and known supporter of President Duterte and a state-owned telecommunications provider from China has emerged as possible challenger to telecommunications giants PLDT and Globe.
The partnership of Dennis Uy's Udenna Corp. and China Telecommunications Corp. was named yesterday as the provisional new major player, subject to document verification by a selection committee.
The group emerged as the lone qualified bidder, edging out three other groups which had submitted formal offers to the government. There were originally 10 groups aspiring to be the country's third major telecom provider.
"We want to commend the NTC (National Telecommunications Commission) for a fair and transparent selection process. We are honored and humbled to be chosen the provisional new major player and on behalf of Udenna, Chelsea and China Telecom, we promise that we will work very hard to give the Filipino people world class telecommunication services that they deserve," Udenna spokesman Adel Tamano said.
Udenna and subsidiary Chelsea Logistics Holdings Corp. announced yesterday morning that they were teaming up with China Telecom and congressional franchise holder Mindanao Islamic Telephone Co. to form the Mislatel consortium and make formal its participation in the NTC's selection process for the new major player in the Philippine telecommunications market.
"The consortium is confident that Udenna Corp.'s extensive supply chain and knowledge of local industries will complement the world-class technology and telecommunications expertise of China Telecommunications Corp., one of the world's largest and most experienced fixed and mobile network operators. Meanwhile, Chelsea Logistics Holdings Corp.'s expertise in logistics and distribution will enable the speedy development of the network," Mislatel consortium said in a statement.
Should it become the country's new major telco player, the consortium said its immediate priority would be to prepare and consolidate all the required resources so it could provide the best telecommunications services that Filipinos have been clamoring for.
The consortium garnered a total of 456.80 points based on the highest committed level of service selection model consisting of three selection criteria – national population coverage, minimum average broadband speed and capital and operational expenditures.
It has committed network coverage of 84 percent of the population in the entire country after five years, with total investments of P257 billion.
Breaking duopoly
However, the country's third telecommunications player that is expected to break the existing duopoly in the sector is still facing uncertainties as controversies marked the highly anticipated bidding yesterday.
Publicly listed company PT&T and a Chavit Singson-backed LCS Group of Companies and TierOne consortium were the two other groups that submitted bids.
However, after a preliminary evaluation conducted by the new major player selection committee, only Mislatel's bid was given the green light, with the PT&T and LCS-TierOne bids turned down for lacking certain requirements.
LCS-TierOne failed to submit its participation commitment, while PT&T failed to submit a certification of technical capability from the NTC.
Both parties, however, have manifested their intention to file a motion for reconsideration.
The parties have three days to submit their motion for reconsideration and the selection committee has three days to act on it.
"If you look at it, we complied with all the requirements. All the requirements are there, except for a certification from the NTC. Of course we have to go to court to get relief as to why is that the case because if they have given us the certification, we would have complied 100 percent," PT&T president James Velasquez said.
PT&T filed on Tuesday a petition for declaratory relief before the regional trial court of Makati City.
For its part, TierOne said it intends to file a case against Mislatel for breach of contract.
"Our issue is against Mislatel, not Udenna. To stop Mislatel from allowing its franchise to be used by somebody else in the absence of a prior consent by its counter-party, which is Digiphil," TierOne legal counsel Raoul Creencia said, noting that Digiphil is a member of the LCS-TierOne consortium.
"There is a limitation in the use of the franchise in the sense that Mislatel cannot allow, is not allowed to have its franchise permits and franchises used by somebody else without a prior official consent of DigiPhil," he said.
"DigiPhil, in other words, has the right of first refusal. The prohibition actually is not absolute. For as long as we get the consent of Digiphil, Mislatel can actually consort and partner with someone else but they did not," he added.
If Mislatel would be adjudged to have breached the contract, Creencia said it would therefore be declared not eligible to partner with the Udenna and China Telecom, leaving the group with no congressional franchise holder.
A total of 10 parties, both foreign and local, had previously purchased the P1-million selection documents from the NTC: AMA Telecommunications Corp., China Telecommunications Corp., PT&T, NOW Telecom Inc., Telenor ASA Group, Udenna Corp., LCS Group of Companies and TierOne, Mobiltel Holding GmbH, Converge ICT and an undisclosed bidder. But as it turned out, most of the companies did not participate.
NOW Telecom, which had earlier filed a petition for the issuance of temporary restraining order and a preliminary prohibitory injunction against the government's third telco selection process, opted not to push through with its planned participation.
NTC case
"We are withdrawing from the new major player bidding due to our case with the NTC; our case for the injunction has been denied by the Manila RTC. We are choosing to elevate this to the Court of Appeals. And our potential filing for the new major player bidding will potentially affect the case and we were advised by our legal counsels not to submit our bidding documents at the moment," NOW Corp. investor relations officer Miguel Lopez said.
Another group that had been expected to bid was the tandem of Converge ICT and KT Corp. of Korea.
In a statement, the Converge-KT tandem said while the market and industry outlook was financially viable, "the conditions imposed for participation render the venture commercially unviable."
"The new major player is required to incur an inordinate amount of funds and carry out commitments at a pace that was not required of the current dominant service providers," it said.
"The terms of reference is skewed to encourage the new major player to compete in territories that are already served by providing services that are costlier to maintain, thereby driving competition at the higher end but smaller range of the consumer market. In contrast, the dominant players are not required to face the severe forfeiture of franchises if minimum speed commitments are not met," it added.
For his part, Department of Information and Communications (DICT) acting chief Eliseo Rio said he was contented with the outcome of the bidding, but expressed surprise at the action of some aspirants.
"We would have been happier if there were more bidders, especially Converge who partnered with KT. We were really expecting that they will come up with a bid. But as a whole it's OK, we started with 10 contenders who bought bid documents that is P1 million, non-refundable," Rio said.
"They are free to come up with their motion for reconsiderations. It's part of due process," Rio added.
Under Memorandum Circular No. 09-09-2018, or the rules and regulations on the selection process for a new major player, bidders should have a congressional franchise, a paid capital of at least P10 billion and with experience in the provision, delivery and operations of telecommunications services for the last 10 years on a national scale.
Globe Telecom, meanwhile, welcomed the entry of a telco challenger, saying it can help foster a healthy competitive environment and ultimately benefit consumers.