US Navy chief visits Philippines, receives updates on South China Sea
October 30, 2018 | 1:09pm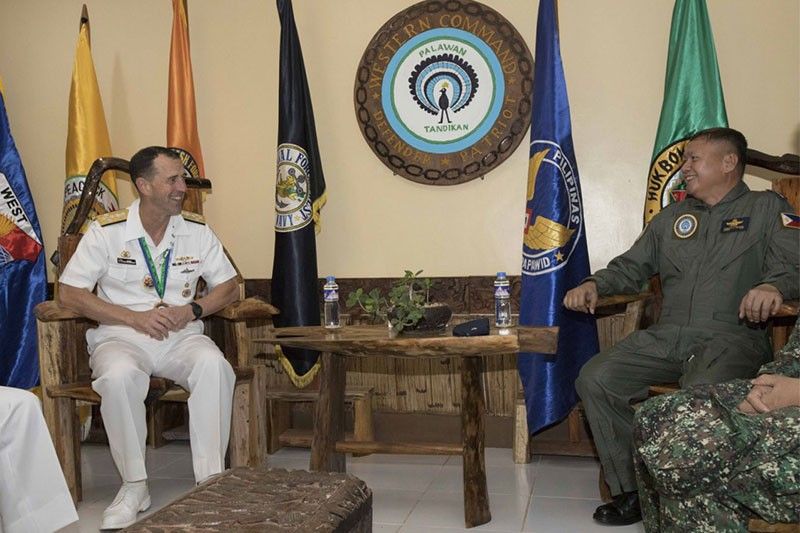 MANILA, Philippines — Adm. John Richardson, United States chief of naval operations, received an update on the situation in the South China Sea during his recent visit to the Philippines.
Richardson went to Palawan to get an update on the disputed waterway from Lt. Gen. Rozzano Briguez, commander of the Armed Forces of the Philippines' Western Command.
The US Navy top officer visited the country from October 28 to 29 with a focus on US and Philippine maritime domain awareness and naval capabilities.
"The work the U.S. Navy does with the Philippines every year is critical to the peace and stability of the region and the development of both our militaries," Richardson said.
Richardson's two-day visit to the country also placed emphasis on the importance of the two countries' alliance to peace and stability in the Indo-Pacific region.
"It's important that we continue to collaborate with our partner and ally. We look forward to further strengthening our longstanding security cooperation," he said.
AFP chief Gen. Carlito Galvez, meanwhile, said the Philippine Navy is looking forward to future engagements with its American counterpart.
"Admiral Richardson and I discussed possibilities on how the US can contribute to the Philippine Navy capabilities," Galvez said.
Part of Galvez and Richardson's discussion included how the US Navy could provide trainings and technical support to achieve knowledge in connection to maritime domain awareness.
"We are optimistic that our efforts in developing our defense ties will continue towards providing mutual capability assistance, information sharing, and maritime cooperation," the AFP chief said.
As the US Navy's senior military officer, Richardson is in charge of its command and operating efficiency. He has held the post since September 2015.
Richardson is also a member of the Joint Chiefs of Staff, where he is the principal naval adviser to US President Donald Trump, as well as the Secretary of Defense, National Security Council and Homeland Security Council.