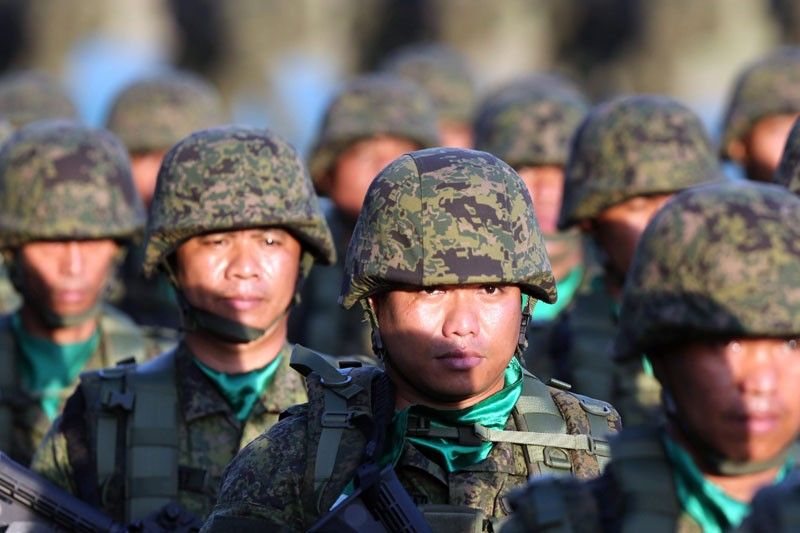 "I was hurt because some people in the military are communicating with the Liberal Party, those rebel soldiers. I can't understand their loyalty," the President said.
KJ Rosales
Duterte: 'Soldiers in cahoots with Liberal Party'
DAVAO CITY, Philippines — President Duterte has claimed that some soldiers are in cahoots with the opposition in a plot to overthrow his administration.
"I was hurt because some people in the military are communicating with the Liberal Party, those rebel soldiers. I can't understand their loyalty," the President said.
"That's my ill feeling toward those soldiers. I don't mind if they get angry with me. That's nothing. But to be in cahoots with the enemy? I can step down anytime. But the problem is the nation... If you are true to your country, do not bed with the enemy," Duterte added.
The President insisted on Monday that no uprising against an existing government will succeed without the involvement of the Armed Forces of the Philippines (AFP).
"Nothing will succeed without the help of the (AFP)," the President told soldiers at Camp Teodulfo Bautista.
Duterte added that should the AFP and the Philippine National Police (PNP) believe that he is no longer fit to lead the country, there is no problem.
All they have to do is tell him and he will step down, Duterte said. Meanwhile, the President assured the soldiers that he would fulfill his mandate and work according to his campaign promise.
"I will work according to my promise. Corruption, drugs, I will not benefit from them," Duterte said in Filipino.
Duterte said he has made sure that he would not get involved in any government purchase or contract.
"No purchase of ships or airplanes reach my desk. These stop in the departments concerned. I curse a lot because I am angry at corruption and illegal drugs," Duterte added.
Duterte told the opposition to wait for the elections if they are not satisfied with his performance.
"If you do not like me as president – Duterte is inept, clueless, it's OK. Fine. Just wait for the elections three years away," he said.
Steps vs ouster moves
Expose. Monitor. Preempt.
These are the steps that the military will take to counter the so-called ouster plot being orchestrated by the Communist Party of the Philippines (CPP) against President Duterte beginning next month in a grand scheme dubbed as Red October.
Defense Secretary Delfin Lorenzana said the AFP will first inform the public about the plot.
"Exposure is (the) first step," Lorenzana said yesterday.
"Second is to monitor their activities and (those of) their affiliates," Lorenzana added.
Lorenzana said the third step is to "preempt if there are indications that (the CPP) will conduct destabilization or any violent mass movement."
The DND chief said the military takes alleged plans to oust Duterte or destabilize the government seriously, considering that such plot was uncovered as early as February 2017 in an encounter between government troops and the New People's Army (NPA) in Bukidnon.
"It was hatched by the CPP-NPA in October 2016 even before the President cancelled the peace talks. After (the cancellation), the implementation (of the ouster moves) became an urgent program by the CPP-NPA," Lorenzana explained.
"Their plan was to get as many civil organizations as possible to join their mass actions led by their progressive fronts. It is supposed to culminate this October," he said.
Lorenzana, however, noted that based on CPP founding chairman Jose Maria Sison's latest pronouncement that Duterte will not last until the middle of 2019, there may have been a change in plans.
"Maybe they have moved their goals, considering the lackluster performance of their so-called massed rallies last martial law anniversary. We are closely monitoring them, including other groups," he said.
Red October, Lorenzana added, much like the other plots of the CPP-NPA, will fail for lack of popular support.
"What they planned to do (was) initiate mass actions, which they hoped would snowball into a people power, such as what they intended last Sept. 21 or martial law anniversary. The turnout was pitifully small," he said.
"Despite these setbacks, the (CPP-NPA) will keep trying. We do not need emergency powers because we are not yet facing an emergency situation. These are just irritants that somehow distract us from properly governing," Lorenzana said.
Brig. Gen. Antonio Parlade, assistant AFP deputy chief of staff for operations, claimed that Tindig Pilipinas and other opposition figures backed out of the ouster moves after realizing that they were aligning themselves with communists.
But Parlade warned that the move to oust Duterte is still on.
Localized peace talks
For his part, PNP chief Director General Oscar Albayalde said the PNP is supporting the creation of the Anti-Communist Task Force as part of localized peace talks with the insurgents.
Albayalde said localized peace talks were proposed after the peace negotiations on the national level bogged down due to atrocities, attacks and other criminal activities committed by NPA rebels.
Under the proposed anti-communist task force, Albayalde said several government agencies will function to address all issues and concerns.
"It's a whole government approach," Albayalde said.
Albayalde added that the PNP will be in charge of law enforcement, intelligence, investigation and community relations. – With Alexis Romero, Michael Punongbayan, Cecille Suerte Felipe