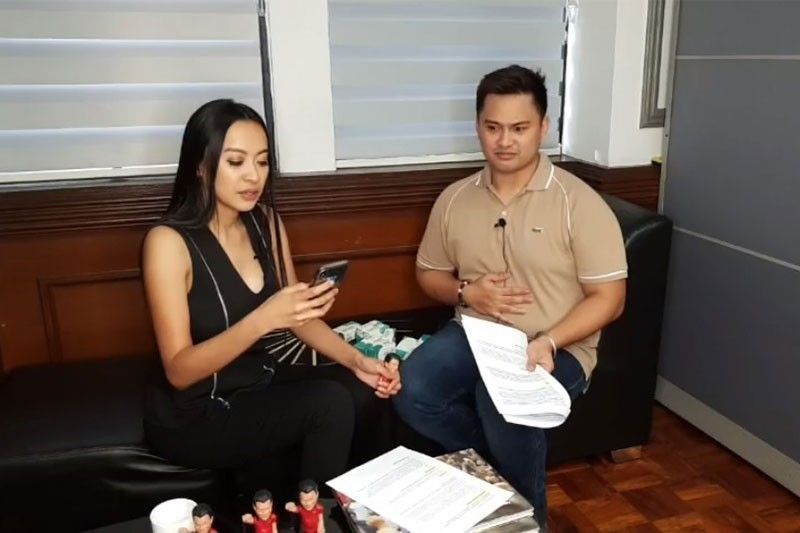 Presidential Communications Assistant Secretary Mocha Uson drew flak after her online co-host Drew Olivar performed a suggestive dance supposedly to promote federalism.
Facebook screengrab/Mocha Uson Blog
PCOO: 'We are listening and doing something' about gaffes
MANILA, Philippines (Updated 1:36 p.m.) — The Presidential Communications Operations Office has issued a memo over a much criticized video on federalism featuring Assistant Secrtary Mocha Uson and a blogger, a PCOO official said Thursday.
PCOO Assistant Secretary Ana Marie Banaag said this shows the office listens to feedback on its gaffes.
Uson drew flak after Drew Olivar, a co-host of an online show done in Malacañang during government office hours, chanted "i-pepe" and "i-dede" while gesturing to his crotch and chest before yelling "i-pederalismo."
The video has since been explained away as a bid to create awareness for a proposed shift to federalism, an issue that President Rodrigo Duterte has been talking about since before the 2016 elections.
RELATED: Uson: Now is the time for experts to explain federalism
At the House hearing on the PCOO budget, PCOO Assistant Secretary Ana Marie Banaag said the memo reminded Uson of Republic Act 6713, or the Code of Conduct and Ethical Standards for Public Officials.
"What we are saying here is that we are not just watching. We are also listening and our office is doing something to direct the office of Assistant Secretary Mocha Uson," Banaag said in Filipino.
Memo to all PCOO officials, staff
In August, PCOO Undersecretary Lorraine Marie Badoy issued a memorandum reminding all PCOO staff to "be mindful of the content you post or share on your personal social media accounts, as well as other publications and press releases your office may publish."
The memo, issued after public outcry over Uson's and Olivar's video, did not mention the assistant secretary by name but reminded all officials and employees "of our role in creating a positive impact towards gender issues and portrayal of women in the media since we play a crucial role in raising public awareness and shape public opinion."
Badoy's memo similarly referenced the Code of Conduct and Ethical Standards for Public Officials.
Banaag: PCOO must portray good image of women
Banaag stressed that the PCOO is mandated to portray a good image of women through public advertisements, recordings and everything concerning communications.
PCOO Undersecretary Marvin Gatpayat added that their office received complaints from the 8888 citizen's hotline about Uson's federalism video.
READ: PCOO memorandum on the duties and responsibilities of public servants. It was released days after PCOO Asec. Mocha Uson and a blogger drew flak over the 'pepedederalismo' video @PhilippineStar @PhilstarNews pic.twitter.com/wnxPRmtQpE

— Alexis B. Romero (@alexisbromero) August 16, 2018
The letters were sent to the Office of the Executive Secretary since only President Rodrigo Duterte supposedly has jurisdiction over Uson.
'Not the first time'
Uson's viral "federalism" video prompted calls to slash the PCOO budget and fire the assistant secretary.
Rep. Tom Villarin (Akbayan partyl-list) said Uson's video was not the first the PCOO has "made a fool of itself" following blunders referring to Norway as "Norwegia" and publishing old articles of the Philippine News Agency with editor's notes in the headlines.
Sen. Grace Poe had urged the Senate to look into the government's information drive for the proposed shift to a federal form of government.
"Whereas, the video showcased toiled humor on a rather serious issue does not help explain federalism to the people, especially at a time when only 37 percent of Filipinos support the shift to a federal system of government," Poe said in her resolution.