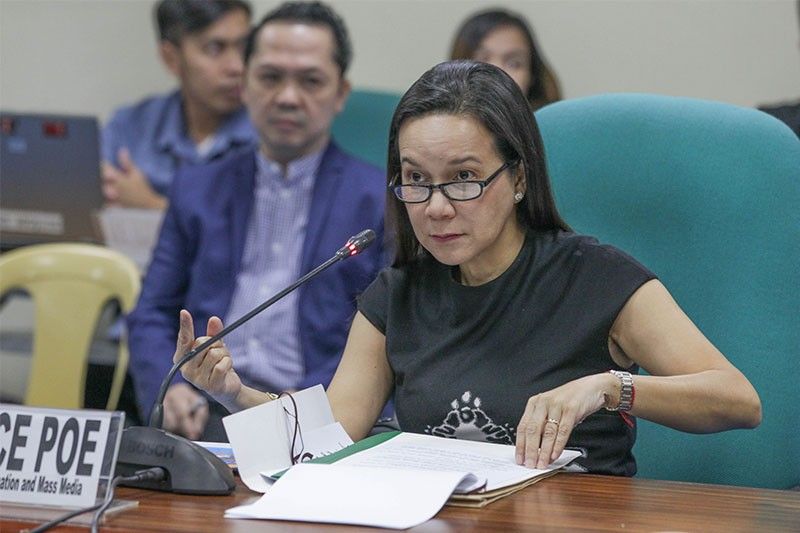 Sen. Grace Poe has filed a resolution seeking a Senate inquiry into the information drive on the proposed shift to federalism.
Geremy Pintolo
Poe wants hearings on federalism information drive
MANILA, Philippines — Sen. Grace Poe has urged the Senate to look into the government's information drive for the proposed shift to federalism after a video by Presidential Communications Assistant Secretary Mocha Uson reaped wide criticism.
Uson drew flak after Drew Olivar, her blogger co-host on an online show, chanted "i-pepe" and "i-dede" while gesturing to his chest and crotch to supposedly raise awareness on federalism.
A video of Olivar accusing Vice President Leni Robredo of going to South Africa to have sex and sending her daughter Aika to Harvard with public funds has since surfaced. Robredo's office said it is considering filing charges over Olivar's assertions.
Poe filed Senate Resolution 821, which seeks to conduct an inquiry and transprent guide on the information drive of the Consultative Committee (Concom) and the Presidential Communications Operations Office (PCOO) on federalism.
Noting that the government allotted P90 million for the information drive, Poe said Uson's "latest antics reeks of impropriety and disrespect to the Concom nor it helps elevate public discourse," the resolution read.
Uson has already said the controversial video was not part of the information campaign and was for an online game show that she and Olivar aired from Malacañang during office hours. She said no public funds were spent on the video, which is not part of her job with the PCOO despite it being made on PCOO time and in PCOO premises.
"Whereas, the video showcased toiled humor on a rather serious issue does not help explain federalism to the people, especially at a time when only 37 percent of Filipinos support the shift to a federal system of government," Poe said.
The senator also cited survey results which found that only one out of four Filipinos are aware of federalism while another survey indicated that 62 percent of Filipinos reject the proposed shift to federalism.
Concom: Not what we expected
Concom spokesperson Ding Generoso had clarified that Uson's video was not a part of the information campaign as it was posted before the meeting with the PCOO official to dicuss the campaign.
Generoso also stressed that Uson is not a designated spokesperson for federalism.
"What we envisioned is an information campaign that dwells on the benefits that federalism will bring to ordinary citizens, particularly those in the far-flung regions and provinces, areas that have remained lacking in opportunities for growth because of the overconcentration of powers and resources in Metro Manila," Generoso said in a statement.
PCOO Secretary Martin Andanar, meanwhile, claimed that Generoso tapped Uson without his consent.
"He went straight to Mocha without informing the inter-agency and me as the head of this department. There should have been a go-signal," Andanar said of the video, which Uson said was not part of the Concom's federalism promotion effort anyway.