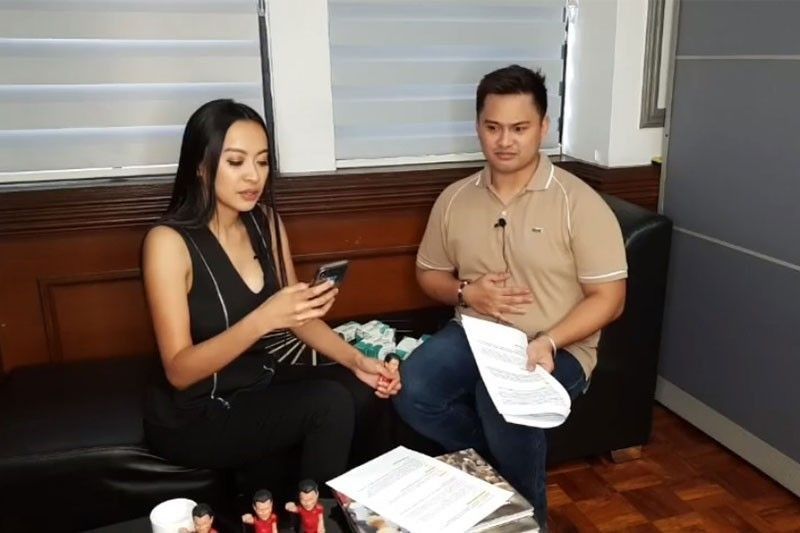 In an online show with PCOO Assistant Secretary Mocha Uson, blogger Drew Olivar chanted "i-pepe" and "i-dede" while gesturing to his crotch and chest in an attempt to supposedly raise awareness on federalism.
Facebook screengrab/Mocha Uson Blog
Uson: Now is the time for experts to explain federalism
MANILA, Philippines — Presidential Communications Assistant Secretary Mocha Uson said that experts should take advantage of the buzz her controversial video is generating to promote the proposed shift of government.
Speaking to CNN Philippines' "News Night" on Monday evening, Uson said that the campaign for federalism has been going on for two years now. "Itong ginawa ko lang po ay tumulong at ang nangyari po biglang pinag-usapan itong federalism, andyan na po tayo sa awareness," she said in Filipino.
(What I am doing is to help, and what happened was federalism suddenly became the talk of the town. We have reached awareness.)
WATCH: Presidential spokesman Harry Roque on whether the Palace will stop Mocha from posting materials about federalism on her blog @PhilippineStar @PhilstarNews pic.twitter.com/EqmZIIjJLe

— Alexis B. Romero (@alexisbromero) August 7, 2018
The shift to federalism has actually been in the news since a consultative committee submitted its draft of a federal constitution to President Rodrigo Duterte last month. The president, during his State of the Nation Address in July, also asked Congress to make the shift to federalism a priority.
RELATED: Duterte confident Filipinos will back federalism
"Now that it is being talked about, whether it is bad or good, experts should explain it. They should take this opportunity," the PCOO official added.
It is yet unclear whether the video featuring Uson and her blogger "co-host" Drew Olivar sparked discussion on federalism but government officials and social media users have had a lot to say about the video itself.
In a post defending the video and dismissing criticism as envy, Olivar said "pepe" was a reference to national hero Jose Rizal's nickname. He said: "Mukha raw kababawan ang partikular kong ikinilos / Si "Pepe", si Jose, si Rizal, may kabayanihan / Ang "dede" ni nanay simboliko ng pagmamahal."
This latest controversy involving the PCOO official prompted Rep. Tom Villarin (Akbayan party-list), Every Woman group and social media users to call for the scrapping of the PCO's budget. Advocacy group Every Woman also said that the government should sack Uson immediately.
Consultative committee (Concom) spokesman Ding Generoso earlier said that Uson would be a big help in raising awareness on federalism through her social media following.
READ: Concom: Mocha's video not the way to present federalism
Malacañang on Monday said that federalism shift requires "serious discussion" and Presidential Communications Secretary Martin Andanar has said the video was unauthorized and did not go through PCOO channels.
Uson said that she and Andanar will meet later this week.
Asked if she could have done differently in the controversial video, Uson replied that she has other videos on federalism. "That already happened. What is important is people are talking about federalism."
"We should focus [on federalism.] Smart people, experts, explain federalism," Uson added in a mix of English and Filipino.
Uson also clarified that no government funds were used in creating the video, although she admitted that she went live during office hours.
A Social Weather Stations' poll released in June said that only one in four Filipinos knows about the proposed federal system of government.
SWS also found that 75 percent of the 1,200 respondents only learned about the proposed shift to a federal system during the conduct of the survey, which was conducted from March 23 to 27.