Government, MILF to work together in rehabilitating Marawi City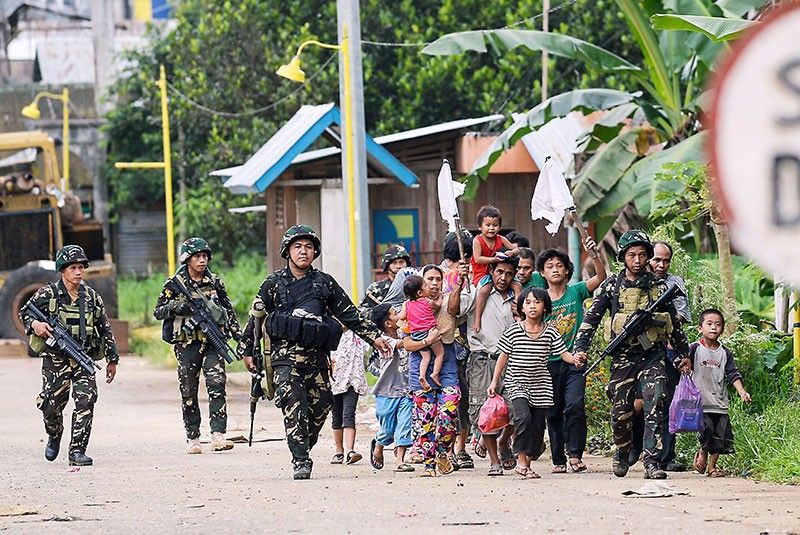 MANILA, Philippines — The goverment and the Moro Islamic Liberation Front on Friday agreed to revive a key cooperation mechanism during the siege of Marawi City to help in efforts to rehabilitate the war-torn town.
The government and the MILF signed an agreement on Thursday which would revive the Joint Coordination, Monitoring and Assistance Center, which was a key pact that helped in rescuing trapped civilians during the five-month war in Marawi City last year.
The agreement was "a very good testament of the effective partnership that happened between the Philippine government and the MILF during the Marawi siege," according to Undersecretary Nabil Tan, deputy presidential peace adviser and chair of the Government Implementing Panel for the Bangsamoro peace accords.
He said that President Peace Adviser Jesus Dureza decided to continue the operation of JCMAC.
According to Mohagher Iqbal, the chairman of the MILF implementing panel, the reactivation of the mechanism was a means for the group to help in the healing process and the residents in dealing with the difficulties of life following the destruction of their city.
"At least the people of Marawi City will feel that we really care for them, most especially the victims of the Marawi siege," he said.
Iqbal said that the reorganization of the mechanism to help in efforts to build Marawi was still a work in progres. However, they were at least with the residents of the city in spirit and body, he said.
According to the agreement, JCMAC will provide the MILF as an "approachable and neutral mechanism" for Marawi residents and Lanao areas to raise their concerns with the government and to participate in rehabilitation efforts.
"The mechanism will also address emerging needs and challenges, particularly on the security situation on the ground and the rise of violent extremism," according to the text of the agreement.
JCMAC will also serve as a connector between the government and the people by giving a means for them to air their grievances and issues that cannot be brought directly to local authorities due to political differences.
It will also help in addressing the issue of extremism by partnering and assisting government agencies.
JCMAC was a key mechanism during the siege of Marawi that created peace corridors for the extraction of trapped civilians and for the delivery of food and other assitance to the victims.
The peace corridors were able to rescue at least 255 civilians and allowed local and international donors to pass through the critical Malabang area to Marawi City.