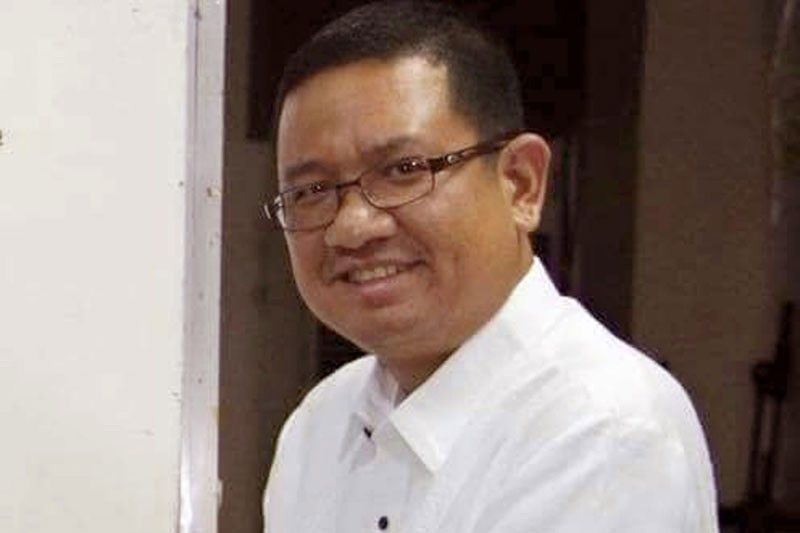 Image from Facebook shows Fr. Richmond Nilo, the third priest murdered in recent months.
Priest gunned down before Sunday mass in Nueva Ecija
TUGUEGARAO CITY, Cagayan , Philippines — A Catholic priest was gunned down by an unidentified assailant before celebrating mass at a chapel in Zaragosa in Nueva Ecija last Sunday.
Fr. Richmond Nilo is the third priest murdered in recent months, following the April 29 killing of Fr. Mark Ventura after a Sunday mass in Gattaran, Cagayan and the fatal ambush of Fr. Marcelito Paez in Jaen, Nueva Ecija last Dec. 5.
Zaragosa police Chief Insp. Muhamad Taufh said Nilo, 40, was preparing for the 6 p.m. mass at the altar of the Nuestra Señora de la Nieve Chapel when the gunman shot him from a window.
Police said the killer fled with a companion on a blue Honda Wave motorcycle to Barangay Panabingan in San Antonio, Nueva Ecija.
Witnesses said Nilo's assailant was wearing a brown T-shirt, denim jeans and a faded white cap.
Nilo died from gunshots to the head and different parts of the body, police said. Seven slugs from a caliber .45 pistol were recovered by investigators at the altar.
Malacañang yesterday condemned the killing and vowed to prioritize its investigation.
"We condemn the killing of the priest from Nueva Ecija. We will really give priority to the investigation of the killing of father. The government is concerned because just like the killing of a journalist, if you kill a priest, you violate not just his right to life, you also violate his right to worship freely," presidential spokesman Harry Roque Jr. said.
However, Roque maintained that President Duterte's tirades against the Roman Catholic Church did not encourage violence against members of the clergy.
"I don't think there is any empirical basis for that. The culture of impunity has been there even before the President assumed office," he said.
Despite Nilo's killing, however, the president of the Catholic Bishops' Conference of the Philippines (CBCP) yesterday reiterated that he is strongly against arming priests.
According to Church-run Radio Veritas, CBCP president and Davao Archbishop Romulo Valles said as men of God, part of their job is to bravely face the dangers, including death.
He then asked the Philippine National Police (PNP) to find the perpetrators responsible for Nilo's murder.
Caloocan Bishop Pablo Virgilio David yesterday agreed with the CBCP president, saying the culture of impunity affects even priests.
David, who is also vice president of the CBCP, turned down the proposal to arm priests.
"We will never bear arms. We will never, ever seek security through a gun. That is not our role. We have no other savior but the Lord. We have no other refuge but the Lord," David said.
PNP chief Director General Oscar Albayalde described as isolated the case of Nilo, even as he ordered an investigation into the murder.
Albayalde maintained during a press briefing at Camp Crame in Quezon City that there was no pattern in the killing of religious leaders in the country.
He encouraged individuals whose safety may be at risk to seek police assistance.
"Remember, we cannot act on something that we do not know," said Albayalde.
He also ordered police regional directors and chiefs to closely coordinate with religious leaders and extend protection to them if needed.
"We condemn the attack on Father Nilo as we Christians condemn all killings and violence and all forms of impunity," said Fr. Jetts Jetanove, vicar general of the Diocese of Cabanatuan.
"No priest, and no human being for that matter, deserves to be killed with utter brutality, disrespect and impurity… To kill a priest then, for whatever motive or cause, is not only unchristian and inhuman, it is also un-Filipino," the diocese yesterday added in a statement.
Nilo was a supporter of Kaya Natin! Movement for Good Governance and Ethical Leadership.
As this developed, Task Group Nilo was created by Central Luzon regional director police Chief Supt. Amador Corpus to gather evidence and establish the motive behind the priest's killing.
"We are committed to ensure the safety and security of our communities. We cannot do this alone so, once again, I appeal to the public to help us. If you have any information on the case, please report to the nearest police station or through the PNP hotline 0998-5985330/0927-9464741," he said.
Sen. Francis Pangilinan also expressed sadness and alarm over the spate of killings of priests.
"We condemn these attacks against people of the Church… Where is the promised peace and order? Where is justice? Why is there a seeming pattern on the killings of those helping the poor?" Pangilinan said in a statement.
While condemning Nilo's murder, Ifugao lawmaker Teodoro Baguilat Jr. criticized how "just like the killings of the poor in the ongoing drug war, killings of journalists and indigenous peoples' leaders, no one has been brought to justice." – With Alexis Romero, Paolo Romero, Evelyn Macairan, Cecille Suerte Felipe, Ramon Efren Lazaro, Ding Cervantes, Artemio Dumlao, Marc Jayson Cayabyab