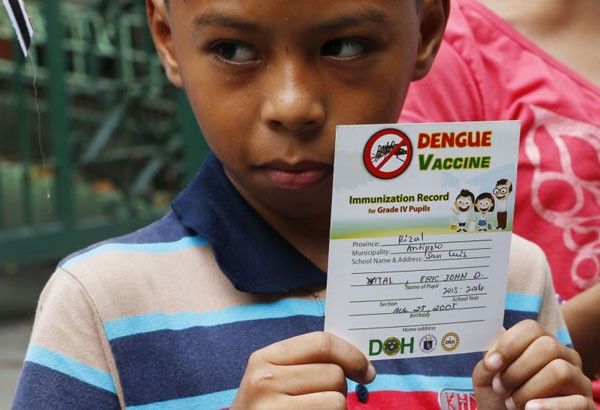 Health Secretary Francisco Duque III said his department has turned over the Sanofi refund to the national treasury.
Philstar.com/File Photo
Lawmakers: Use P1.2 billion Sanofi refund for dengue patients
Jess Diaz
(The Philippine Star) - April 16, 2018 - 12:00am
MANILA, Philippines — Lawmakers are pushing for the use of the P1.2 billion refunded by the government from Dengvaxia manufacturer Sanofi Pasteur for children inoculated with the dengue vaccine who fall ill.
Davao City Rep. Karlo Nograles, House of Representatives appropriations committee chairman, has filed a bill to allow the use of the money, while Reps. Aurelio Gonzales Jr. of Pampanga and Johnny Pimentel of Surigao del Sur have introduced joint resolutions for the same purpose.
Like a bill, a joint resolution has the force and effect of a law if passed by the two chambers of Congress and signed by the President.
Gonzales said his Joint Resolution No. 20, if approved, would be the authority for the Departments of Budget and Management (DBM) and Health (DOH) to use the Sanofi refund amounting to P1,161,710,000.
Health Secretary Francisco Duque III and Budget Secretary Benjamin Diokno earlier said that without such congressional authorization, they could not touch the money.
Duque said his department has turned over the Sanofi refund to the national treasury.
Nograles said the money would be used "to fund the much-needed medical support for the children who were administered with the Dengvaxia vaccine, such as medical assistance for hospitalization, medical kits and outpatient care services, including laboratory tests."
"This will ensure prompt and pinpointed delivery of necessary medical assistance to Dengvaxia vaccinees even as the DOH continues to monitor their state in the months following their inoculation. Also, this is to allay the fears of the public on the purported effects of Dengvaxia and to prevent further deaths and illnesses of those administered with the vaccine," Nograles said.
About 830,000 children in public schools have been given up to three doses of Dengvaxia.
Pimentel, who filed Joint Resolution No. 21, said the DBM and the DOH would not be able to use the Sanofi refund "without an express authorization from Congress."
He said he is counting on both the House and the Senate to pass the joint resolution soon after the resumption of session on May 14.
Pimentel said a joint resolution is quicker to pass than a bill.– With Paolo Romero