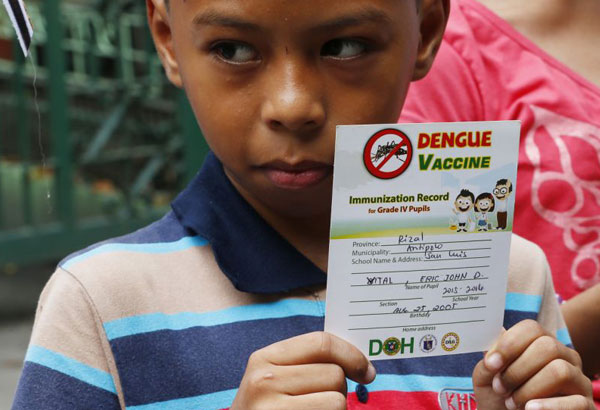 Eric John Vital, 12, holds his vaccination record as he joins other protesters at a rally outside the Department of Health to demand accountability to government officials involved in the controversial immunization of the anti-dengue vaccine Dengvaxia to more than 700,000 Filipino children Friday, Dec. 8, 2017 in Manila, Philippines. The controversial vaccine, manufactured by Sanofi Pasteur was put on hold by the Philippines last week after new study findings showed it posed risks of severe cases in people without previous infection. The controversy has prompted the Philippine Senate to conduct an investigation.
AP/Bullit Marquez
PNP denies QC cop died of Dengvaxia
MANILA, Philippines — The Philippine National Police on Thursday clarified that the cop who passed away this month did not die of Dengvaxia vaccine.
In a press briefing, PNP Chief Director General Ronald "Bato" dea Rosa said he confirmed that the cop assigned to Quezon City Police District, who died, was not among those administered with the controversial dengue vaccine.
"We have a list of those administered with the vaccine at Camp Karingal and his name was not part of the list," Health Director Senior Superintendent Antonette Langcaoun also confirmed during the press briefing.
Langcaoun said the QC cop was admitted to the PNP General Hospital last March 2 and died due to leptospirosis based on their diagnosis.
The PNP officials made the clarification after receiving reports that the cop was suspected to die due to Dengvaxia.
Dela Rosa said such information would not be hidden to the public if proven true.
Langcaoun, however, explained that only 4,500 police and dependents aged 9 to 45 years old were administered with Dengvaxia nationwide. The late cop was 50 years old.
Earlier, PNP General Hospital Chief Reimound Sales also said in a PTV news report that there were speculations that the cop died after being administered with Dengvaxia that is why they tried to verify it. They also determined the names of all police officers who joined the vaccine program.
Health Undersecretary Eric Domingo said they studied the possible connection between the late cop's illness and administration of the dengue vaccine.
In February, a utility personnel of the PNP was also suspected to die because of Dengvaxia vaccine. The result of the diagnosis, however, revealed that he died of pneumonia.
The government's Dengvaxia program had been in question after Sanofi Pasteur admitted that the vaccine poses potential threats to individuals who had no prior dengue infection.