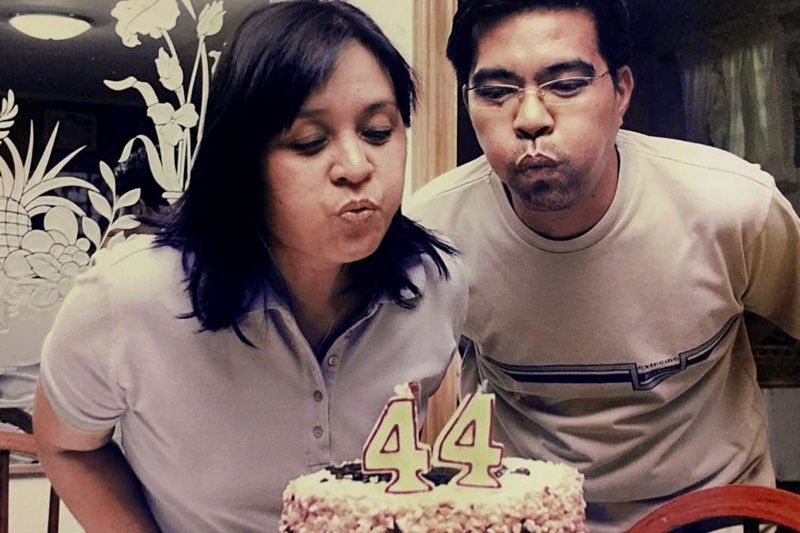 Luis and Elvie Marquez celebrate their 44th birthday at their home in Palanan, Makati.
Perfect match: Couple destined for each other
MANILA, Philippines — Their union is written in the stars.
Not only do husband and wife Luis and Elvie Marquez have the same birthday, they also share other fateful coincidences.
Both the third child in their families, Luis and Elvie were born a few hours apart on Dec. 16, 1962 in the same hospital. They attended the same college and took the same course.
That was when their fairytale love story started.
Now married to Luis for 30 years and living in Palanan, Makati, Elvie recalls: "I came from an all-girls school since elementary, so I was very enthusiastic to meet and be friends with boys. When I saw his ID bearing the same birthdate as mine, I told him, 'Ka-birthday pala kita! Sa dinami-rami ng makaka-birthday, ikaw pa (So we share the same birthday! Of all people who'd share my birthday, it's you)!"
Because of this similarity, they became instant friends and, eventually, took their friendship to the next level – they got into a romantic relationship.
"We started as really good friends, we were barkada," Luis said. "At first it was difficult. The problem was how do we shift our relationship from friends to partners? But with the help of our friends, I decided to pursue her."
Six years later, they decided to get married. That was when Elvie realized they share the same birthplace, Manila Children's Lying-in Hospital, as well.
"At first I only knew about us having the same birthdate. When we applied for a marriage license and we presented our birth certificates, the clerk realized we were also born in the same hospital," Elvie said.
Luis and Elvie knew then how fated their relationship was.
"Nung nalaman na namin 'yun, sabi ko, ito na siguro talaga 'yung binigay ni Lord (When we found out about that, I told myself, maybe this is the one from God). It took six years before we knew that there were more similarities than we had ever thought," Luis said.
"He was my first boyfriend because my parents were too strict. I had this inkling that if ever I'll have a relationship, I want him to be my husband," Elvie explained.
For the destined couple, the biggest moment was their wedding on May 21, 1988. It was the culmination of their six-year-long relationship – and also the beginning of their happily-ever-after.
"It was my happiest moment because it was my dream: to get married to my first boyfriend and spend the rest of my life with him," Elvie said.
The two are blessed with four children and a God-centered family.
Luis believes that Elvie was his destiny.
"Where will you find someone who shares the same birthday with you? You rarely find someone like that, let alone be friends and partners with that person," Luis said.
"I think it was really destiny. I never thought the man I would marry shares the same birthday as mine. We never crossed each other's path until college, so definitely, for me, it was destiny," Elvie said.
"I did not look for him. Love found us," she added.
To find out more about their love story, visit facebook.com/PhilippineStar.