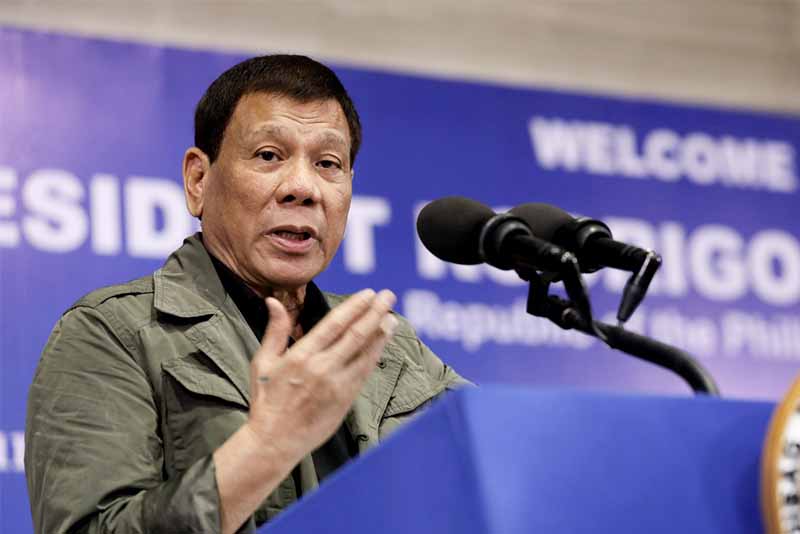 President Rodrigo Duterte, in his speech during the inauguration of the new Communications, Navigation, Surveillance / Air Traffic Management (CNS/ATM) Systems Development Project at the Philippine Air Traffic Management Center (PATMC) in Pasay City on January 16, 2018, issues a stern warning on the local government officials who are found to be inefficient in their service. Simeon Celi Jr./Presidential Photo
Duterte: 'You have to kill to make your city peaceful'
MANILA, Philippines — President Rodrigo Duterte claimed on Thursday that killings were needed to make a city peaceful although the chief executive stressed that he did not order the death of someone already begging for his life.
Speaking at the launch of the Overseas Filipino Bank, the president also admitted that around 600 people were killed during his 23-year reign in the city hall of Davao City, deaths that for the chief executive were an "investment."
"Many of the things you heard about Davao were about extrajudicial killings, but look at Davao. I invested a lot. Lives? Yes. You have to kill to make your city peaceful," Duterte said in a mix of Filipino and English.
"In my 23 years as mayor, I can say around 600 (were killed), but I assure you it was all legitimate," the president added.
The chief executive also said that the government could not enforce the law without killings, and he stressed that these deaths were for the poor.
"It's okay to say they were killed. You cannot enforce the law without...It's for the poor. The poor are mad at me, but what they didn't know is it's they. I'm trying to save their skin," he said.
Duterte said that there were people who should be kept alive while there were others who should be killed especially if they offered violent resistance to security forces.
The president however emphasized that he had not ordered the harming of anyone who was already kneeling or begging for his life, saying this was not manly to do.
"I never ordered the killing of anybody kneeling before me. I never harmed anybody, even the toughest idiot or criminal, with his arms outstretched. I never do that because I'm not a man if I do that," he said.
The president has been accused of opening the floodgates of extrajudicial killings following the launch of his brutal campaign against illegal drugs, blamed for the deaths of thousands many of whom were urban poor Filipinos.
The president said that the high number of casualties among impoverished Filipinos was because crystal methamphetamine, locally known as "shabu," was a "merchandise for the poor."
Filipinos who are addicted to shabu do not have any hope for rehabilitation, the president said.
"That is what angers me because you are destroying my country. When I was mayor, I said do not destroy my city because I will kill you," he said.
Duterte also slammed anew human rights groups and activists who had criticized him over the high number of deaths in his campaign against illegal drugs.
He said that some of these groups would come in the country and claim that the president killed thousands. If this were true, Duterte said, funeral parlors would now be millionaires.
"You don't know the extent of the problem until I became president. You did not know about the police generals who were involved in illegal drugs until I became president," he said.
READ: 4M drug users 'in the realm of possibility,' DDB insists
When he was campaigning for the presidency, Duterte vowed to step down if he would not be able to eradicate crime and drugs in the country in three to six months.
He however later backtracked and asked for more time, admitting that he underestimated the problem.
Duterte also fumed when an official of the Dangerous Drugs Board cited a lower figure for the number of drug addicts in the country, essentially questioning the president's claim that the Philippines has four million people hooked in drugs.
Related video: