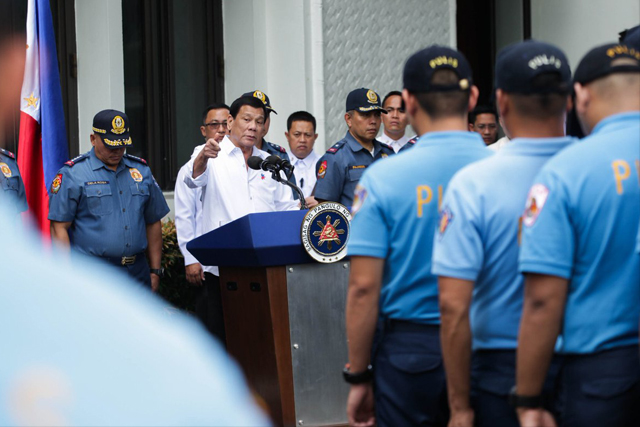 In this Feb. 7, 2017 photo, President Rodrigo Duterte addresses alleged erring cops from National Capital Region Police Office. PPD/Released
Duterte to sack 90 cops over corruption
MANILA, Philippines — President Rodrigo Duterte will fire about 90 policemen over corruption as he stressed that he would not tolerate "gangsters" in government.
Duterte said the dismissal of the policemen is part of a "purging" at the Philippine National Police, which he once described as "corrupt to the core."
"(On Wednesday), about three superintendents, about 90, perhaps a minimum of 60 policemen, you leave the PNP," the president said during the birthday celebration of Sen. Manny Pacquiao in General Santos City last Sunday.
"I am starting the purging and do not be insulted if you are not affected. Do not be angry because I have been angry about it," he added.
Duterte vowed to "destroy" the scalawags in uniform who are using their posts to commit wrongdoings.
"I'm just warning the policemen who are corrupt—it could be the mayor's office or it could be—I will really run after you, I will watch you closely," the president said.
"You know why? You gangsters in the police and the government. I somehow fear that once you are no longer in the service, you have your guns, then you start to bed, sleep with the gangster," he added.
Duterte said it is not fair that rogue policemen are receiving salaries from the government while engaging in illicit activities.
"Do not waste the money of the people because it's not ours. If your business in government is not doing well, leave," he said.
"I said no corruption. You will destroy my nation. I will destroy you."
Duterte announcement came two weeks after he brought back the PNP to his crackdown on narcotics supposedly to quell the rising criminal incidents involving drug addicts.
The PNP was barred from joining anti-drug raids last October following the death of two teenage suspects in the hands of Caloocan policemen. Duterte said he restored the role of the PNP in the war on illegal drugs in response to what he called a "public clamor."
Duterte also warned human traffickers that he would not hesitate to treat them like drug lords. The President has threatened to kill drug traffickers, saying their illegal activities are destroying the country and its youth.
"There are some tribes in Mindanao and maybe in Visayas and Luzon, this practice of buying children. Stop that or else I will treat you just like a drug lord," he said.
"I will take a strong stand against this. I will not tolerate it. I said, you kidnappers if I catch you, I will treat you just like a drug lord. Beyond that, you make your own guess."
Duterte said kidnap victims are condemned to slavery and are doomed to spend their lives enduring pain and suffering.
"Those are the things that are not acceptable to me. I will not tolerate it. You stop because if I learned that you are involved in it, I will pursue you to the ends of the world," he added.