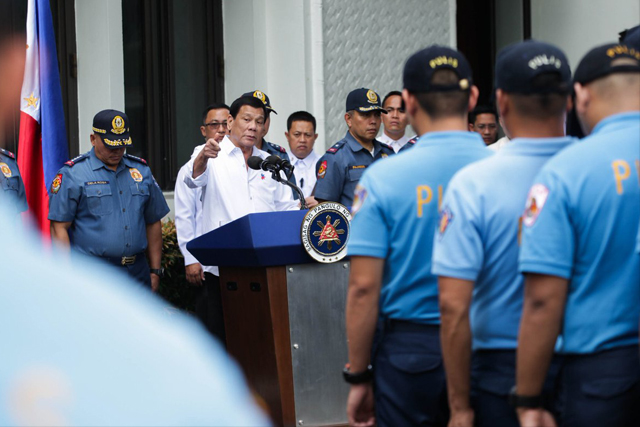 President Rodrigo Duterte berates so-called 'scalawag' cops who were later transferred to Basilan. PPD/Released, File photo
Duterte admits abuses rampant in Metro Manila police
(Philstar.com) - September 20, 2017 - 11:08am
MANILA, Philippine — Abuses are rampant among policemen in Metro Manila, President Rodrigo Duterte has admitted, as he vowed to "slaughter" law enforcers who are guilty of criminal acts.
Duterte said he would only protect policemen if the crime they are charged with is connected with their duty.
"Kung sabi ko gusto mo patayin kita, patayin kita. Alam nila 'yan (I said I would kill you. They know that)…May mga g*** talaga na abusado. Grabe ang kaso ng abuso ng pulis sa Maynila (There are fools who are really abusive. The abuses of policemen in Manila are rampant)," the president told government station PTV 4 last Tuesday.
"Wala kang makitang masyadong abuso sa probinsya. Hindi 'yan totoo (You don't see that much abuse in the province. That's not true)," he added.
Duterte cited the case of Kian delos Santos, the 17-year old who was said to have been executed by policemen in Caloocan City.
"Ngayon, 'yung sabi mo na pinatay 'yung si Kian daw wala namang --- eh makukulong ka talaga (Now if you say you killed Kian, you will land in jail)," he said.
"But I said: 'I will slaughter you if you commit common crime." There are also ninja cops who until now have not surrendered. They are the ones who brought drugs here, police generals. Because it's hard to pin them now."
Duterte claimed there are no abusive policemen in Davao City—where he served as mayor for more than two decades—because he would beat them face-to-face.
"They (Davao policemen) know I will not condone, permit, allow abuses," he said.
Duterte on withholding police reports: Don't look at me
Duterte also clarified that he was not the one who started the withholding of police reports.
Interior and Local Government officer-in-charge Catalino Cuy has been quoted in earlier reports as saying that Duterte had ordered police not to release case records. The directive came as the administration's war on drugs is facing intense scrutiny over the successive killing of teenagers in the hands of policemen.
"They said I refuse to release the report of the police. I will never do that. P*** (b****)," the president said.
"It was (former President) Gloria Arroyo who did it. She raised the level of the drug issue as a national security problem. That is part of the state secrets," he added.
"Now, if you see that killings are caused by the abusive policemen, let's prosecute them. But do not look into the entrails of the operation."
Duterte said exposing some details of the anti-drug operation would jeopardize national security.
The president reiterated that he would enforce the law against illegal drugs, regardless of the social status of those who are involved.
"Drugs is an organized crime. I'm sorry to say it, but the producer, distributor, even the peddler, they are part of the organized crime. And the law says, if it is an organized crime, it is a really a conspiracy," he said.
"If you are affected, whether rich or poor, I'm really very sorry. I am the President and I have to be legal about it." — Alexis Romero