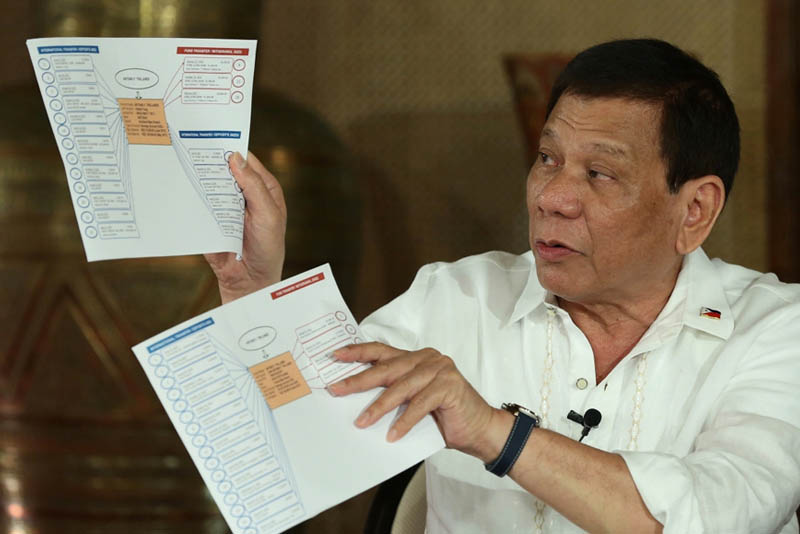 President Rodrigo Duterte shows a matrix of supposed offshore bank accounts of Sen. Antonio Trillanes IV on a show on government-run PTV. PPD/Richard Madelo, File
Duterte creates presidential commission against corruption
(Philstar.com) - October 5, 2017 - 8:16am
MANILA, Philippines — President Rodrigo Duterte has created a Presidential Anti-Corruption Commission a week after threatening to probe the Office of the Ombudsman that is looking into allegations that he has ill-gotten wealth.
According to Executive Order No. 43, which was released to media on Thursday, the Office of the President needs a separate commission "solely dedicated to providing assistance to the President in the investigation and hearing of administrative cases and complaints, and in the conduct of lifestyle checks and/or fact-finding inquiries concerning presidential appointees and other public officers allegedly involved in graft and corrupt practices."
The EO stressed that "the President's power to appoint carries with it the power to discipline and remove public officials and employees, except those who are not otherwise subject to his disciplining authority as may be provided by the Constitution and existing laws."
The release of EO 43 comes a day after the president announced that Ombudsman Conchita Carpio Morales would be the subject of an impeachment complaint, the constitutional method of removing members of constitutional commissions and other impeachable officials.
Duterte said he would file an impeachment case against Morales as he believes that "she was part of the conspiracy" regarding the release of what he described as "fabricated papers" concerning his and his family's bank transactions.
He has also accused the ombudsman, who has inhibited herself from the investigation because she is related to Duterte by marriage, of "selective justice" in favor of members of the Liberal Party.
Morales has yet to respond to the president's statement but has said: "If the president has charges against me, I will answer them in accordance with the law."
She added: "I expect him to answer the charges against him in the same manner."
The Presidential Anti-Corruption Commission will have a chairman and four commissioners whom the president will appoint.
"Majority of the members of the Commission shall be members of the Philippines Bar and must have been engaged in the practice of law in the Philippines for at least five years," EO 43 reads.
The chairman of the new commission will have the "rank, emoluments, and privileges of a Presidential Assistant II." Presidential Assistant II is a Salary Grade 31 position with a monthly salary of about P152,325.
Commissioners, who will have the equivalent rank of a Presidential Assistant I, will be paid around P117,601 a month. — Jonathan de Santos