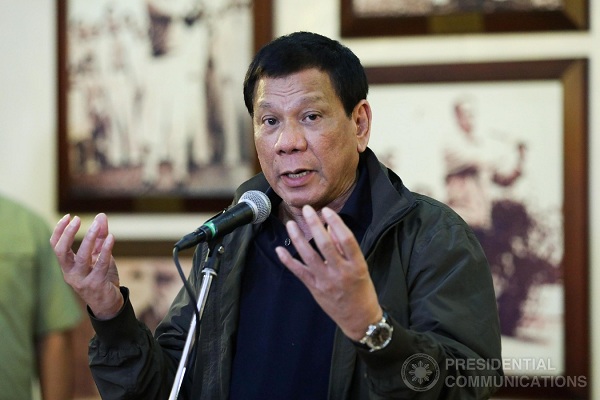 President Rodrigo Roa Duterte, in an interview with the Malacañang Press Corps (MPC) at the Malago Clubhouse, Malacañang Park in Manila on August 21, 2017, announces that he is searching for a competent secretary who will replace former Social Welfare and Development Secretary Judy Taguiwalo. ROBINSON NIN?AL JR/PRESIDENTIAL PHOTO
Duterte: I never said cops should shoot suspects on their knees
MANILA, Philippines — As he faces one of the stiffest criticisms to date yet of his war on drugs, President Rodrigo Duterte on Wednesday clarified that he did not order security personnel to kill suspects already on their knees and begging for their lives.
The president said that police and soldiers should shoot suspects only if the criminals violently resisted and threatened their lives.
"What I reminded again the military and the police is that it should be in the performance of your duty. You are not allowed to kill a person who is kneeling down begging for his life. That is murder," Duterte said during the inauguration of a solar cell factory in Batangas.
Duterte's comments stand in stark contrast to his previous statements to security forces in dealing with drug suspects.
In December last year, Duterte seemingly gave his go signal for police to plant evidence against drug suspects.
Duterte indicated in a speech last December that he had told police either to plant guns in crime scenes or to give suspects guns so they can shoot it out with arresting officers.
In July, Duterte said that cops and soldiers should make suspects fight back to justify the use of violence. He also bragged in a speech before jail personnel that he was the only president to have ordered the killing of criminals, especially of drug traders.
The Palace has regularly denied that Duterte had issued such orders, usually dismissing them as mere jokes, hyperbole or just expressions of frustration. It is not clear, however, if this was how security personnel understood the president's statements.
The chief executive has said that he will protect cops who do their duty and warned those who abuse their authority.
Kian's death 'not performance of duty'
Duterte also called the death of 17-year-old Kian Loyd Delos Santos as "bad" and "not performance of duty," warning policemen against committing crimes.
"I'm not justifying yung sa Caloocan. It was really bad. Hindi naman performance of duty yung ganun," he said.
He said that the main duty of police officers is to arrest suspects, and resistance to arrest must be overcome by security officers.
"In resisting, lumaban ka, the police is just doing his duty, and he is not supposed to die doing his duty. Kaya pag mag-resist ka, he must overcome the resistance. If you have a gun, he just has to shoot you," the president explained.
The PNP Operations Manual justifies the use of firearms "if the offender poses imminent danger of causing death or injury to the police officer or other persons." According to regulations, "the use of firearm is also justified under the doctrines of self-defense, defense of a relative, and defense of a stranger,"
The same manual cautions, however, that "unlawful aggression should be present for self-defense to be considered as a justifying circumstance."
'Abuses, that cannot be done'
The chief executive reiterated his pledge to protect police officers performing their duty and vowed to make abusive cops accountable.
"I never promised to protect those who are supposedly engaged in doing their duty but committing a crime in the process. Abuses, that cannot be done," he said.
The death of Delos Santos sparked widespread public outrage as a video and witnesses said that the boy was dragged by arresting cops to the alley where he was later found lifeless.
The police Internal Affairs Service has said that two police officers involved in the operation have admitted to being the men seen in the security footage. The PNP Crime Laboratory also found no traces of gunpowder on Delos Santos' hands.
Police said that the teenager was a drug courier and his family was into the trade of illegal drugs. The Delos Santoses have denied this.
Kian is among the scores killed in drug operations in Bulacan and Metro Manila last week. This was described as one of the bloodiest since Duterte started his brutal campaign against narcotics in July last year.