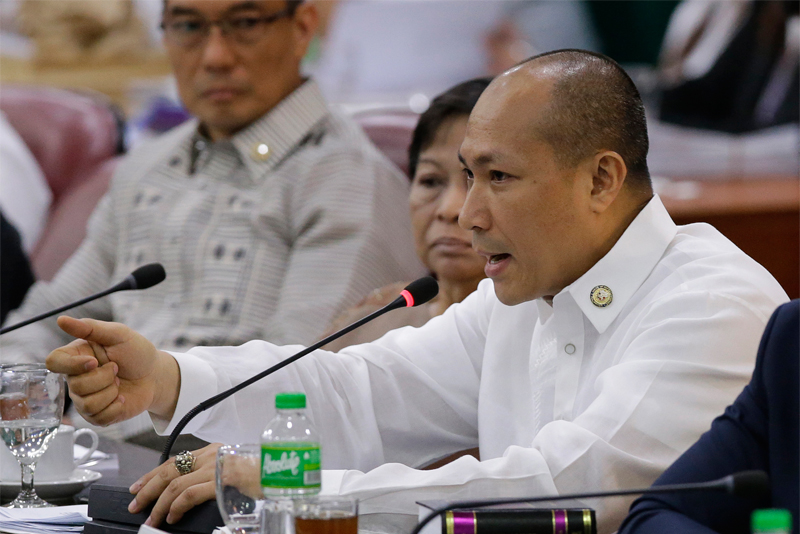 Magdalo Rep. Gary Alejano on Friday said that President Rodrigo Duterte did not have the "moral ascendancy" to fight graft and corruption in government. AP/Aaron Favila, File photo
Duterte has no 'moral ascendancy' to fight corruption, says Alejano
MANILA, Philippines — President Rodrigo Duterte, who is accused of having questionable wealth in bank accounts he jointly owns with his children, does not have the "moral ascendancy" to combat corruption in the government, according to Magdalo Rep. Gary Alejano.
The Magdalo representative said it was "ironic" for Duterte and an administration whose Cabinet members refused to fully disclose their statements of assets, liabilities and net worth to create a presidential commission against graft and corruption.
"Kung ang Pangulo ay determinado at totoo sa kanyang pangakong pagbabago, dapat ay pagka-upo pa lamang niya ay sinimulan na niya ang mga hakbang kontra-korapsyon," Alejano said in a statement.
Sen. Leila De Lima, who is currently detained on charges that she believes are concocted, also blasted the president for threatening Deputy Ombudsman Melchor Carandang with bodily harm and for making claims "that no sane President, especially one who studied law and is still in full possession of his faculties, would make."
She said that all the president should do was to cooperate with the probe to clear his name of allegations of corruption.
According to Alejano, the issuance of Executive Order 43 creating a powerful Presidential Anti-Corruption Commission was "suspicious and self-serving" as it undermines the Office of the Ombudsman which is currently conducting a fact-finding probe into allegations that he has questionable wealth in several bank accounts.
It is also meant to threaten and silence the anti-graft agency which is supposed to be an independent constitutional body, according to Alejano.
"The Executive Order undermines the independence of the Office of the Ombudsman and, likewise, encroaches its constitutionally mandated functions," Alejano said.
The president recently threatened to have the ombudsman and its prosecutors investigated for alleged irregularities in their office.
He said in a televised interview that past military and government officials with pending cases before the agency were offered dismissal of the complaints in exchange for money.
He also accused Ombudsman Conchita Carpio-Morales of engaging in politics by prioritizing cases filed against opponents of the previous administration while failing to act on charges against its allies.
The anti-graft body denied the claim and said that the chief executive should not fear anything if he was innocent.
The creation of the anti-corruption commission was also a duplication of the functions already performed by the Office of the Ombudsman, according to the solon.
"The creation of the Presidential Anti-Corruption Commission is not only redundant, but also unconstitutional," he said. "The Commission serves essentially the same functions as that of the Office of the Ombudsman."
The president should just support the ombudsman in doing its job and allow the investigation against him to proceed, according to Alejano.
"He should lead by example," he said.