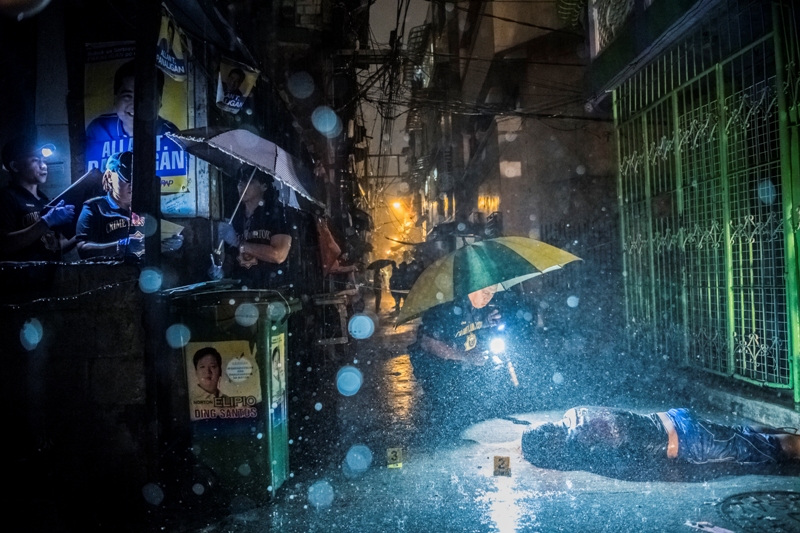 London-based Amnesty International on Saturday claimed that drug-related killings are still happening despite the government's designation of the Philippine Drug Enforcement Agency as the lead office in the war on drugs. Daniel Berehulak for The New York Times/World Press Photo via AP, File
Amid plans for cops' return to drug war, watchdog warns of more deaths
MANILA, Philippines — A human rights watchdog on Thursday slammed the reported plan of President Rodrigo Duterte to return the cops in the government's vicious campaign against illegal drugs, saying that this spelled more deaths and a "human rights disaster."
The Philippine leader in recent days indicated that he would like the Philippine National Police to resume its lead role in the government's war on drugs, accused of resulting in the deaths of thousands of Filipinos, most of whom belonged to the urban poor sector.
Duterte said that the return of the police was needed considering that their absence may have led to an increase in the operations and activities of illegal drug syndicates and a spike in the amount of crystallized methamphetamine, locally known as "shabu," on streets.
The government's anti-drugs agency, which took the primary role from the cops, welcomed the move as it admitted that it was undermanned and under-resourced to tackle the enormous problem.
Amnesty's criticism came after another rights watchdog, Human Rights Watch, warned of bloodshed should cops return to the campaign.
"The return of the police's involvement in the Philippines' 'war on drugs' would be a human rights disaster," James Gomez, Amnesty International's director of Southeast Asia and the Pacific, warned.
READ: Amnesty International: PDEA as lead drug war agency a 'PR' move
He said that thousands of poor Filipinos from marginalized communities had died in the drug war since Duterte began his ferocious campaign last year.
"The police's return to these operations could mean many more deaths," Gomez said.
Amnesty International said that there had been a reduction in the killings since the Philippine Drug Enforcement Agency became the lead office in the campaign last month.
Gomez stressed that instead of expanding the "murderous" drug war led by cops who had shown "no sign of reform" the government must implement a health-based drug policy that respected human rights and the rule of law.
The perpetrators of the killings, including the cops and their superior who issued the orders, should also be made accountable, Gomez said.
READ: PDEA being 'demonized' by Amnesty International – Palace
Duterte designated the Philippine anti-drugs agency as the lead office in the campaign last month after a hail of public outcry over supposed killings of teenagers suspected of involvement in drugs and crime.
Despite a reduced role for cops, Amnesty International has claimed that drug-related killings are still happening although at a lower rate.
Wilnor Papa, Amnesty's Philippine human rights officer, said in a media conference several weeks ago that the killings had gone down to between five and nine from more than 30 a night at the height of police involvement in the campaign.
Papa said that the hot spots of drug killings still remained the same, and these included Bulacan province, Caloocan City, Malabon, Navotas and Valenzuela, which Jose Noel Solano, section director of Amnesty Philippines, described as "killing fields."
READ: Int'l watchdog reacts to Duterte's plan to hold human rights summit