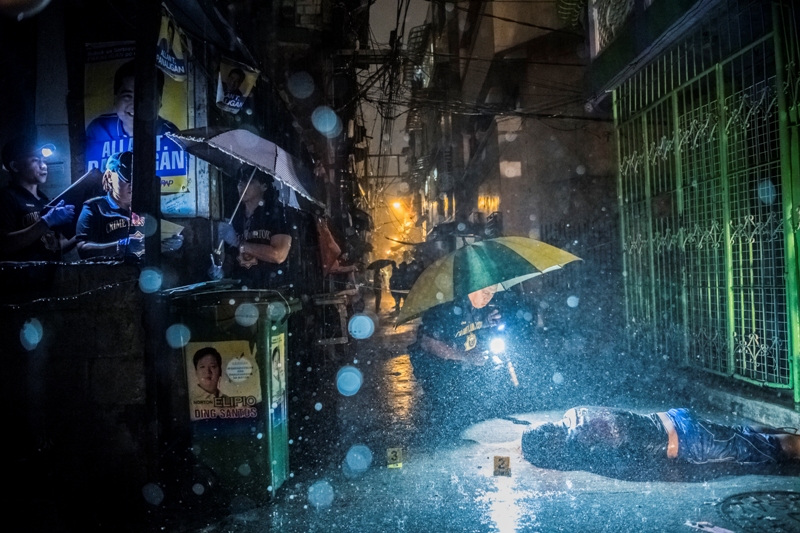 The recent decision of President Rodrigo Duterte to designate the Philippine Drug Enforcement Agency as the lead office to conduct the war on drugs could just be a "PR" move by the government, according to Amenesty International. Daniel Berehulak for The New York Times/World Press Photo via AP, File
Amnesty International: PDEA as lead drug war agency a 'PR' move
MANILA, Philippines — Amnesty International said on Friday that the recent decision of President Rodrigo Duterte to shift the responsibility of pursuing his ferocious campaign to eradicate narcotics to the country's anti-drugs agency could just be a "short-term" public relations move meant to appease the growing opposition to it.
Duterte this week signed an order designating the Philippine Drug Enforcement Agency as the main office in pursuing drug operations and relegated the Philippine National Police to a supporting role.
READ: FLAG chair: Order for PDEA to lead drug war confusing
James Gomez, the watchdog's international director of southeast Asia and the Pacific, said that the decision to put PDEA in charge of the government war on drugs was just meant to squelch public furor over the mounting number of dead people most of whom are poor and young.
The AI official said that the president had done this before when the police were temporarily ordered to cease conducting anti-drugs raids following the outrage over the discovery that cops belonging to the PNP's anti-drugs unit were involved in the kidnapping, extortion and killing of a South Korean businessman inside its national headquarters in Camp Crame.
He added that the announcement would have little "meaningful" impact and urged the president to discard altogether "the government's fundamental policy of supporting extrajudicial executions of drug suspects."
"President Duterte has pulled police off drug operations once before, in January this year, only to reinstate them a few weeks later," Gomez said in a statement reacting to the Philippine leader's announcement.
"We are concerned that this too may be nothing but a short-term PR move in response to growing public outrage about the drug war's many victims, which are overwhelmingly poor, and include children," he added.
Based on the latest survey of polling firm SWS, the president's approval ratings plunged by 18 points in September.
The president's office said that this plunge was because the survey was conducted just days after Duterte declared a national day of protest to allow Filipinos to air their grievances against the government.
Another survey by rival Pulse Asia however demonstrated that Duterte had maintained trust and approval ratings of 80 percent.
The announcement of the president also came in the wake of a string of police killings of teenagers in August sparked a widespread public condemnation of brutality and disrespect for due process, something that the 15-month-old administration of the former Davao City mayor had never seen.
Gomez said that what the government should do was to end its "murderous 'war on drugs'" and adopt a policy that would respect and protect human rights.
"It is also crucial that there is accountability for the thousands of killings carried out already, many by police officers, and that those responsible are held to account," he said.
READ: Opposition senators: Change of lead agency not enough; shift drug policy, too
The AI official warned that the killings, which may constitute a crime against humanity, would continue as shooters just happened to be doning different uniforms.
The AI and Human Rights Watch, a New York-based rights campaigner, have both released early this year excoriating reports on the government's war on drugs that detailed police shortcuts and payments to kill drug suspects.
Duterte in response blasted these international groups and governments for what he saw as "interference."
On Thursday, he mistakenly blasted the European Union and threatened to cut diplomatic ties to its member-states over statements by a group parliamentarians warning the government that it risked losing preferential trade arrangements if it would continue with the campaign.