Trudeau: Canada committed to cleaning up garbage dumping issue
November 14, 2017 | 5:15am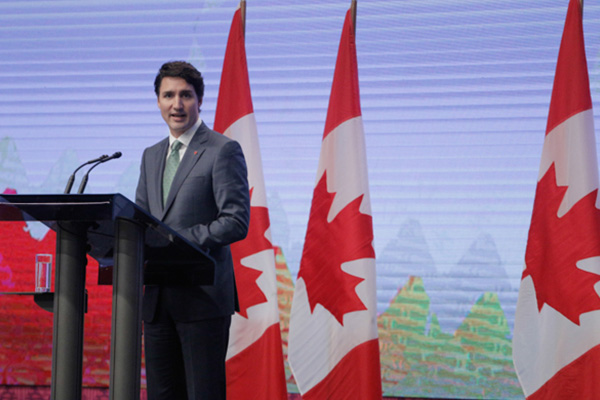 MANILA, Philippines — Canadian Prime Minister Justin Trudeau on Tuesday said that his country is committed to solving the issue of garbage from Canada that was shipped to the Philippines.
In a press conference at the International Media Center, Trudeau disclosed that he and President Rodrigo Duterte discussed the longstanding issue of more than 100 container vans of garbage that arrived in the Philippines between 2013 to early 2014.
"I committed to him as much as I am committing to you that Canada is working hard to resolve the issue," the prime minister said.
He said the same thing in 2015 during his visit to the country for the Asia-Pacific Economic Cooperation summit.
Trudeau said Tuesday that Canada's own regulations prevented them from taking back their garbage even though the trash originated from there.
"It is now theoretically possible to take it back," he said, saying the legal impediments have been resolved.
He said, however, that there are issues that have to be settled like who will pay for shipping the garbage back and who will be held responsible for the garbage mess, which, he stressed, was a commercial transaction that did not involve the governments of Canada or the Philippines.
Greenpeace hits 'PR stunts'
On Monday, Greenpeace Southeast Asia campaigner Abigail Aguilar said that Trudeau's "public relations antics cannot cover the stinking Canadian waste issue as long as it is left rotting on our ports."
The organization expressed hopes that Trudeau would not let the trash dumping row become Canada's legacy in the Philippines.
READ: 'Trudeau's PR stunts can't conceal Canada's trash dumping in the Philippines'
Around 103 container vans containing garbage from Canada arrived in the country between 2013 to early 2014 under the guise of recycling.
About half of the trash was reportedly dumped in Capas, Tarlac.
READ: Trudeau vows to go after garbage-dumping Canadian companies