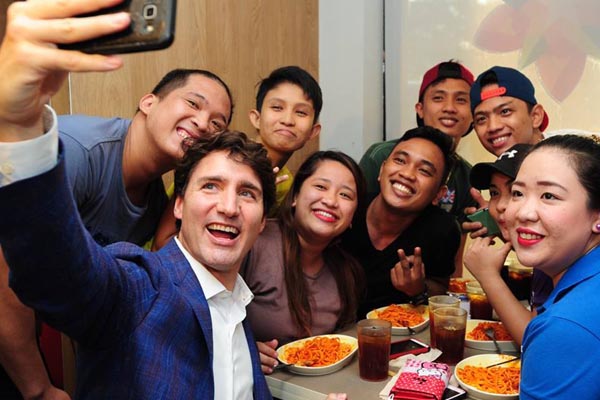 Canadian Prime Minister Justin Trudeau visited Jollibee's North Harbor branch after arriving at the Clark International Airport. Jollibee/Released
'Trudeau's PR stunts can't conceal Canada's trash dumping in the Philippines'
(Philstar.com) - November 13, 2017 - 11:28am
MANILA, Philippines — Amid the lavish attention given to Canadian Prime Minister Justin Trudeau, a group of environmental advocates called on the leader to solve the problem of Canada dumping garbage in the Philippines.
In a statement released Monday, Greenpeace Southeast Asia campaigner Abigail Aguilar said that Trudeau's "public relations antics cannot cover the stinking Canadian waste issue as long as it is left rotting on our ports."
"We welcomed him with our usual Filipino hospitality, fanfare and respect, we hope he will also show respect to our country and our people by taking back their waste to Canada, where it belongs," Greenpeace Philippines said.
The organization expressed hopes that Trudeau would not let the trash dumping row become Canada's legacy in the Philippines.
During his 2015 visit in the country for the Asia-Pacific Economic Cooperation summit, Trudeau vowed to solve the problem of Canadian companies exporting garbage to countries like the Philippines.
"The Canadian government has more power to demand action from the companies responsible. I believe there were loopholes here that were allowed to be skirted and we need to make sure we close both for Canada's interests and good relationships with our neighbors," he said.
Around 103 container vans containing garbage from Canada arrived in the country between 2013 to early 2014 under the guise of recycling.
About half of the trash was reportedly dumped in Capas, Tarlac.
READ: Trudeau vows to go after garbage-dumping Canadian companies
Trudeau, who is in the Philippines for the Association of Southeast Asian Nations Summit, is warmly welcomed by Filipinos.
On Sunday, Trudeau was seen visiting Jollibee's North Harbor branch after arriving at the Clark International Airport.
Last January, Trudeau also visited the Jollibee branch in Ellice, Winnipeg where he bonded with the fastfood chain's staff and guests.
During his second day in the country, the Canadian leader inspected a persons with disabilities-friendly e-jeepney.
Trudeau's actions—which include tackling quantum physics, photobombing a beach wedding and jogging past a group of teenagers heading to prom—have earned lavish media attention worldwide.