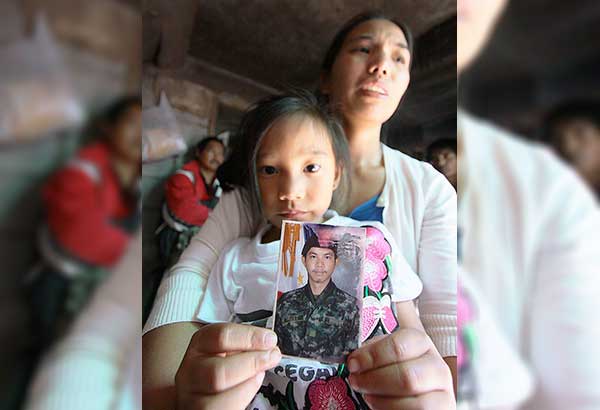 Kiesh Darriel holds a photograph of her father, PO3 Daniel Tegwa as her mother Robelyn recounts her last communication with her husband at their home in Baguio City yesterday. ANDY ZAPATA
A Scout Ranger's long last night
Andy Zapata
(The Philippine Star) - October 17, 2017 - 4:00pm
MANILA, Philippines — Police Officer 3 Daniel Tegwa, a Special Action Force (SAF) commando, sounded excited when he called his wife Robelyn early on Monday to announce that his unit – the 8th Scout Ranger Company – had succeeded in its mission to neutralize terrorist leaders Isnilon Hapilon and Omar Maute.
He asked her how she and their four-year-old daughter Kiesh Darriel were doing. He then said "mabisinak" (I am hungry), to which she replied that he should get something to eat. After all, it had been a long night for the troopers, who staked out since Sunday night to watch for terrorists who might escape from the main battle zone that was, after months of battles, reduced to a mere two hectares.
That was his last call.
Later in the afternoon, Robelyn was informed by her mother that the SAF commando was dead, killed in action in Marawi City.
At first she did not believe it, telling her mom that she had just talked to her husband a few hours ago.
"We waited for his superiors to confirm if it was true," she said, recalling how her husband tried to send photos of the battle scenes to show how the Rangers fought to succeed in their mission.
SAF Director Benjamin Lusad said Tegwa was part of the Special Operations Forces moving in the main battle area to combat Abu Sayyaf leader Hapilon and remaining Maute terror group co-founder Omar Maute.
Although the circumstances behind Tegwa's death are still "unclear," Lusad promised that his command "will do our best for our troopers."
Robelyn said by Monday afternoon, there were condolence posts on Facebook.
"I can't remember anymore who called. Maybe, the liaison of their battalion. I can't remember because there were so many calls," Robelyn added.
Some SAF men, she added, told her that PO3 Tegwa was killed by sniper fire shortly after taking lunch. No other details were given.
Lusad said the commando was on his "last test mission" with the Scout Rangers, who were tasked to pursue Hapilon and Omar Maute.
A native of Bauko in Mountain Province, Tegwa was part of the Scout Ranger Regiment Class 200 for skills capability upgrade.
He was a graduate of the Philippine National Police Special Action Force (PNP-SAF) Commando course in 2014 and belonged to the SAF Maragtas 64, team two.
A tribute to him by one of his mates read: "P03 Tegwa my deepest condolence, your beloved Daniel Tegwa is an epitome of a true (Cordilleran) Filipino warrior. You lived by our Commando 64 motto: 'Usus Maxime Cum Virtute' – Skill Shines Forth At Its Best When Accompanied by Virtue."