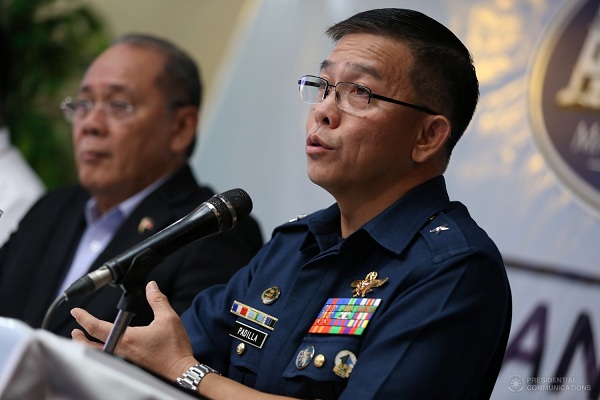 According to Armed Forces of the Philippines Spokesperson Maj. Gen. Restituto Padilla Jr., President Rodrigo Duterte will consult the military and other agencies before deciding on whether martial law in Mindanao will be lifted. PCOO
AFP: Martial law still needed in parts of Mindanao
(Philstar.com) - October 17, 2017 - 7:48am
MANILA, Philippines — Military rule in some parts of strife-torn Mindanao is still necessary to quell threats posed by extremists, the military said a day after two top leaders of a terrorist group that occupied Marawi City were killed in a targeted operation.
"There is a greater threat here that needs to be addressed and the need for the maintenance of martial law in some parts is really important because of the network, the existence of the network of all these terrorist groups," Maj. Gen. Restituto Padilla, Jr.—spokesperson for the Armed Forces of the Philippines—said in a press conference Tuesday morning.
"It is something that we need to do in order to address quickly and adequately those threats that are looming in the horizon or in the environment that may result to the harm of innocents like what happened in Marawi," Padilla added.
Military sharpshooters killed Abu Sayyaf leader Isnilon Hapilon and Omarkhayam Maute, one of two Middle East-educated heads of the Maute terror group, in a pre-dawn operation on Monday.
READ: Hapilon, Maute killed | Duterte declares Marawi freed from terrorists
The Marawi battle, which broke out on May 23, has so far left more than 800 militants, 162 government forces and 47 civilians dead, according to authorities.
The urban warfare prompted President Rodrigo Duterte to place the entire Mindanao region under martial law and order aerial and artillery bombing of the enemies' positions, sending them into retreat but leaving the city in ruins.
After the declaration reached the 60-day limit, Congress overwhelmingly voted to extend martial law in the troubled region until yearend.
Asked if Duterte would lift martial law only in Marawi and keep it in certain parts of Mindanao, Padilla said: "I would not dare to say or comment on that because it is a political decision."
"Be that as it may, we would like to assure the public that we all look forward to the return to normalcy of every part of Mindanao," he added.
According to Padilla, Duterte will consult the military and other agencies before deciding on whether martial law in Mindanao will be lifted. "From the side of the military, although this is a political decision, we will make appropriate recommendations," he said.
Defense Secretary Delfin Lorenzana on Monday said the government will not necessarily lift martial law in Mindanao as cities in the southern region are vulnerable and even a small contingent of fighters is enough to stir trouble.
"We are going to assess the entire situation in Mindanao, and we will make our recommendation to the president in due time," Lorenzana said.
READ: Military: Hapilon, Maute deaths may turn terrorists 'more violent'