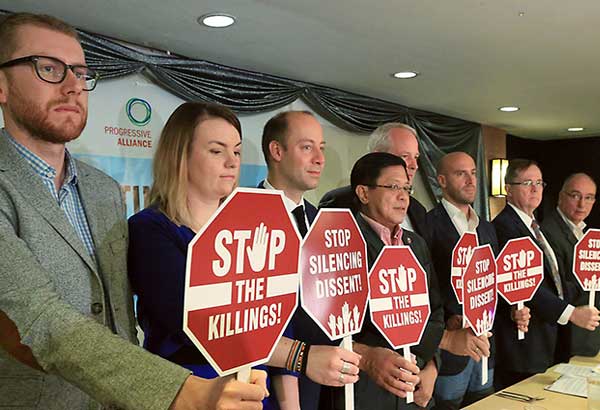 (From left) Ben Maxfield, Emilia Toyra, Arne Lietz, Konstantin Woinoff, Giacomo Filibeck, Thomas Melia and Conny Reuter, visiting members of a parliamentary mission, hold signs urging the Philippine government to stop the killings. EDD GUMBAN
Palace downplays 'revocation' of Philippine membership in UNHRC
(The Philippine Star) - October 9, 2017 - 4:00pm
MANILA, Philippines — Malacañang yesterday downplayed claims that the Philippines' membership in the United Nations Human Rights Council (UNHRC) may be revoked because of the alleged extrajudicial killings committed under the Duterte administration.
New York-based watchdog Human Rights Watch (HRW) warned over the weekend that the Philippines may be removed from the UNHRC because of its supposed failure to meet its obligations.
HRW Geneva advocacy director John Fisher claimed the Philippine government is not upholding the highest standards of human rights because of the spate of killings tied to the war on illegal drugs.
HRW also noted that the Duterte administration dismissed 154 of the UNHRC's 257 recommendations to improve the human rights situation in the Philippines.
"What is clear is that the government is seeking to evade its international responsibilities. Its responses to the Universal Periodic Review or UPR process show that it won't accept the extent or scope of the problem, let alone put processes in place and identify those who are responsible, or to bring these violations of human rights to an end," Fisher said.?"This is all in the context of a President openly bragging about killing people, about encouraging others to kill people, saying there will be no accountability for the deaths. It seems the President is encouraging a climate of impunity and impunity does not sit with the Philippine obligations as a member of the UNHRC," he added.
But presidential spokesman Ernesto Abella shrugged off HRW's warning and maintained that the operations against narcotics are in line with international norms.
"The Philippine government's campaign to rid the country of criminality, lawlessness and corruption, which includes the campaign against illegal drugs, is in accordance with the Constitution… as well as the international norms and human rights treaties to which the Philippines is a party," Abella said in a press briefing.
"While there are those who call themselves watchdogs and tend to foretell gloomy and depressing scenarios, the truth is, states and governments that have strong trade relations with our country know better than that, than these gloomy pictures," he added.
Abella said the Philippines' trading partners continue to respect the country and support its efforts to deal with domestic challenges without undue interference.
"They continue to have relationships with us and we're on solid ground, solid economic ground. There's no need to fear about any changes in relationships," he added.
'Stop killings'
A mission of international parliamentarians and civil society leaders urged the Duterte government to stop what it says is the extremely alarming number of killings and the administration's aggressive efforts to silence Duterte's critics.
European parliamentarians in the group warned the Philippines risks losing a preferential trade deal that allows 6,200 of its products to enter the European Union (EU) duty free if it fails to immediately stop the killings and political persecution of critics.
The General System of Preference (GSP+) deal is under review and an EU report is expected in January. – Rhodina Villanueva, Cecille Suerte Felipe, AP