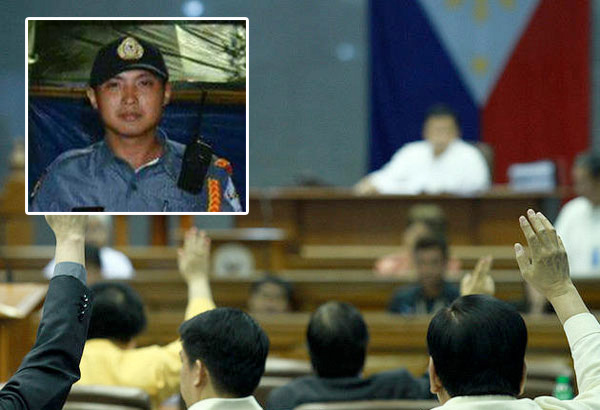 Photo inset shows PO1 Vincent Tacorda who recanted his affidavit that he was ordered by his superior to kill drug personalities in Catanduanes province.
Cop who alleged receiving order to kill drug suspects recants
(philstar.com) - October 2, 2017 - 6:28am
MANILA, Philippines — A police officer from Catanduanes who resigned after claiming there was a directive to kill drug personalities has recanted his statement after "serious soul searching."
This was disclosed on Monday by Sen. Panfilo Lacson, chairman of the Senate public order committee investigating the recent killings of teenagers allegedly at the hands of Caloocan City police.
Lacson said former policeman Vincent Tacorda informed the committee in a letter dated July 3 that he executed his affidavit of recantion on June 29.
"I have done some serious soul searching and I have come to realize that I love my organization and I continue to hold it and its ranks in the highest respect despite some sad experiences I went through," Tacorda said in a letter read by Lacson.
Sen. Antonio Trillanes IV, during the hearing, presented the affidavit and interview of Tacorda on the alleged order to kill drug suspects in connection with the hearing on extrajudicial killings.
Vicent Mascaga Tacorda Affidavit
by philstarnews
;
"I am executing this affidavit to expose the anomalies and illegal activities that members of the PNP have committed and is continuously committing with the end goal of hopefully trying to reform the organization where I once belonged," Tacorda said in his affidavit.
In his affidavit dated May 10, Tacorda claimed that his superior ordered him to deliver an "accomplishment of five to 10 deaths of drug personalities" as he would be relieved from his post should there be no death of drug suspects in his area.
"Because of the pressure to deliver, I acceded and requested for a list from which I can choose from. I was, however, not given such list. But I got a call and text from PSI (Police Senior Inspector) Nathaniel Jacob, the chief of police of Viga, Catanduanes informing me that there is already a go signal from the provincial director," Tacorda said.
Tacorda claimed that he was designated as the "shooter" and was given an 800-peso budget for food and lodging, a picture of the target and a folder with "PUSHER AKO, HUWAG TULARAN... bicol vigilante" handwritten in red marker.
He resigned on April 26 because he could no longer stomach the alleged corruption and involvement in illegal drugs within his organization.
READ: Cop resigns, laments corruption in PNP Catanduanes
Tacorda also claimed there was a practice of some police officers to plant evidence and some ranking police officers in Catanduanes received payola from the operators of illegal gambling activities.
Philippine National Police Chief Ronald Dela Rosa said Tacorda made the expose after charges against him were filed for allegedly killing a Bicol-based media man.
Lacson instructed the PNP to bring Tacorda to the next hearing.