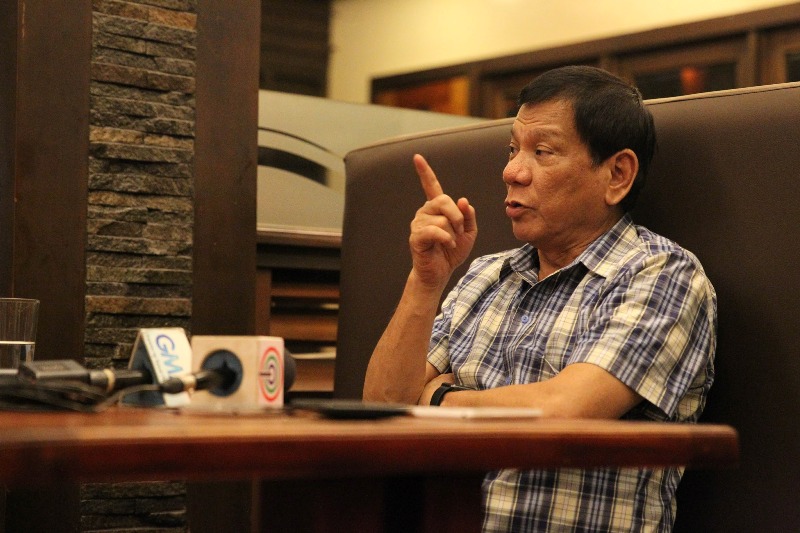 Presidnet Rodrigo Duterte in May ordered the scrapping of formal peace talks with the communists after the military said fighters from the NPA stepped up offensives in the countryside. PPD/Karl Alonzo, File
Duterte to Reds: No ceasefire, no talks
(The Philippine Star) - September 8, 2017 - 4:00pm
MANILA, Philippines — President Duterte yesterday ruled out a resumption of the stalled peace talks with the Communist Party of the Philippines-New People's Army-National Democratic Front (CPP-NPA-NDF).
As long as the communist rebels do not stop guerrilla attacks, the peace negotiations will remain suspended, he said.
Duterte in May ordered the scrapping of formal peace talks with the communists after the military said fighters from the NPA stepped up offensives in the countryside.
"There will be no talks until you declare a ceasefire, period," he said.
Duterte gave two Cabinet positions to left-wing activists recommended by the CPP when he assumed power last year to show his commitment to ending nearly five decades of conflict with the communists.
However, both appointees were rejected by the Commission on Appointments (CA), which on Wednesday rejected the appointment of agrarian reform secretary Rafael Mariano. His exit came less than a month after the CA ousted Judy Taguiwalo, another leftist, as social welfare secretary.
With the peace talks in virtual limbo, the Armed Forces of the Philippines (AFP) is just awaiting orders to re-arrest and haul back to jail the freed communist consultants to the peace process.
Col. Edgard Arevalo, AFP Public Affairs Office chief, said the freed consultants of the CPP-NPA-NDF have all lost their immunity with the termination of the peace negotiations and should submit themselves to the authorities.
"From what I know, the last pronouncement of our President is for them to be re-arrested," Arevalo said.
Arevalo said the freed communist consultants are not covered by the Joint Agreement on Safety and Immunity Guarantees (JASIG).
He said JASIG only covers rebels who were in the mountains and came down to participate in the peace negotiations.
"But they did not come from the mountains. They are already incarcerated who availed of and were granted temporary liberty by the court, for reasons that they will be participating in the peace talks as consultants," Arevalo explained.
DAR employees disappointed
Meanwhile, employees of the Department of Agrarian Reform (DAR) as well as militant farmers' groups expressed disappointment over the rejection of Mariano by the CA.
"The rank and file from the very beginning showed support for Ka Paeng. We prepared for this. We even staged rallies every noon within the DAR compound, we made posters just to show our support for him," said Nanette Pascual, DAR Employees Association president.
Pascual said Mariano is deserving of their support as he has shown that he is like a father to them. – Rhodina Villanueva, Jaime Laude, Reuters