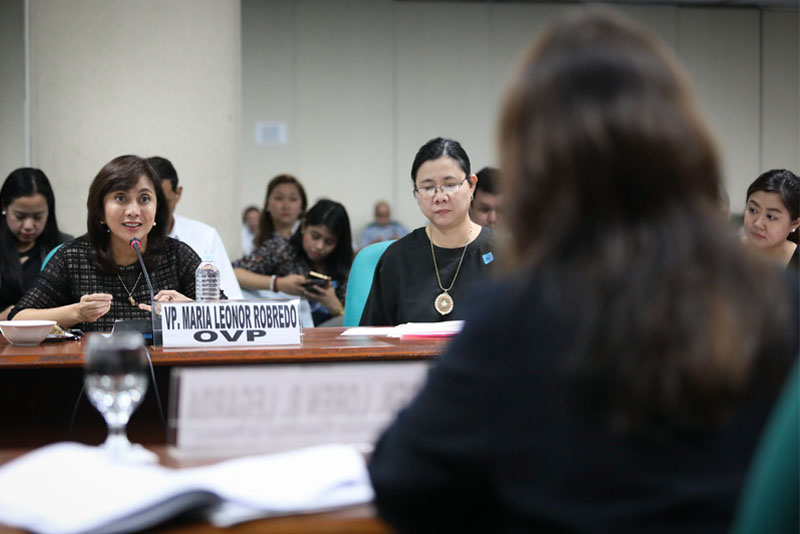 Vice President Leni Robredo presents the proposed P443.9-million budget of the Office of the Vice President before the Senate Committee on Finance, during a hearing on August 22, 2017. OVP/Released
Senate panel approves proposed OVP budget
MANILA, Philippines — The Senate Committee on Finance on Tuesday approved the budget of the office of Vice President Leni Robredo in less than an hour.
The approval of the Office of the Vice President's P443.9-million budget comes a week after the House Committee on Appropriations gave its nod to the proposed appropriations for the second highest office in the land.
Robredo herself attended the hearing to present her office's plans for 2018.
Senators Loren Legarda, the panel's chair, and Paolo Benigno Aquino, the vice chair of the committee, vowed to assist Robredo in linking with government offices in conducting her initiatives.
Legarda said that the OVP should seek the assistance of these government agencies as these still had "so much resources" that remained unused.
While her committee approved Robredo's 2018 budget, Legarda asked the vice president's office to submit a report on the needs of the communities reached through the OVP's Angat Buhay program.
Legarda said that the information from this report would be used to help meet the needs of the communities the OVP would like to aid.
Robredo was also able to present the OVP's achievements in the past year, showing that her office's role has shifted from a ceremonial role to a more advocacy-driven one.
This year's budget is higher by 3.58 percent than the P428.6-million allotment last year as the vice president was trying to fill vacant positions in her office.
The OVP is proposing to spend P83.5 million for this, a 36.71-percent increase in additional personal services for 29 unfilled positions created in 2016.
The increase in the personnel budget offset the savings by the OVP in maintenance and other expenses, which went down by 2.32 percent from last year's number. This year's proposed MOOE is P349 million.
The OVP allotted P11.34 million for its capital outlay this year.
Robredo told the Senate Finance Committee that despite her office's small budget it was able to extend help to 134 areas.
For this, the OVP mobilized around P91 million which was able to help around 75,000 families in needs such as livelihood, education, food security, health, housing, medical and burial assistance, universal health care and disaster relief and rehabilitation.
During the House hearing, the vice president explained that they were able to reach this many communities because of the OVP's partnerships with the private sector.