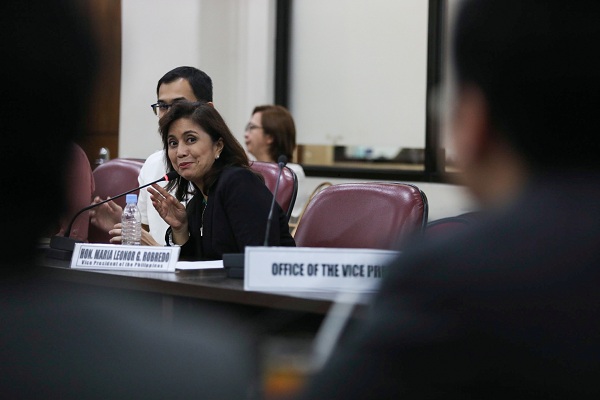 Vice President Leni Robredo attended the House Appropriations Committee hearing on her office's budget. It was swiftly approved by the panel in less than three minutes. OVP/Released
House panel approves Robredo office budget in 3 minutes
MANILA, Philippines — The House panel on appropriations on Tuesday approved the proposed budget of the office of Vice President Leni Robredo in less than three minutes, a gesture out of "due deference and respect" for the second highest official of the government.
The OVP's budget, which is 3.58 percent higher than last year's, was swiftly approved without presentation following the motion of Albay Rep. Edcel Lagman, a member of the Liberal Party.
The panel is chaired by Davao City Rep. Karlo Alexei Nograles.
According to the House Committee on Appropriations conducting the budget hearings, the approval was done out of deference toward Robredo, who was a member of the chamber before her election to the vice presidency last year.
Robredo, who was present at the House to personally defend her office's proposed allocation of money for this year, thanked the committee and said that the move showed confidence in the OVP.
"Nagpapasalamat ako. Kahit handa tayong i-defend iyong budget, nagpapasalamat pa din tayo na dinispense na [iyong presentation]. Parang we took it as a sign na malaki naman iyong tiwala noong Committee on Appropriations sa Opisina ng Pangalawang Pangulo," she said.
For this year, the OVP is asking for a budget of P443.9 million, slightly higher than last year's P428.6 million.
The small increase was because of the need to fill the vacant positions in her office. For this, the OVP is proposing P83.5 million, which represents a 36.71-percent increase in additional personnel services for 29 unfilled positions created in 2016.
This offset the savings by the office in maintenance and other operating expenses which went down by 2.32 percent from last year's figure. The proposed MOOE for this year is P349 million.
In addition, this year's OVP budget allotted P11.34 million for capital outlay.
Vacancies filled
"Basically, iyong increase talaga namin, dumagdag sa capital outlay, saka iyong personnel services. Pagpasok ko kasi, maraming mga positions na dati nang created pero hindi filled-up. Finill-up na natin iyon," she said.
Robredo added: "Malaki iyong savings namin. Malaki iyong binawas ng MOOE (Maintenance and Other Operating Expenses), pero binawi iyong ng personnel services saka capital outlay. So kaunti lang iyong variance, actually, from last year's budget—three percent."
Despite the limited budget, the office's Angat Buhay anti-poverty program was able to reach 134 areas in the country to serve around 75,038 families. For this, the office mobilized around P91 million, according to the OVP.
Some of Angat Buhay projects include those in livelihood and jobs, public education, food and security, universal health care, housing and resettlement and disaster relief and rehabilitation.
Robredo said that their proposed budget is low despite Angat Buhay's programs because its support mainly came by linking communities and its private partners.
"Mayroon na kaming bagong mission-vision for OVP—parang medyo nag-veer away kami from a purely ceremonial function to mas advocacy-heavy na—pero iyong advocacy kasi namin, mas collaboration with the private sector," she said.
The budget bill, which will include the proposed OVP budget, will still be deliberated on by the House in plenary.