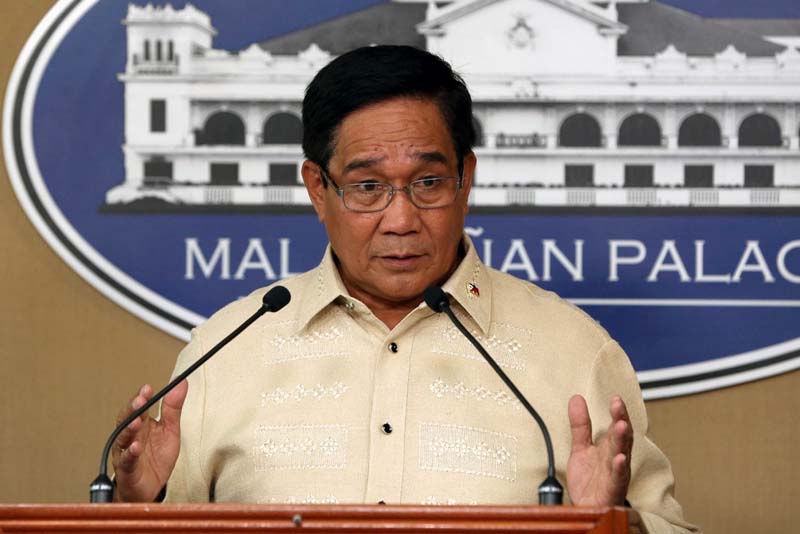 In this May 2017 photo, National Security Adviser Hermogenes Esperon Jr. speaks at Malacañang. PPD
Esperon denies Chinese occupation of Sandy Cay
MANILA, Philippines — National Security Adviser Hermogenes Esperon Jr. yesterday denied that China has occupied the Sandy Cay off Pagasa Island in the West Philippine Sea and stressed that the government would not give up an inch of the areas claimed by the Philippines.
Supreme Court Senior Associate Justice Antonio Carpio on Saturday bared that China has virtually occupied Sandy Cay, an area situated around 2.5 nautical miles off Pag-asa Island in the West Philippine Sea.
Two frigates, a Chinese coast guard vessel and two military fishing boats were reportedly seen in the area.
Carpio urged the Duterte administration to "vigorously protest" what he described as an "invasion" of Philippine territory by China.
Esperon admitted that foreign fishing boats were seen in the Sandy Cay, but denied that China has seized the Sandy Cay.
"China has not seized sand bars in Pagasa Atoll," Esperon said in a text message.
"There should be no alarm on that as long as they don't occupy any of the sandbars. There are many Chinese as well as Vietnamese fishing boats in and near Pagasa Island and its nearby sandbars, collectively called Pagasa Atoll," he added.
Esperon said the Chinese ships came "too near" the Sandy Cay but did not seize it. He also maintained that the government would continue to assert the country's maritime claims.
"We are not giving away any inch of our claims, nor any part of our entitlements under UNCLOS (United Nations Convention on the Law of the Sea) of 1982 and those of PCA (Permanent Court of Arbitration) tribunal ruling of July 2016," he added.
Pag-asa is the biggest Philippine-held island in the disputed Spratlys archipelago. It has a total land area of about 37 hectares and is located within Kalayaan, a fifth class town in Palawan inhabited by about 200 people.
Sandy Cay is situated between Pag-asa and Zamora (Subi) Reef and has been described as a disappearing high-tide sandbar.
China, which claims about 90 percent of the South China Sea, has accused the Philippines of illegally occupying Pag-asa, which it calls Thitu.
In 2013, the Philippines under the Aquino administration challenged China's expansive maritime claim before an international arbitral tribunal, calling it "excessive" and "exaggerated."
A Hague-based court invalidated China's claim in 2016 but the Chinese government refused to recognize the decision.
President Duterte has expressed willingness to temporarily set aside the ruling to repair the Philippines' strained ties with China. But he vowed to discuss the arbitral ruling with Chinese officials within his term.
Esperon said there was no need to bring up the presence of Chinese vessels in the Sandy Cay before the China-Philippines Bilateral Consultative Mechanism. The BCM was created last May to enable the two countries to tackle the maritime dispute peacefully.
"The BCM meets at predesignated times or schedules. It is not the proper forum for day-to- day interactions," Esperon said.