For every 20 priests in the Galilee Center, which has a capacity of 45, four are cases of pedophilia. File photo
Sexually deviant priests sent to Tagaytay for rehab
(Vera Files) - August 13, 2017 - 4:30am
MANILA, Philippines — On a two-hectare lot tucked away somewhere in Tagaytay City stands a gated retreat house run by priests for priests.
At any one time, the center can accommodate up to 45 priests in need of spiritual, physical, emotional and psychological renewal. It also serves as the temporary home of priests "exiled" by their bishops for sexual misconduct, including pedophilia and siring children.
Constructed in 2007, the John Mary Vianney Galilee Development and Retreat Center for Priests, or Galilee Center as it is commonly referred to, serves as a kind of "extended" seminary formation.
Named after the patron saint of priests and the religious, the 54-room institution is a brainchild of now retired Manila Archbishop Gaudencio Cardinal Rosales.
During the Second Plenary Council of the Philippines (PCP II) in 1991, the country's bishops agreed to build a national center for the ongoing renewal and rehabilitation of clergies to operate under the Catholic Bishops' Conference of the Philippines' Episcopal Commission on Clergy.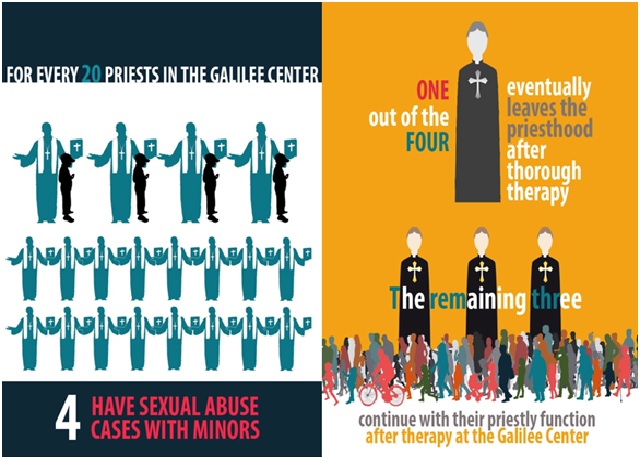 Pedophilia cases rising
Rev. Fr. Noel Deslate, former director of the Galilee Center, confirmed that the institution indeed also serves as "rehabilitation" center for priests sent there by their bishops because they have deviated from their vow of celibacy, including violating or molesting children.
"Yes, the Galilee Center does accept priests who have been proven to sexually abuse minors, although the center is really not exclusively for them," he said in an interview months ago.
Deslate, who ran the center from 2009 to 2016 after obtaining degrees in clinical psychology and pastoral counseling from American universities, said he has observed a rise in the number of clergy sexual abuse cases, especially pedophilia.
For every 20 priests in the Galilee Center, he said four are cases of pedophilia. "Unfortunately, we were not able to document it," he said. "But I am sure (of) the number."
One out of the four eventually leaves the priesthood after intensive "rehabilitation" and therapy at the Galilee Center, while the three remain priests afterwards, he added.
Deslate, who originally belonged to the Archdiocese of Capiz, however, clarified that even before the Galilee Center was established, the CBCP already had a program called "Assist Ministry," which aided priests in difficult situations, including those who have committed sexual misconduct.
Although short-lived, the Assist Ministry became vital in the church's campaign to address clergy sexual abuses and helped pave the way for the realization of the Galilee Center.
Besides the director, the Galilee Center has 14 priests who have been trained to help in the reformation and rehabilitation of their "priest-brothers."
"They were chosen by the CBCP to help their fellow priests," Deslate said.
The center also has laypeople who help run the institution, including a psychiatrist who, Deslate said, was chosen "because she is a practicing Catholic and she has this love for the church and an understanding for the needs of the priests."
Individualized approach
The Galilee Center offers two main programs. The therapeutic program helps priest who committed mistakes in their priestly life while the proactive program is designed to prevent priests from committing such mistakes.
Activities at the center include holy hour, recreation, studying, praying, playing, spiritual directions and individual counselling, the most crucial part of the rehabilitation when the priest is encouraged to face the issues in his priestly life.
"You really have to get their trust so that they will open up to you," Deslatesaid. "Without this openness, the formation and the aid will be futile."
"Rehabilitation" of deviant priests may last from three to six months, depending on the gravity of the offense, and may cost up to P80,000 per priest, including his board and lodging, according to the data obtained from Deslate.
If the accused priest is fortunate enough, the diocese will shoulder the entire amount. But the accused priest often pays for his own, Deslate said.
The Galilee Center, however, treads carefully in instances where priests have court cases arising from child molestation. More often than not, the center will not accept them until after their legal cases have been settled. The reason:priests with legal suits are not as receptive to the therapy.
Sometimes the Galilee Center just becomes a refuge for these priests who are "confused" and "suicidal," Deslate said.
But he would like to see the Galilee Center shed its image as a "rehabilitation" center because it gives the wrong impression that the institution is only for "bad priests."
"To be fair, not all priests who enter this institution are bad," he said.
Rosales, however,says priests sent to the Galilee Center indeed live with the stigma.
"The usual thinking of churchgoers is: Aba, galing ka sa Galilee. Anong krimen ang ginawa mo (Oh, you came from the Galilee. What crime did you commit)?" he said in jest.
Does rehab work?
Deslate and Rosales both believe in the "reformation" of erring priests.
"We have to know that priests also need help when they commit mistakes. They are after all still human bound to weaknesses," Deslate said. "We cannot judge them just by a mistake."
Said Rosales: "Instead of condemning them, why not just help? This way, we are solving the problem (of clergy sexual abuse) at the same time we are helping a sinner (priest) mend his wrong ways."
But for retired Archbishop Oscar Cruz, priests who have been proven to violate minors should be dealt with seriously.
In a frank admission, Cruz said rehabilitation of priests rarely works in the Philippines. The Philippine church at this time does not have the faculty to rehabilitate and heal priests with pedophilic tendencies, he said.
"If you have this character flaw, because pedophilia is a disorder, it goes with you until kingdom come, so to speak," Cruz said. "Yes, guidance, counseling and rehabilitation can lessen it, but it doesn't really cure it."
Interviewed months before he was designated by the Diocese of Antipolo to investigate Taytay-based priest Arnel Lagarejos on charges of pedophilia, Cruz also said bishops put vulnerable children at greater risk when they give pedophilic priests a second chance by simply transferring them to other parishes as sanction for their misconduct.
"It's the same person you are transferring, same person who might molest a child again. He will commit the same mistakes again. And you will give him a chance?" he said.
Cruz explained: "The priest had his formation for at least 12 years, if not more. If you cannot form a priest in 12 years or more, then don't tell me that you can form or treat him in one month, two months or even six months."
"I admire those bishops who do that (give erring priests another chance) and I am not limiting the grace of God. But I am just saying that in the ordinary, unless there are miraculous interventions, a priest who has not been formed for 12 years will not be formed for one month," he added.
No similar center for victims
Unlike the Galilee Center, the CBCP has no institution that helps victims of clerical abuses for their healing and therapy.
One reason is some people doubt the sincerity of the church in helping the victims, Deslate said.
He said the media had also questioned the "help" being given to the victims of clergy sexual abuse, asking whose interest the church was serving: the victim's or the church's?
"The question caused a lot of stress to the church officials," he said. "But that does not mean we don't reach out to the victims."
The church refers victims to institutions independent of it and that can help them, such as the Good Shepherd Sisters.
The Good Shepherd Sisters are contemplative nuns from the Congregation of Our Lady of Charity of the Good Shepherd. Members of the congregation dedicate their lives to promoting the welfare of women and girls, including aiding women and girls sexually abused by priests.
Deslate said the Emmaus Center for Psycho-Spiritual Formation at Ateneo de Manila University assists abused males.
While the church has no formal institution to help victims of priestly misconduct, Deslate said it does offer assistance. "The church offers them help. We go to them and listen to their stories. As much as possible, we also give what the victims need: support financially, therapy, among others."
He concedes, though, that some victims are afraid to speak up for fear of being judged.
"We have to understand that some of these victims do not come forward not because they don't want to, but because they are ashamed of what happened to them," Deslatesaid.
(The author recently graduated with a bachelor's degree in journalism from the University of the Philippines-Diliman. His article is based on his thesis, "Wolves in shepherds' clothing," done under the supervision of UP journalism professor Yvonne T. Chua. VERA Files is published by veteran Filipino journalists taking a deeper look into current Philippine issues. Vera is Latin for "true.")