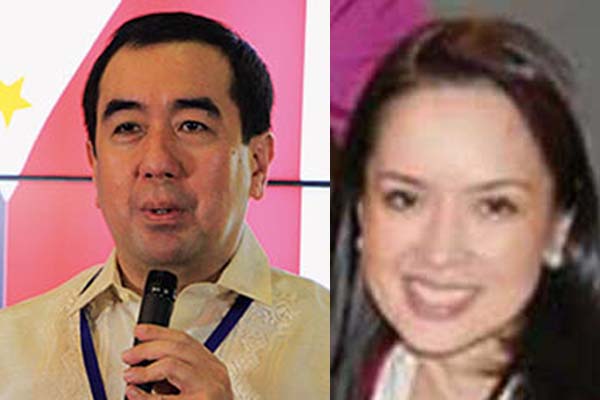 Chairman Andres "Andy" Bautista and Patricia "Tish" Cruz-Bautista.
Psychic bond draws wife to marriage 'third party'
(The Philippine Star) - August 7, 2017 - 4:00pm
MANILA, Philippines - It was a supposed psychic connection that brought them together, first in a business venture that used their respective "third eye" abilities to help people.
Patricia "Tish" Cruz-Bautista and her husband, Commission on Election (Comelec) Chairman Andres "Andy" Bautista, were for many years good friends of and often went out with another couple, 2016 Asia's Best Female Chef and renowned restaurateur Margarita "Gaita" Fores and her then partner Alfonso "Alvin" Lim.
Tish, who had long claimed to have a "third eye" that could see angels and read people's auras and other emanations, convinced Alvin that he, too, had the gift. Together they formed a venture that worked out of an office space lent by her mother Baby Cruz.
Tish had, in fact, once told Gaita that her gift had seen that her long-time partner Alvin was in love with another woman and would soon leave her. Gaita at the time saw no reason to give any credence to the warning, until sometime later a wayward text message confirmed that prediction – there indeed was another woman, and she was none other than Tish herself.
In all of this, Baby Cruz has been trying to keep Tish and Andy together, counselling them to remain a family, especially with four sons now aged eight to 16.
But, when Tish told her mother of her desire to split from Andy, no amount of counselling or persuasion could change her mind; she was decided on leaving Andy for Alvin.
An apparent distance had formed between mother and daughter, and this became quite obvious at Baby Cruz's wedding to Danny Vasquez in September 2016. Although she was invited, Tish did not attend the wedding, but son-in-law Andy came with their four sons.
Talk around town has it that Tish and Alvin have since parted ways, and that Alvin had reportedly sought to mend relations with Gaita.