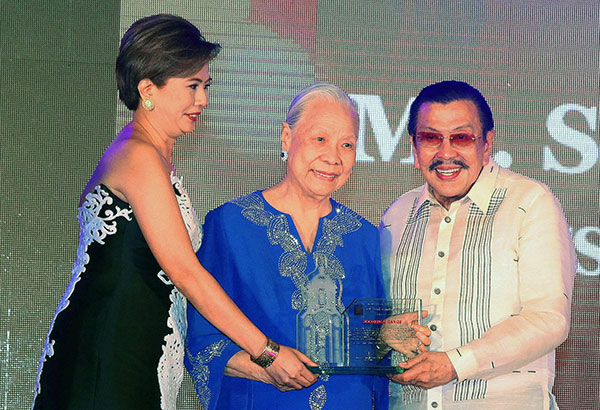 National Book Store founder Socorro Ramos receives an award as Outstanding Manilan from Manila Mayor Joseph Estrada and Vice Mayor Honey Lacuna-Pangan during a ceremony highlighting the weeklong 446th Araw ng Maynila festivities at the Manila Hotel the other night. JOEY VIDUYA
Araw ng Maynila: Erap honors outstanding citizens
MANILA, Philippines - The Manila city government honored on Friday outstanding citizens as part of the week-long celebration of its 446th founding anniversary or Araw ng Maynila.
Manila Mayor Joseph Estrada led the awarding of plaques to nine Outstanding Manilans of 2017 in simple rites at the Manila Hotel.
Honored were the late Juan Arellano, Sen. Sonny Angara, Ramon Orlina, Socorro Ramos, Auraeus Solito, Patrocinio Villafuerte, Boots Anson-Roa, Ben Farrales and Amelia Lapeña-Bonifacio.
They were chosen for success in their respective careers, thus giving honor to Manila, Estrada said.
Anson-Roa was cited for her being a popular movie actress and a FAMAS awardee, while Angara was recognized for his public service.
On the other hand, Farrales is a well-known Filipino fashion designer while Orlina is the father of Philippine grass sculpture.
Villafuerte was honored for being a multi-awarded writer, linguist and educator.
Solito is an award-winning filmmaker and indigenous people's rights advocate and Ramos is the woman behind the National Bookstore.
Lapeña-Bonifacio was honored for being the grand lady of Philippine puppet theater.
Estrada bestowed a posthumous award on Tondo-born architect Juan Arellano, who designed the Metropolitan Theater, the Legislative Building that now houses the National Museum and the Manila Central Post Office Building.
Estrada also awarded outstanding business and real property taxpayers.
PhilSTAR Daily Inc. was eighth among the top company taxpayers. The others were Manila Electric Co. (Meralco), International Containers Terminal Services Inc. SM Prime Holdings Inc. Mercury Drug Corp.,Unilever Philippines, Inc., Asian Terminals Inc., Maynilad Water Services Inc., Puregold Price Club Inc. and Golden Arches Development Corp. (McDonald's).
The city government also named Megaworld Corp., Asian Terminals Inc., Unilever Philippines Inc., Manila North Harbor Port Inc., SM Prime Holdings Inc., Bangko Sentral ng Pilipinas, Home Guaranty Corp., Bataan Ship Yard and Engineering Co. Inc., Meralco and Robinsons Land Corp. as this year's top 10 real property taxpayers.
Meanwhile, Estrada reassured the 8,000 city hall employees that they would keep their jobs "as long as they fulfill their duties with highest dedication."
In a speech during the awarding of Manila's outstanding employees, Estrada said he is not a "benggador" or a vindictive person.
"I have also shown to all of you that I fulfill my promises," he said.
"By this time, it must be very clear to all of you that I meant what I said before: for as long as you perform your duties, and perform them with utmost integrity and honesty, then you need not have fears about keeping your jobs," Estrada added.
Since he assumed office in 2013, Estrada stressed that he never terminated, transferred or replaced employees identified with the previous administrations or those who supported rival candidates in the elections.
Estrada admitted he is "saddened" that there are still a few who continue to sabotage the many programs and projects he started implementing since 2013.
These include employees who are deliberately delaying the processing of vital documents, those collecting fees from residents availing of the city government's free medical services and those spreading destructive rumors that erode Manileños' trust in him.
Estrada congratulated the 10 Outstanding Employees and recipients of Service Loyalty awards for their exemplary work and "showing the citizens of this city that we in government are not just employees, but public servants."
"This is one occasion that truly brings honor to our city. As model employees, I hope that you can set a good example that others can follow," Estrada said.
The 10 Outstanding Employees for 2017 are Anabel Ayong, Department of Public Services (DPS); Reynaldo de Guzman, Department of Engineering and Public Works (DEPW); Diosdado Familaran, DEPW; Barbara Gitgano, DPS; Socorro Meneses, DPS; Roberto Orallo, DEPW; Dr. Maria Nanette Pagalan, Sta. Ana Hospital; Avelino Resuena, DEPW; Priscilla Tagalag, DPS; Dr. Maria Cecilia Tolentino of Gat Andres Bonifacio Memorial Medical Center.
Also honored were 368 employees who have been in the service for 30, 35, 40 and 40-plus years.