Alleged Binay dummy clears name through 'open letter'
MANILA, Philippines - Businessman Antonio "Tony" Tiu released an open letter entitled "So the truth may be known" to dispute allegations that he is Vice President Jejomar Binay's dummy.
"I am publishing this letter to dispute the allegations. I want to clear my name. I want to protect the companies, investors, and the thousands of employees and farmers I am connected with," Tiu said.
The businessman is the current Executive Chairman of AgriNurture Inc. (ANI) and Chairman, President and Chief Executive Officer of Greenergy Holdings Inc. which owns Sunchamp, the alleged
"Hacienda Binay"
in Rosario, Batangas.
Tiu was one of the recipients of the Ten Outstanding Young Men in 2011 and was awarded as Emerging Entrepreneur of the Year by Ernst and Young in 2009.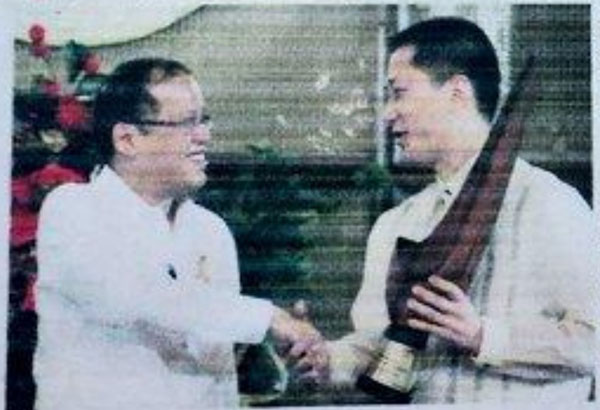 On his open letter, businessman Antonio "Tony" Tiu included a photo of himself with President Benigno Aquino III during the awarding of the Ten Outstanding Young Men in 2011.
In his statement, the alleged Binay dummy reiterated that he believes in agriculture's high economic premise and that ANI seeks to uplift lives of the less privileged through this.
"Politicians can malign me, wag their accusing fingers in front of my face, throw invectives to demonize me, and conduct Senate inquiries till hell freezes over but I can only be too happy if charges are filed against government officials found to be corrupt to the core, no mater how high the paper trail goes. May they rot in jail for a long time," the alleged Binay dummy said.
The businessman cleared that ANI owners never acted as fronts or dummies for high ranking officials.
"But sorry, I will not permit the Senate investigations to make me and my companies become collateral damage," Tiu said.
During a televised press conference on Wednesday,
Tiu asked for respect
and begged that his company and its stakeholders be spared from controversies about him.
Tiu did not convince the Senate Blue Ribbon sub-committee that he is the owner of the 150-hectare agricultural estate in Rosario, Batangas when he
failed to present documents
such as titles of the property to support his claims.