Binay's 2016 ratings drop amid corruption allegations
Louis Bacani
(The Philippine Star) - September 29, 2014 - 11:46am
MANILA, Philippines - Fewer people would vote for Vice President Jejomar Binay in the 2016 presidential election though he remains to be the top contender, according to the latest survey by Pulse Asia.
Binay obtained 31 percent of the votes of 1,200 respondents in Pulse Asia's survey on the Filipinos' presidential preferences for 2016 conducted from September 8 to 15.
This was lower than the 41 percent he received in Pulse Asia's poll conducted from June 24 to July 2.
Binay's rival in the 2010 elections, Interior and Local Government Secretary Mar Roxas, came in a far second with 13 percent, up from seven percent in the previous survey.
Roxas was followed by Sen. Miriam Defensor Santiago with 11 percent, Sen. Grace Poe and Manila Mayor Joseph Estrada with 10 percent each.
Pulse Asia said Binay is the leading presidential candidate in the rest of Luzon (32 percent), Metro Manila (33 percent) and Mindanao (33 percent). In the Visayas, almost the same percentages express the same level of support for Binay and Roxas (27 percent and 22 percent, respectively).
Binay is the top presidential contender in Classes D and E (32 percent and 33 percent, respectively). For Class ABC, the top presidential bets are Binay and Santiago (23 percent and 17 percent, respectively).
Binay's numbers have dropped while he and his family are facing public scrutiny over their wealth. A plunder complaint has been filed before the Ombudsman against him and his son, Makati Mayor Erwin Binay, for allegedly amassing kickbacks from the costly Makati City Hall II parking building.
During the Senate hearings on the controversy that started before the Pulse Asia survey, former Makati officials and his allies accused Binay of pocketing public funds from every project in the city and of manipulating biddings.
Last week, Binay was accused of using "dummies" or "fronts" to hide their other properties.
Binay's camp claimed on Monday that all of his properties are on record.
READ: Lawyer to resign if Binay's SALN proven inaccurate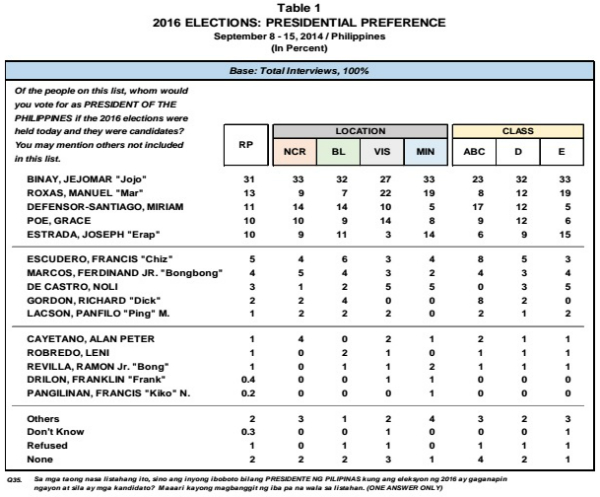 Pulse Asia website screengrab