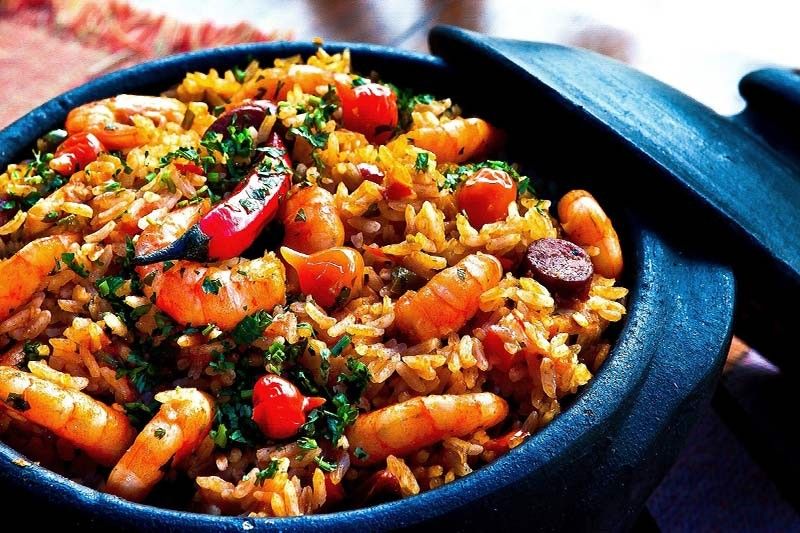 LATEST UPDATE: September 16, 2020 - 2:34pm
+ Follow Story
2 days ago
The discerning Fil-Chi community gets to celebrate the Mid-Autumn Festival in delicate style and delightful flavor as Hong Kong MX Mooncakes returns to Manila with their classic lineup and brand new additions and packaging. Beloved favorites like White Lotus Seed Paste Mooncake with 2 Egg Yolks and the Lava Mooncake Series will be marking a return along with exciting new flavors such as the Lava Duet (combining custard and chocolate goodness) and the Delightful Moon repack with premium variations and the new Lava Chocolate filling. These will be exclusively available through official online channels and a pop-up store in SM Mall of Asia - Level 1 G/F Main Mall in front of Watsons until October 4.
The Lava Custard Mooncake utilizes the unique 'double-bake' technique to produce the one of a kind texture and flavour of the aromatic and smooth silky filling seeping out from its core. An instant hit last year and heavily anticipated to return for the festivities this year, there is the addition of the Lava Duet Mooncake set to the family. The set includes two flavors namely the signature Lava Custard and delectable Lava Chocolate, which comes in a box of eight allowing you to revel in double the enjoyment that are perfect for this celebratory time of year. The Custard Twins Mooncake is also back with both the classic and the lava variety. Inspired by the auspicious rabbit, the new packaging is sleek and modern while retaining the vibrant colours that signify the festive celebration.
Meanwhile, the flagship products 'White Lotus Seed Paste Mooncake with 2 Egg Yolks' and 'Lotus Seed Paste Mooncake with 2 Egg Yolks', which have brought global recognition to Hong Kong MX Mooncakes, are also going to be making a Philippine comeback. The white lotus seed paste remains delicate and velvety, and the lotus seed paste decadent and thick. The new gift box packaging adds a layer of sophistication and magnificence for these alluring classics. Because the Mid-Autumn Mooncake Festival is a celebration for everyone, Hong Kong MX Mooncakes will also be offering the specially created Low Sugar Mooncake Series. The Low Sugar White Lotus Seed Paste Mooncake with Egg Yolk comes in boxes of six mooncakes.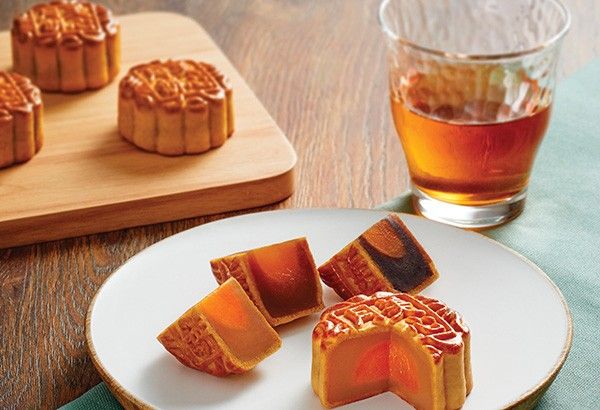 September 14, 2020
September is a special month for Yellow Cab as the dining chain celebrates its bestseller that blends both sweet and savory flavors with a bit of a kick in every bite: the Charlie Chan. From September 16 to 20, buy one large Charlie Chan pasta starting at P339 and get one regular serving for only P20. The pasta dish is known for its of chicken strips, juicy shiitake mushrooms, spring onions and roasted peanuts mixed in a spicy oriental sauce.
This limited time offer is available in participating Yellow Cab stores nationwide for dine-in, pick-up, take-out, drive-thru and delivery. This is also available via GrabFood, FoodPanda and LalaFood. All our stores adhere to proper operating guidelines to ensure customers get signature products as safely as possible.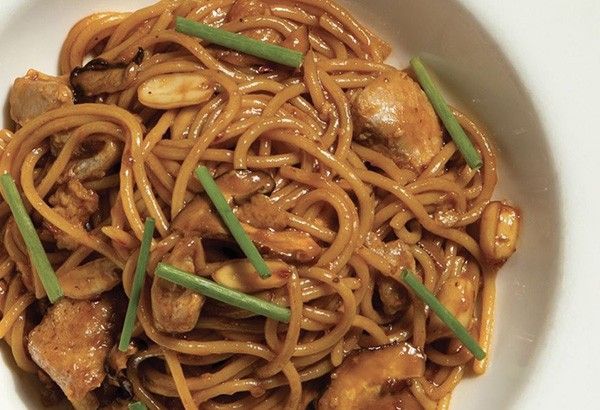 September 10, 2020
Staying healthy and maintaining overall well-being is ideal for everyone. But keeping a good diet and lifestyle, and resisting sweet cravings can be hard. As such, Universal Robina Corporation (URC) offers Nice & Natural, a healthy nut bar can be enjoyable to eat. It is a combination of natural ingredients such as nuts, wholegrain oats and fruit bits, drizzled with chocolate.
This treat contains protein and is a good source of fiber. The nut bar comes in Choco Almond Crunch and Mixed Berry Crunch flavors, and is also available at SM Stores, Robinsons Supermarket, Shopwise, Mercury Drug Stores, Rustan's Supermarket, Ministop and 7-Eleven outlets nationwide, as well as URC's official store on Lazada.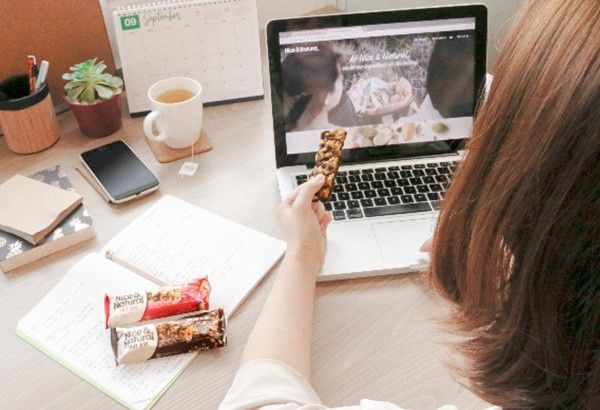 September 8, 2020
In celebration of a year of serving authentic Chinese cuisine and preserving the affluent Chinese tradition, the Empress Dining Palace turns one this September and the fine-dining restaurant is offering royal deals and a special gift on its anniversary week. Until September 9, dimsum platters are on a 30% discount. Both small and large dimsum platters feature dimsum delights such as Steamed Pork & Shrimp Dumpling with Crab Roe "Siew Mai," Steamed Shrimp Dumpling "Hakau," Steamed Shrimp & Spinach Dumpling, Steamed Cream Custard Bun with Salted Egg Yolk, and Steamed Shrimp & Scallop Dumpling with Crab Roe while only the large dimsum platter includes Baked Bolo Pork BBQ Bun.
This deal is available for dine-in and pick-up orders as well as through the Empress Express, the restaurant's official delivery brand and service. On September 8 and September 9, get the crowd favorite Jumbo Steamed Soupy Pork "Xiao Long Bao" for only one peso for every P2000 worth of transaction. Dine-in guests will also be gifted with a special rat plush toy exclusively made for the Chinese restaurant.
The Empress serves an extensive menu of classic Cantonese cuisine and selected dishes from the Northern region, from appetizers and savory, tender meats, down to its highly-prized seafood roster and dimsum. It also offers a wide range of refreshments and desserts at its dining palace at 7th Avenue, Bonifacio High Street, BGC, Taguig City. It is open daily from 10 a.m. to 7 p.m. Last order is at 6 p.m. Also available via Foodpanda and GrabFood.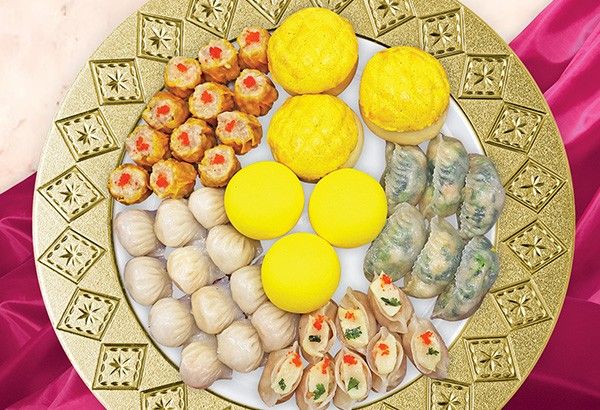 August 28, 2020
Celebrate empowering everyday heroes this long weekend with Yellow Cab's Only The Finest For Our Heroes offering. Get a free regular Charlie Chan or four pieces of original Hot Chix for every order of 12-inch New York's Finest pizza, starting at P735. Offer runs from until October 31 in participating stores nationwide for dine-in, pick-up, take-out or delivery. Also available via GrabFood, FoodPanda and LalaFood.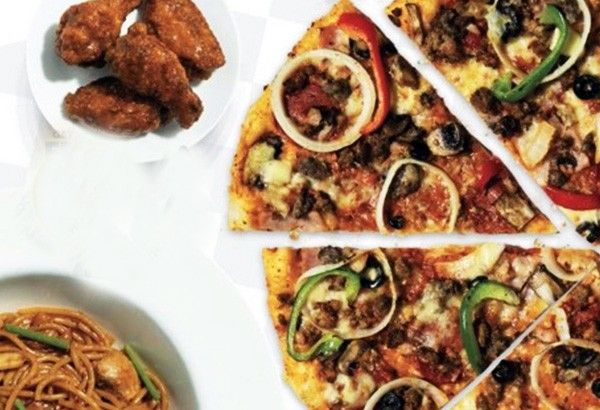 August 20, 2020
"Kung Fu Panda's" Po and the gang are now found in every Cadbury Dairy Milk Lickables. Over 70 "Kung Fu Panda" toys are there to collect inside this Cadbury treat now available in leading supermarkets nationwide.
Now with exciting Kung Fu Panda toys, you have 70 more reasons to scoop the chocolate goodness of Cadbury Dairy Milk Lickables! ASC REF. NO. M139P022720C

Posted by Cadbury Lickables on Saturday, July 4, 2020
August 20, 2020
We all have food cravings and sometimes we go to great lengths to enjoy them. We're always on the hunt for that perfect food trip that tastes delicious and doesn't leave us with guilty feelings. Tiger Crackers from Mondelez Philippines are crispy crackers available in Plain, Ensaymada and Leche Flan flavors made guilt-free with only 120 calories per pack.
Available in leading supermarkets nationwide, the Tiger brand has been in the Philippines since 2009 and also offers nutritious biscuits and choco-filled crackers.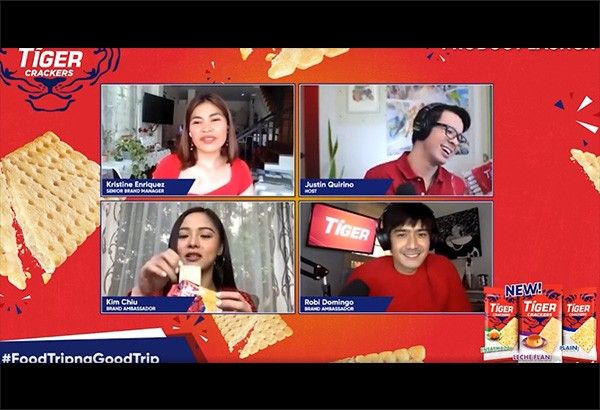 August 18, 2020
As the country continues to adapt to new behaviors, on-demand food delivery service Foodpanda has been spreading good vibes by ensuring the safety and well-being of their delivery riders who many people now consider as modern day heroes especially during this pandemic. During the quarantine, the demand for food deliveries skyrocketed, and unfortunately, this demand came with a steady rise in order cancellations and no-show customers. The riders, however, are never expected to shell out any money—the company itself shoulders these expenses.
To make sure that they can always stay connected, the company partnered with telecommunications providers Globe, PLDT-Smart and Cherry Prepaid for exclusive deals to help its riders save up on their data consumption and communications expenses. They were also given discounts in gasoline stations, tires, and many more. Riders have been thoroughly trained in new practices such as contactless delivery and sanitation. Rain or shine, riders are provided with weather gear for the season. Lastly, to make sure that their riders really have good vibes, the riders were given insurance in partnership with Manulife and Cebuana Lhuillier.
That said, you can be sure that the foodpanda rider delivering your favorite food and essentials is enjoying not just the job, but all the perks and benefits that come with it. This National Heroes Month, they're definitely being treated like the heroes they are especially during these times.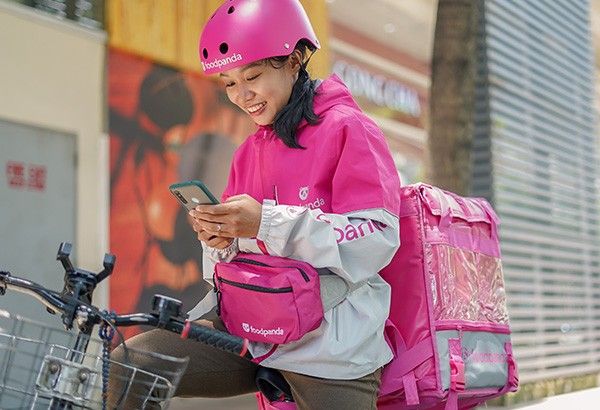 August 13, 2020
Flex your creativity and enjoy a New York-style pizza of your own creation at home with Yellow Cab's new You Do Your Own Pizza Basic Kit. Starting at P199, you can get a kit packed with staple ingredients that you need to create your own pizza masterpiece: A nine-inch chilled dough ball, pizza sauce, minced garlic and oregano, mozzarella, chili flakes and toppings based on your chosen variant: Pepperoni & Ham or Garlic & Cheese. You may also add any additional ingredients from your pantry to make it uniquely yours.
From August 14 to 16, have two of your favorite New York-style pizzas for the price of one with the Crazy Pizza Sale. For every 12-inch pizza, get another pizza of the same size and flavor, for free. Starting at P499, choose from a wide selection of Classic, Signature, and Legendary flavors, such as: the local favorite Hawaiian; iconic Pepperoni; protein-packed Manhattan Meatlovers; fresh Garden Special; light Roasted Garlic and Shrimp; sweet and tangy BBQ Chicken; flavorful #4 Cheese, or the bestselling New York's Finest. The kit and the pizza sale are available in select stores via Curbside pick-up, take-out or delivery.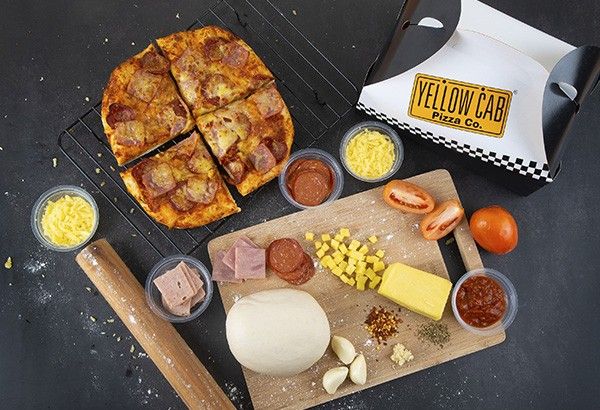 August 6, 2020
To mark 57 years of being in the country, Mondelez Philippines thought to strengthen bonds with its team and its community. The company's actions are guided by its purpose to empower people to snack right; with the right snack, for the right moment and made the right way. Though unable to gather its 480 team members at this time, a virtual celebration will be held where the team will share what they're thankful for, how they remain "Driven at 57," and have delicious snacks to celebrate with. Special thanks will also given to the brave food frontliners who continue to make and sell the Company's snack products, to ensure consumers continue to enjoy deliciousness in their homes.
For the community, Mondelez Philippines wanted to give thanks to the health front liners who are offering their lives in the service of the country at this time. Collaborating with partner Rise Against Hunger, the company shared its chocolate and cheese products to 57 hospitals in Metro Manila, including those in its home city of Paranaque, as well as others in surrounding cities of Muntinlupa, Quezon City, Manila, Pasay, Makati, Navotas and Valenzuela.
In recent years snacks have become more than just a bridge in between meals. According to a 2019 global State of Snacking report supported by the company, people's relationship with food is fundamentally changing. The majority of people in the report say that snacks are just as important to their mental and emotional wellbeing as their physical wellbeing. By sharing these snacks, it is the company's hope that they can bring bright spots to health frontliners' chaotic days.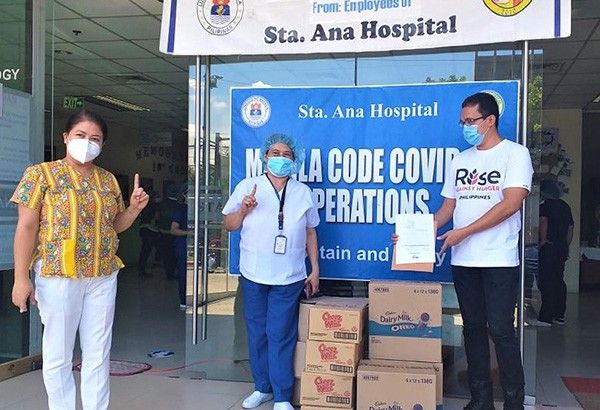 August 5, 2020
Doughnuts brand Krispy Kreme celebrates its anniversary with the new Ring-Filled Salted Caramel Doughnut with Almond Roca, available from August 7 to October 7.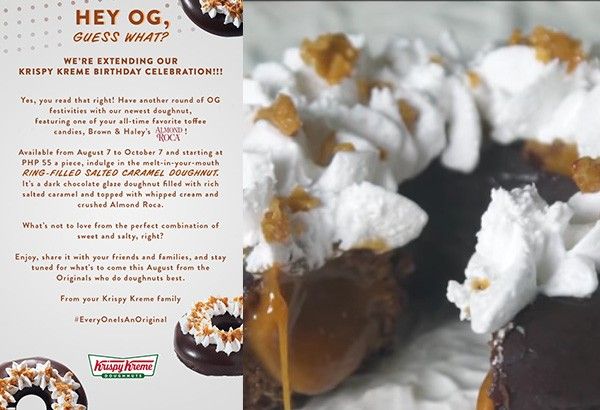 July 31, 2020
We all need a little sweetness to get us by these COVID-19 times as we stay indoors as much as we can, and continue to work-from-home or attend online school sessions. A bite-sized delectable treat in between those online meetings and classes can go a long way to boost your mood and energy. To satisfy those cravings, Cadbury recently introduced its bite-sized Shots.
Mondelez Philippines, the maker of Cadbury Dairy Milk, is proud to introduce the new little treats that are miniature chocolate pieces that will not melt even without refrigeration.
"We at Mondelez Philippines are always looking for ways to innovate, and give our customers the delicious escape they all crave for," Gicelle Medina, Mondelez Philippines' Chocolates Senior Brand Manager explained.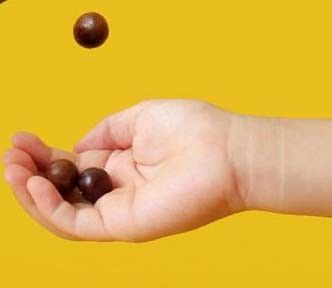 July 30, 2020
Two of Taiwan's most beloved brands have launched their new Minibox Bundle where customers can enjoy Yi Fang's refreshing fruit teas paired with Grand Castella's freshly baked cakes. The tea brand has carved out a niche in the competitive milk tea market by using fresh ingredients with no creamers, syrups and artificial sweeteners. The brand has been growing exponentially in the Philippines since 2018, capped with the release of their newest flavor Pudding Tea Latte (classic black tea latte topped with creamy caramel pudding), as well as a branch in Baguio opening very soon.
Meanwhile, Grand Castella is a premier bakery founded by Master Baker Tai-Cheng Lu in Taiwan, who had been perfecting his recipes since the tender age of 15. He was first to introduce the Taiwanese castella cake experience to the public in 2010, opening his first branch long the scenic Tamsui Old Street in New Taipei. The bakery has since expanded to over 79 branches across Asia. The Philippines' first branch opened in 2019 at Eastwood Mall, and has since built a loyal following for their moist and fluffy cakes. Since June of 2020, Gthe brand's menu of castella cakes and cheesecakes has been available at select Yi Fang branches.
Starting July 20, the new Minibox Series will be exclusively offered containing two baked flavors, good for up to four people. Customers may purchase any two large drinks to get an Original & Cheese Minibox or the Cheese & Ube Minibox available at the following branches of the milk tea brand: Bonifacio High Street, Bonifacio Stopover, M. Paterno (San Juan), Legaspi St. (Makati), Rufino St. (Makati), Binondo, Banawe, Tomas Morato and Maginhawa.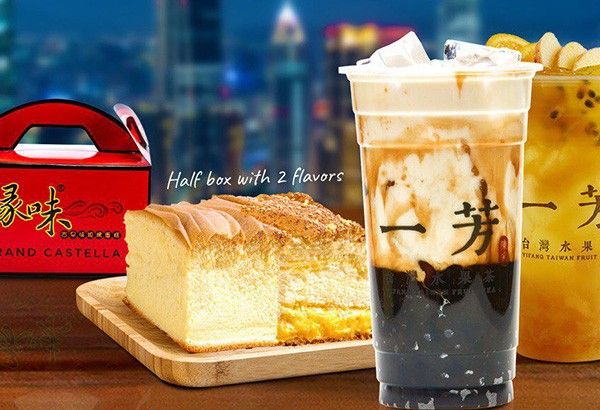 July 29, 2020
From July 29 to August 2, buy 16 pieces of wings and get extra four pieces for free at Yellow Cab. Choose from up to four flavors: original Hot Chix, Sweet Soy, buttery Garlic Parmesan, or sweet and tangy Sriracha. Price starts at P649. This limited time offer is available in participating Yellow Cab stores nationwide for dine-in, curbside pick-up, take-out and delivery. This is also available via GrabFood, FoodPanda and LalaFood.
All stores comply with proper operating guidelines to ensure you get signature products as safely as possible.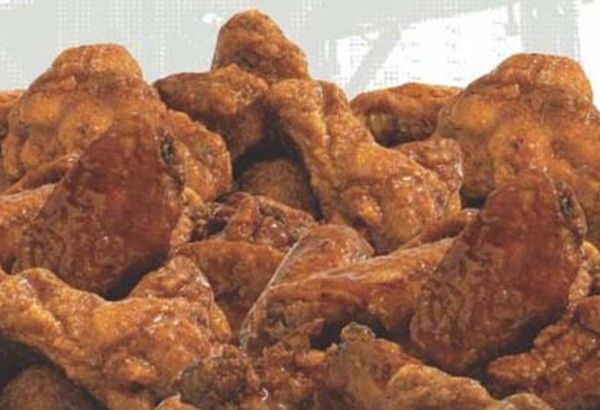 July 29, 2020
In celebration of National Corporate Social Responsibility (CSR) month, Metro Retail Stores Group, Inc., in partnership with Vicsal Foundation Inc., launched the First Virtual Metro Community Bazaar via a well-attended online ceremony last July 6. The virtual bazaar simulates the experience of shopping and exploring an actual bazaar. By clicking on a virtual storefront, shoppers will be led to the exhibitor's website, e-commerce platform or social media page. Here, they can shop and get more information on the advocacies that they champion.
Unlike e-commerce platforms, it encourages you to explore the exhibitor's online spaces. There are also free activities like cooking and baking demonstrations, and dance, yoga, and fitness exercises, classes that shoppers can try. Gourmet food products on offer at the bazaar include savory Bangus in Corn Oil, Gourmet Tuyo, and Crispy Mushrooms created by Caritas Margins, a program under Caritas Manila that provides skills and entrepreneurship training to marginalized sectors. All-natural and healthy items such as Virgin Coconut Oil, Coconut Sugar, and Pure Honey are also available from Caritas Margins. Those looking for lighter drink options will love the Moringa Tea from GreenEarth Foundation, Inc.
Shoppers can also avail of produce from Mad Market and Blessed Earth Farm, adlai rice from Bukidnon's Kiboa Ridge Farms, healthy meals from MDF Diet2Go, organic jams and spreads from Tree Hill Grocer and tasty snacks from SeaKid; and lifestyle items from local brands Bambuhay, Gifts that Give Back by the Artisan Women of Tondo, Likha Lokal, and Wow Carmen Handicraft. Aside from shopping and enjoying fun activities, bazaar-goers can also make a donation to support various advocacies. This includes Bahay ng Dios Foundation, which spearheads church conservation efforts; Caritas Segunda Mana, the donations-in-kind program of Caritas Manila; and Green Earth Heritage Foundation, which promotes sustainable community-based farming. The First Virtual Metro Community Bazaar will run until July 31, 2020. Visit Metroretail.com.ph/bazaar to learn more.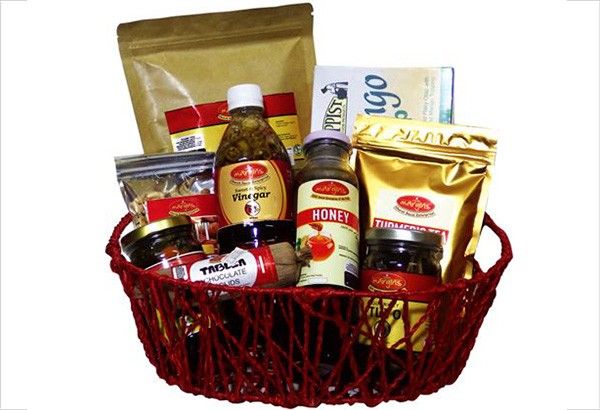 July 24, 2020
Satisfy your cheese cravings with Tokyo Tokyo's new Wasabi Cheese Wings, the new addition to the Japanese restaurant chain's flavor collection. Enjoy crunchy chicken wings and discover the unique combination of wasabi and cheese.
The Wasabi Cheese Wings are Japanese-style chicken wings covered with creamy, spicy cheese sauce and sprinkled with Nori-Wasabi seasoning for a cheese indulgence. Served with vegetable misono and rice. The products will be available in the following formats: Bento Ala Carte, Bento Meal (with sides and drink), six-piece platter, 12-piece Sampler Platter (four pieces Wasabi Cheese, four pieces Sriracha, four pieces Teriyaki).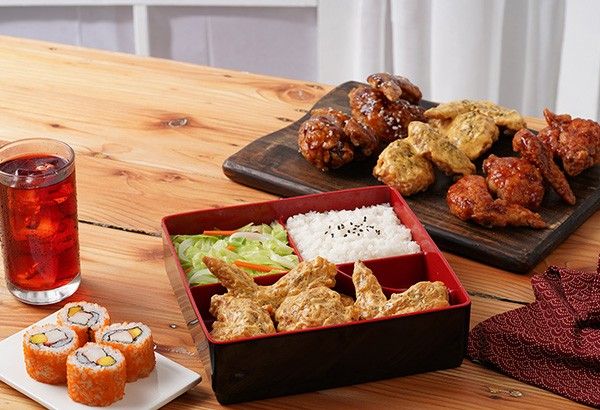 July 22, 2020
For those hungry but tired of cooking, Yellow Cab offers two nine-inch classic pizzas in two flavors with edge-to-edge toppings — sweet and savory Hawaiian and crowd-favorite Pepperoni. Top these off with 16 pieces of expertly fried wings in up to four flavors of your choice. Everything is for P999, with savings for up to P316. The offer runs until October 4, 2020 and is available for curbside pick-up, take-out and delivery also via GrabFood, FoodPanda and LalaFood. All Yellow Cab stores comply with proper operating guidelines to ensure you get its signature products as safely as possible.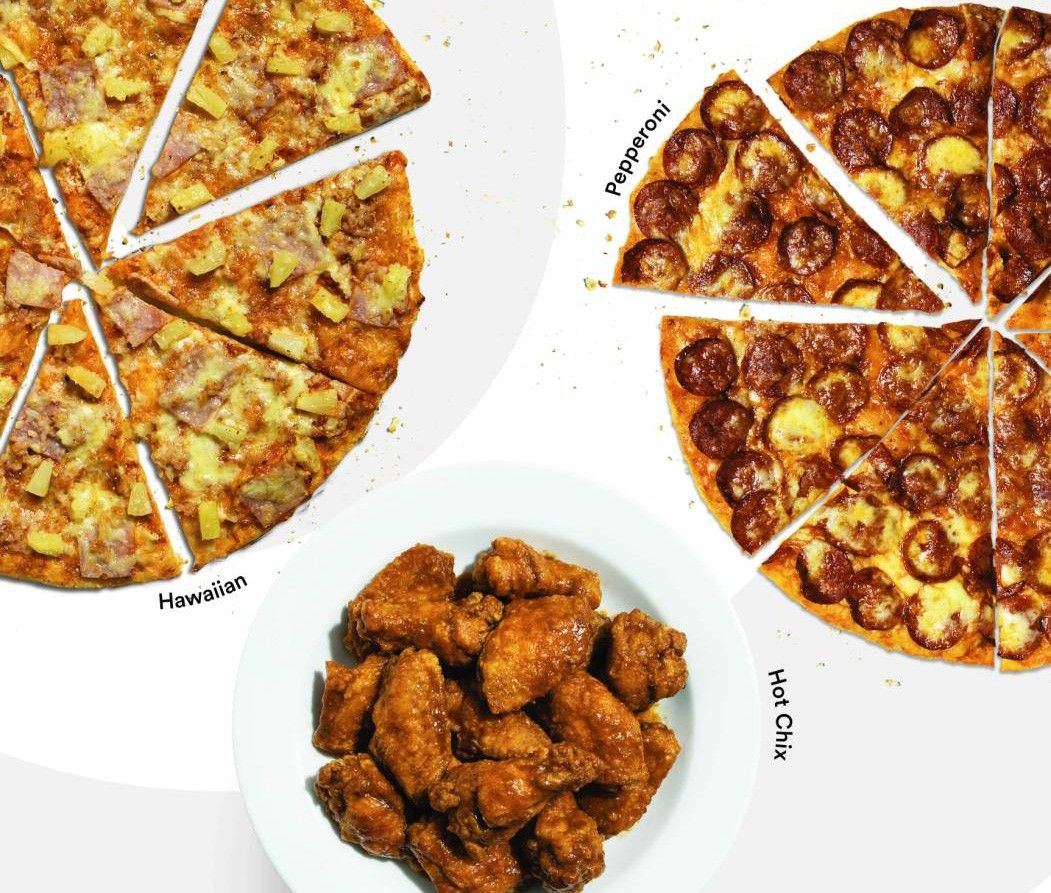 July 16, 2020
Raise a glass and celebrate any occasion in the comfort of your own home with the new Welch's Sparkling Rosè, now available at Waltermart, Robinsons Supermarket and Landers.
"Yes, it's true! It's 100% non-alcoholic. It's everything you love about rose wine without the alcohol. It's the perfect way to make pregnant and breastfeeding women, non-drinkers, and anybody living a non-alcoholic lifestyle a part of the celebration," said Erika Rodriguez, Vice President for Marketing of GEMCo, the Philippine marketing agent of Welch's International. "What's more, it's a health-conscious way to celebrate, since Welch's Sparkling Rosè has only 70 calories per serving. There are no added sugars too!"
With the quarantine still in effect, celebrations such as birthdays, anniversaries, and baby showers need not be delayed. Online parties can also become more lovely and "pink" with a light, refreshing taste and the sweetness and tartness of a ripe summer fruit. As the bottle is also pretty in pink, it looks great on any Zoom background or as part of your dining table for your Instagram photos.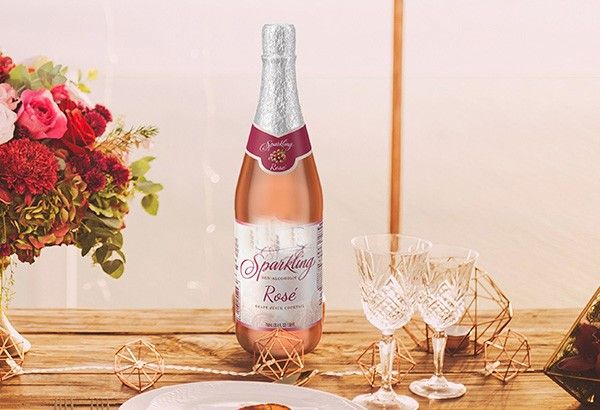 July 7, 2020
For those thinking of having a milk tea party at home, Gallontea has transitioned from a home-based business into a full physical store in GLI Building, J.D. Villena, 6189 Gabaldon, Makati, 1210 Metro Manila, open from Monday to Saturday, 10 a.m. to 6 p.m.
COVID-19 pandemic has been rough for businesses like Gallontea, but as soft opening last July 3, the brand held a small housewarming gift of free sinker (pearls, nata de coco or egg pudding) for every gallon. Their milk tea variants include classic, Wintermelon, chocolate and Okinawa, while fruit teas include strawberry, lychee, blueberry, green apple and lychee apple. Soon, the store will also offer snacks like dimsum. More details can be found on the brand's Instagram and Facebook pages.
July 7, 2020
In an effort to give back and celebrate its 6th year anniversary, on-demand food delivery service Foodpanda donated grocery packages to the local communities in Makati City, Taguig City, and Quezon City in Luzon, Cebu City in the Visayas, and Davao City in Mindanao. With the help and dedication of employees and riders, soldiers from the Philippine Army, and local government units, foodpanda, through their grocery delivery service, shops, distributed thousands of packages containing premium quality rice, canned goods, instant coffee, instant noodles and cooking oil to frontliners. Frontline workers who were able to receive the packages include emergency team responders, quarantine center personnel, garbage collectors and street sweepers.
To date, foodpanda distributed food packs to healthcare institutions during the enhanced community quarantine with their food delivery service, and now, as COVID-19 restrictions ease, they still continue to serve the needs of families and communities affected by the pandemic as they now deliver groceries and essential items via shops.
July 3, 2020
With the recent resumption of dine-in services, McDonald's Philippines has shared how they have elevated their commitment to quality, service, safety and cleanliness with stringent policies for both their customers and employees. The company has also released a video on its M Safe Program, featuring their President and Chief Executive Officer Kenneth Yang.
Employees also now follow enhanced stringent safety protocols, which include: daily submission of health check forms; temperature checks before and after every shift; increased hand washing frequency to every 30 minutes; provision of M Safe Care kits, including vitamins to help them take better care of their health. For customers, the number of those entering the stores will be managed. The following are implemented before entering the store: 'no mask, no entry,' temperature check, hand and footwear disinfection, and completion of a health check form.
In stores, physical distancing in all areas including order queues and dine-in areas will be observed. Table service is done for dine-in customers to avoid any crowding in the claim area. Counter and table shields are also in place, among many other precautionary measures in-store. More importantly, a dedicated safety manager is assigned in every store to ensure all protocols are followed, and goes the extra mile of offering hand sanitizer to customers every 30 minutes. To better improve its safety protocols, send feedback to msafe@ph.mcd.com.
July 1, 2020
Eating healthy during the community quarantine doesn't need to be that complicated.
For Nutrition Month this July, San Miguel Del Mar Tuna, made from 100% Pure Tuna Chunks, offers its healthy recipes such as Tuna Poke Bowl, Aglio Olio Tuna Pasta, Tune Crepes with Truffle Mushroom Cream Sauce by Chef Happy Ongpauco-Tiu, Tuna Rilette by Steph Zubiri and Tuna Adlai Grain Bowl by Chef Ed Bugia, which can be found in the brand's Instagram page. Available in leading supermarkets nationwide, the brand comes in Chunks in Vegetable Oil and Chunks in Water variants.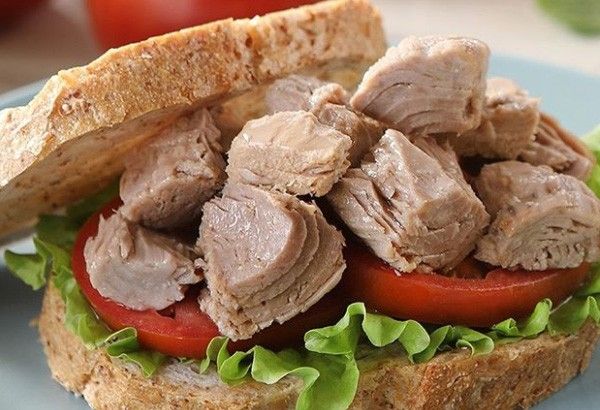 June 24, 2020
As lockdowns start to ease, The Bistro Group opened some of its restaurants for dine-in guests while strictly following protocols and regulations set by government agencies to ensure the health and safety of the customers and their staff.
Those who have missed eating inside Bistro restaurants can now do so at the following branches: TGIFridays (Bonifacio High Street, Alabang Town Center, SM MOA, Glorietta from 10 a.m. to 6 p.m.); Italianni's (BGC Ayala North Exchange, Greenbelt, Glorietta, Eastwood, Evia, Midtown, Alabang Town Center, Vista Mall Sta. Rosa from 10 a.m. to 6 p.m. except Vista Mall - from 11 a.m. to 6 p.m. and Midtown from 11 a.m. to 7 p.m.); Denny's (Uptown Parade, Midtown, Eastwood, Vista Mall from 8 a.m. to 6 p.m., except Uptown – from 8 a.m. to 7 p.m.); Texas Roadhouse (Greenbelt, inside Italianni's Evia Lifestyle Center from 10 a.m. to 6 p.m.); Modern Shanghai (Evia Lifestyle Center, NOMO (Vista North of Molino) from 10 a.m. to 6 p.m.); Watami (Greenbelt, Ayala North Exchange, and inside TGIFridays Glorietta, Bonifacio High Street, SM MOA, Alabang Town Center and Evia from 10 a.m. to 6 p.m.). Buffalo Wild Wings offers take-out and delivery service inside Denny's Vista Mall and Uptown.
Satisfy your longing for tasty tapas, hearty paellas and tender on the inside/ crispy on the outside, Cochinilo, among other soulful dishes at Spanish - Mediterranean restaurants Las Flores BGC and Rambla in Rockwell that are now open for dine-in guests from 11 a.m. to 8 p.m. while adhering to safety protocols for the protection of their guests. Curbside pickup and delivery are also available via GrabFood and FoodPanda.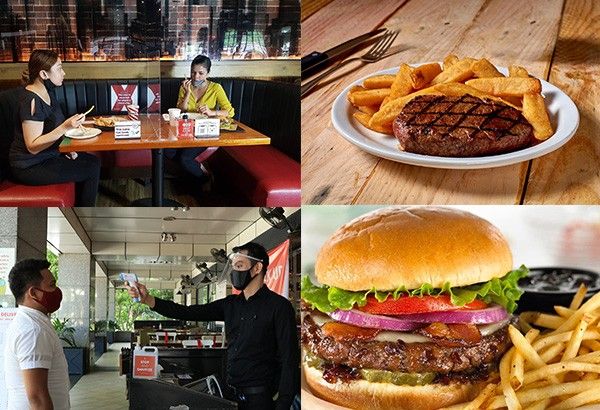 June 3, 2020
Food delivery service Foodpanda announces grocery and essential items delivery through shops. In partnership with a variety of retailers nationwide, customers can now order products and groceries without any minimum order requirement. They can have items delivered right to their doorsteps, at an average delivery time of 25 minutes or less. No need to schedule a grocery run when the pantry is empty with snacks, beverages, and bread as 7-Eleven's list of favorite essentials are just a few taps away. Racks is also offering their ready-to-cook entrees from meats to seafood, while Tous Les Jours offers its frozen bread. For those who need their daily caffeine fix, they can now set up a cozy coffee station at home with Coffee Project and Bo's Coffee. Foodpanda shops offers Subway's staple ingredients so anyone can recreate their signature favorites any time of the day.
With more than a hundred partners already on board, and growing every day, the app aims to continue to expand an even broader range of lifestyle and convenience offerings for its customers. Its growing pipeline of new business is fueled by its industry-leading network of partnerships, innovative technological platform and dispatch algorithm.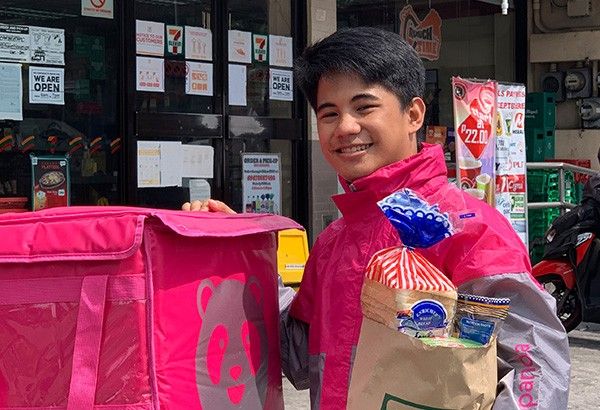 June 2, 2020
Familiar KFC favorites are making a comeback as pizza and chicken flavors combine as the fast food chain re-introduces its no crust, all chicken innovation the Chizza, now updated with more toppings. Chicken fillet covered with pizza sauce, slathered with melted mozzarella cheese and garnished with pineapple tidbits, diced bell peppers, and finished with chicken pepperoni, the Chizza has no crust; it's all chicken snack.
Due to insistent public demand, the brand also brings back its Pizza Twister - signature Fun Shots, laced with chicken pepperoni, slathered with pizza sauce, and quickmelt cheese, all wrapped in tortilla bread. The products will be available in ala carte, combo and fully loaded meal.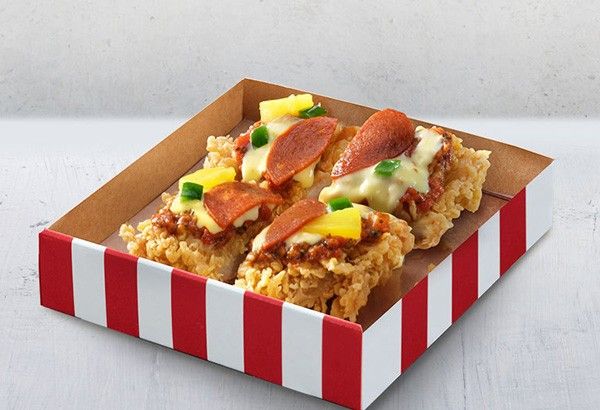 April 22, 2020
To ease the burden of frontline healthcare workers as they fight against COVID-19, Foodpanda has been helping out the best way they know how – through delivering good food right to their workstations.
As a showing of their appreciation and gratitude in keeping the community safe and healthy, the company partnered with local government units and restaurant partners such as Café Cueva in Baguio, Pizza Hut-Caltex Bacoor and Pizza Hut-Robinsons Imus in Cavite, Betmoto Worldwide Wings, Tita Jo Kitchenette and Alamak BBQ in San Pedro to bring warm meals to hundreds of healthcare frontliners in hospitals and checkpoints across 13 cities – from Baguio to General Santos City. The people who have been working tirelessly to fight COVID-19 received hearty meals and refreshments.
Foodpanda aims to visit and send out food and refreshments to more hospitals and checkpoints in the coming days.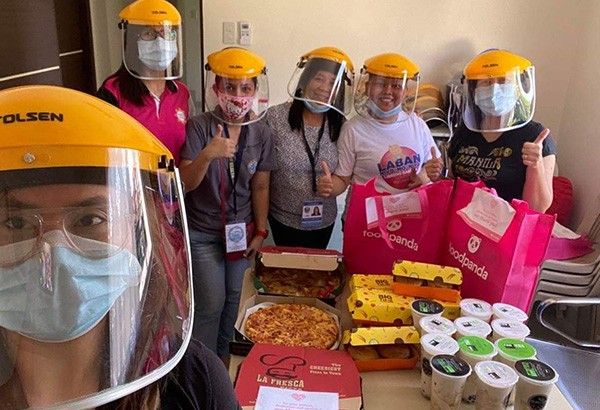 April 3, 2020
For Lent, Greenwich recently introduced Tuna Lasagna Supreme following last year's high demand. The Tuna Lasagna Supreme is prepared with layers of al-dente lasagna noodles with herby-tangy tomato sauce, tuna chunks, and rich creamy cheese. This multilayered pasta is now available for delivery via the food chain's website.
"There was such a huge positive reaction from our Greenwich kabarkadas when we introduced the Tuna Lasagna Supreme last year. Since then, we've been getting inquiries to put it back on the menu. We value our kabarkadas, kaya this summer – made with patong-patong na sarap of tuna chunks combined with other delicious ingredients you love in the best-selling Lasagna Supreme," said Pam Reyes, marketing head.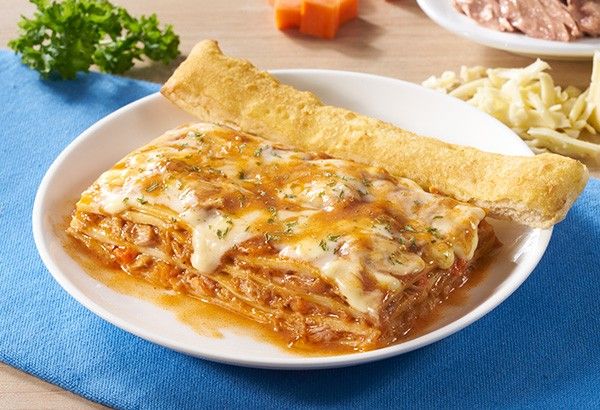 March 24, 2020
Food delivery service Foodpanda launches its contactless delivery due to the enhanced community quarantine. Both customers and riders are able to opt for contactless delivery with the following steps: 1. Place an order and opt for online payment; 2. Go to the rider chat function on the app and inform the rider/customers that they are opting for the contactless delivery; 3. Food will be placed at the designated drop off spot at the customers' home or office; 4. Rider will notify customers that food has arrived via the rider chat function on the app or call; 5. One-meter distance will be maintained between rider and customers; 6. Customers to verify the delivery; 7. Delivery completed!
"We value the safety of everyone in our community, and have introduced new measures to ensure you feel secure while using our service. Our riders are instructed to wash their hands every two hours and after each time they handle a delivery and follow the rider safety guidelines and proper handling of delivery," said Camille Hadjeri, Managing Director, Foodpanda Philippines. "We also encourage you to switch to online payment so we can reduce human interactions to a minimum."
February 21, 2020
Whether raising a glass to romance or celebrating independence, let love come in the form of food delivery.
On-demand food service Foodpanda celebrates the Love Month with 50 percent off and free delivery offerings from restaurants and fast food chains in Metro Manila, Cebu, Iloilo, Bacolod, Dumaguete, Tacloban, General Santos, Davao, and Cagayan de Oro. This allows diners to skip the long queue and enjoy having a date at the comforts of their own home, office, or anywhere they want.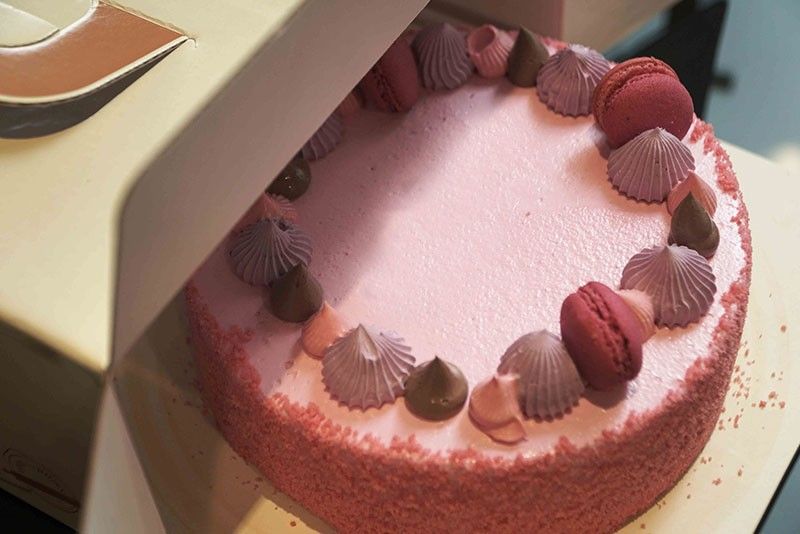 February 21, 2020
For those looking for meat alternatives especially this Lenten season, pizza chain Yellow Cab offers its three nine-inch pizzas in light Roasted Garlic & Shrimp, flavorful #4 Cheese and Garden Special meatless flavors for P699, with savings for as much as P561. Offer runs from February 26 to April 12 for dine-in, take-out, delivery and curbside pickup.
February 10, 2020
Fans of Jollibee's Tuna Pie can once again enjoy biting into its crispy golden crust and savor that rich creamy tuna filling as it is back in stores today but with a surprise. Fans can now enjoy two variants: Original Tuna Pie and the new Spicy Tuna Pie.
"With the Spicy Tuna Pie, you can now dig into the same crispy crust and creamy tuna filling, but this time with an exciting hot and spicy kick that makes it extra flavorful," Jollibee says in a statement.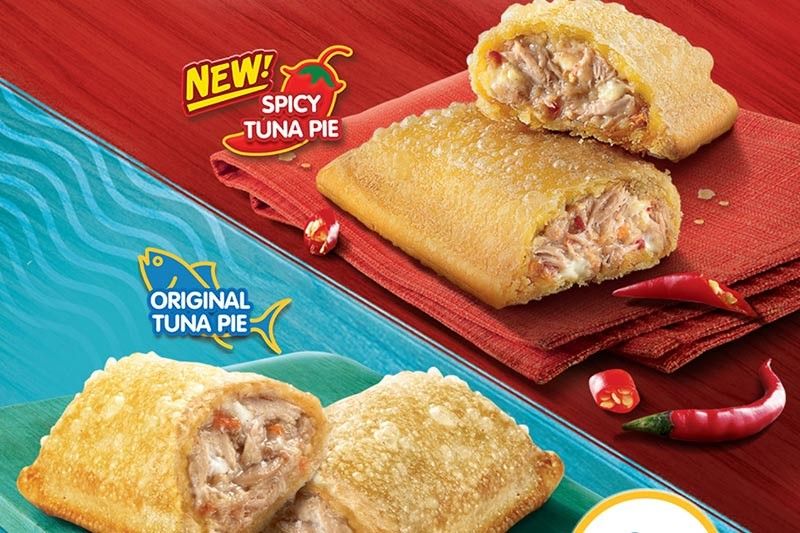 November 21, 2019
As Christmas day approaches, Max's Restaurant offers new treats inspired by the holidays. Nilagang Pasko is the restaurant's own take on the well-loved pochero dish, a tender trio of beef bulalo, cured meat, and chicken submerged in a rich annatto oil-infused broth with potatoes, pechay, squash, sweet potatoes, green beans, saba banana, partnered with eggplant salsa.
With Simbang Gabi just around the corner and the year almost ending, cap off every get-together with Bibingka Cheesecake, Max's Corner Bakery's unique take on the classic Filipino Christmas staple. This "kakanin" and cheesecake concoction is a marriage of soft, fluffly vanilla chiffon and smooth and silky cheesecake, generously topped with salted egg slices wrapped in banana leaves. Until January 3, 2020, the new Nilagang Pasko and Holiday Classics Supreme Bundle is available in all Max's Restaurant branches nationwide, and Bibingka Cheesecake and Caramel Fudge Cake in all Luzon stores only.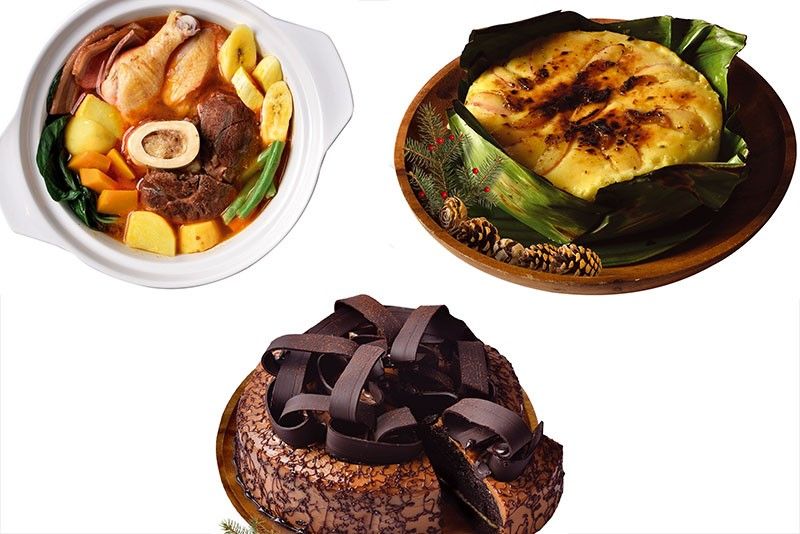 November 4, 2019
Philippine fast-food giant Jollibee unveils brand-new breakfast offerings: Cheesy Corned Beef Pie and Cheesy Bacon Pie.
"It has Jollibee's signature crispy, golden pie crust, stuffed with a choice of breakfast favorites, corned beef or bacon, mixed with creamy cheese and delicious mashed potato. It really is a breakfast sarap on-the-go!" it says in a statement.
"The Jollibee Breakfast Pies are the new perfect easymusal meal for busy folks as it is not only deliciously satisfying, but it can also be enjoyed even while on-the-go—perfect for those who don't want to be late for work or school."
The new pies cost P49.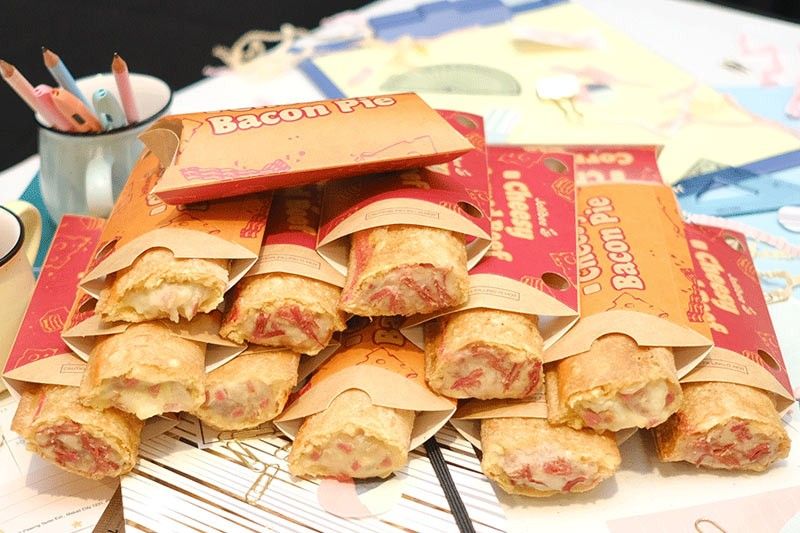 October 15, 2019
Craving for buko pie? You may not need to go far to satisfy your craving for the well-loved Filipino delicacy as Jollibee introduces the buko pie as its newest treat.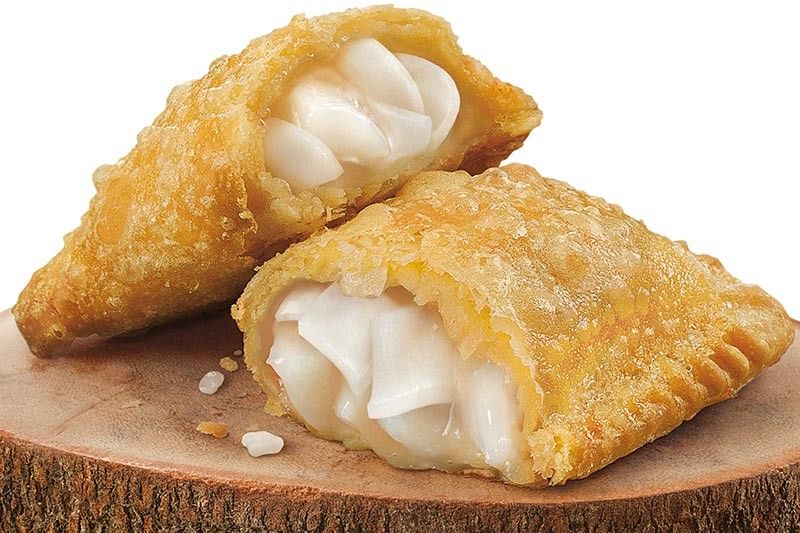 Grab a bite from the latest the Philippine food scene has to offer.