Philippine food scene
September 14, 2023 | 9:14am
+ Follow Story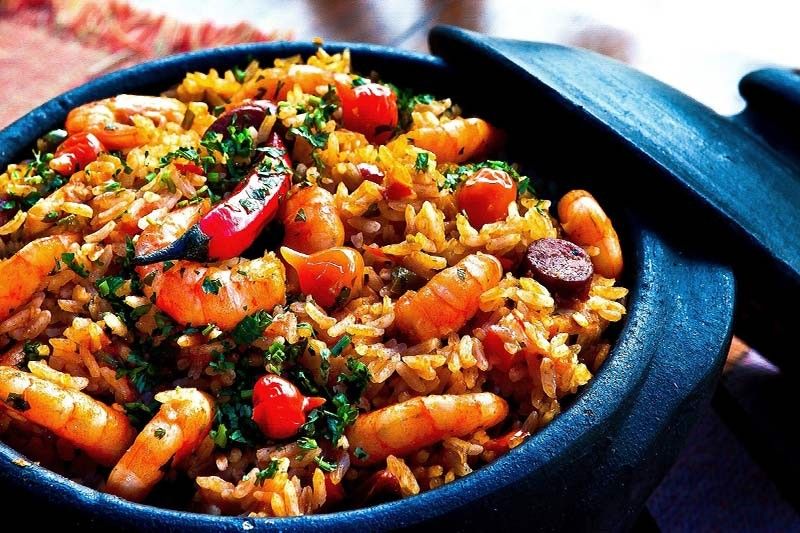 September 14, 2023
Serenitea, the teashop brand known for its innovative approach to tea, is excited to announce a groundbreaking collaboration with Kaya, the revered name in traditional Korean cuisine. This partnership introduces a delectable line of snacks that marries the bold flavors of Kaya's signature kimchi with the irresistible allure of cheese. The Serenitea KimCheese Snacks are set to make their grand debut on September 15. The tea brand has been a frontrunner in creating unique products by collaborating with various brands, usually focusing on beverages. This collaboration, however, marks a special departure from the norm, as it ventures into the world of snacks. Kaya, the esteemed pioneer of Korean cuisine in the Philippines, celebrates its 30th year of consistent excellence in delivering authentic Korean flavors.
Kaya's renowned signature kimchi, a staple in traditional Korean dishes, takes center stage in this innovative collaboration. The kimchi used in the Serenitea KimCheese Snacks is the same authentic ingredient that has been used by Kaya's bestsellers for decades, from Kimchi Jeon (Kimchi Pan-fried), to Kimchi Chigae (Kimchi Stew), to Kimchi Mari Gooksu (Cold Kimchi Noodle soup) and many more. Introducing the Serenitea KimCheese Snacks Line: Kimcheese Fries (P220) A delectable creation featuring golden fries smothered in rich cheddar cheese sauce and Kaya's signature kimchi. Topped with nori, sour cream, and a hint of green chilis, these fries offer a symphony of flavors that's both satisfying and unique. Kimcheese Chicken Poppers (P320) - Serenitea's famous crispy chicken poppers meet the exceptional taste of Kaya's kimchi in this mouthwatering creation. Served with a luscious cheddar cheese sauce and garnished with vibrant green chilis and nori, these poppers deliver an irresistible combination of textures and flavors. Both snacks offer a mild level of spiciness, ensuring a pleasurable experience for all taste preferences, the perfect partner for any Serenitea beverage.
"Collaborating with Kaya has been an exciting journey, and we are thrilled to present the Serenitea KimCheese Snacks to our loyal customers," said Juliet Chen, General Manager of Serenitea. "By combining the Filipino love for kimchi with an unexpected twist of cheese, we've crafted an indulgent line of snacks that perfectly complements any Serenitea beverage." The Serenitea brand, known for pioneering the craft of tea preparation using espresso machines, has amassed over 60 branches nationwide, cementing its position as a beloved snacking destination. The Serenitea KimCheese Snacks will be available nationwide exclusively at all Serenitea branches, as well as through third-party delivery app partners like Grab and Food Panda.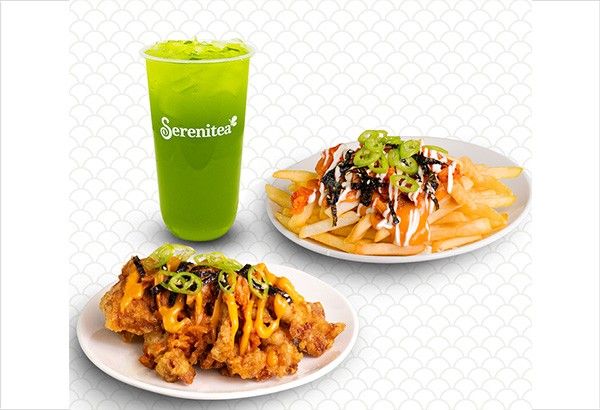 August 17, 2023
Just when you thought National Fries Day is over, Potato Corner brings back the frenzy for one more time with a medley of lip-smacking freebies through its National Fries Payday promo. From August 15 to 17, Potato Corner guests will get free Large fries for every purchase of Mega, Giga, or Tera fries in any flavor. Customers may avail of the free Large fries in any flavor except for Truffle, Tteokbokki, and Golden Sweet Corn. Loyal patrons are in for a treat as they enjoy tubs of hot, tasty, and freshly-cooked fries. This limited promo is available in all Potato Corner outlets nationwide, except for delivery orders.
Celebrate National Fries Payday and savor delicious flavored fries with Potato Corner. Make the coming payday count and head to the Potato Corner outlet nearest you. For more information on the National Fries Payday, visit the official Potato Corner Facebook and Instagram pages or visit https://bit.ly/PCNFDISBACK2023.
August 17, 2023
Just when you thought National Fries Day is over, Potato Corner brings back the frenzy for one more time with a medley of lip-smacking freebies through its National Fries Payday promo. From August 15 to 17, Potato Corner guests will get free Large fries for every purchase of Mega, Giga, or Tera fries in any flavor. Customers may avail of the free Large fries in any flavor except for Truffle, Tteokbokki, and Golden Sweet Corn. Loyal patrons are in for a treat as they enjoy tubs of hot, tasty, and freshly-cooked fries. This limited promo is available in all Potato Corner outlets nationwide, except for delivery orders.
Celebrate National Fries Payday and savor delicious flavored fries with Potato Corner. Make the coming payday count and head to the Potato Corner outlet nearest you. For more information on the National Fries Payday, visit the official Potato Corner Facebook and Instagram pages or visit ?https://bit.ly/PCNFDISBACK2023.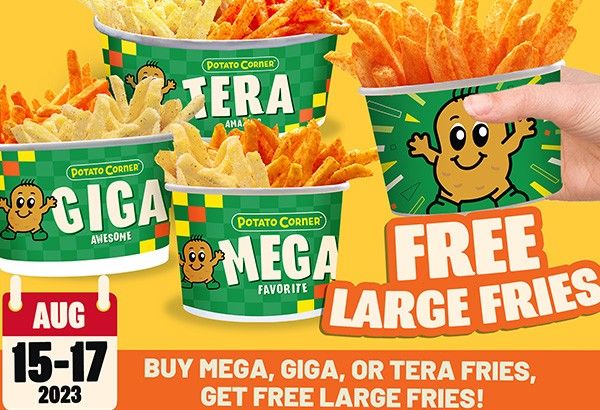 May 5, 2023
Shakey's and Potato Corner announce their collaboration as Mojos are now Made MO' Fun with Flavors. Starting this May, Shakey's will be coming out with Flavored Mojos: signature Mojos combined with Potato Corner's iconic flavors: BBQ, Sour Cream, and Cheese. BBQ Flavored Mojos is made with barbecue flavor. This all-time favorite gives every bite of Mojos a burst of smoky, tangy, and meaty taste. For those looking for a zesty kick to their Mojos, guests can also try the Sour Cream Flavored Mojos. Another favorite, Sour Cream is the perfect blend of flavorful herbs and rich, zingy sour cream.
Cheese Flavored Mojos is for those who can't get enough of the finger-licking OG (original) cheese. This classic, craveable flavor blends perfectly with Mojos slices. The Flavored Mojos are available in Shakey's stores. Guests can enjoy Flavored Mojos in three sizes: Solo (209), Basket of Flavored Mojos (P429), and Flavored Mojos Supreme (P579). When you order a Flavored Mojos Supreme, you can opt for "half and half" or two flavors in one bucket.
The Flavored Mojos are available for a limited time for dine-in, carry-out, and delivery.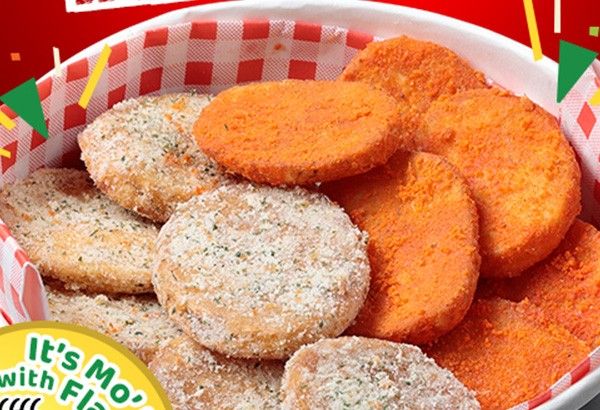 August 9, 2022
This 8.8, the country's first homegrown all-in-one lifestyle delivery app celebrates turning 2. PICK•A•ROO's mission is to provide urban consumers a way to go about their lives stress-free and conveniently. For the past 2 years, it has been growing its list of premium brands to become the most trusted delivery service in the Philippines. Fueled by becoming 2x faster and 2x better, PICK•A•ROO has found that the #1 customer pain point in grocery shopping is stock inaccuracy. Enter, COOP, which is the only one-stop grocery with real-time inventory and a 99% stock guarantee in the market. PICK•A•ROO tapped COOP as they saw the opportunity to be game-changers and aggressively break industry barriers. The partnership of the 2 grocery giants aims to offer 2x the freshness and 2x the convenience to consumers. It is the next-level grocery shopping experience you have been waiting for.
"We are so excited about our exclusive partnership with COOP. Together, we will change the way our customers experience grocery with 99% stock guarantee, grocery shopping will be seamless and hassle-free. We are the first to offer real-time inventory integration with COOP and promise that when they shop and order, all items will be complete and actually arrive," said Crystal Gonzalez, Chief Executive Officer and Co-Founder of PICK•A•ROO. "Pickaroo is the first Filipino-made super app and we want to provide the best online shopping experience, especially for grocery. COOP has the most complete grocery selection and with our technology, we can now offer the most complete and the most accurate grocery experience in the country," added co-founder Kevin Tan.
Founded on a simple mission: To be the only one-stop grocery with real-time stock updates, and the greatest assortment of the freshest goods, affordable for everyone. No annoying substitutions or out-of- stock surprises after payment. As your one-stop grocer of the freshest produce, all in one site. It has got the most complete range of goods, affordable for everyone: from Tuscan kale to kangkong, from Norwegian salmon to galunggong. More than just providing the freshest produce, it also offers all-natural selections, non-GMO produce—
absolutely free from nasty chemicals. It buys direct from farmers to give you the best quality at unbeatable prices. Like Wholefoods is to Amazon, as the brand continuously grows, COOP's next biggest step this year is to join forces with PICK•A•ROO.
"The COOP and PICK•A•ROO partnership will change the conversation around groceries and how reliable you get them," said Emmanuel T. Pineda, President of COOP. "Our two companies — a digital grocer and a super app — play to each others' strengths, and we're excited to shake up the market." Start your hassle-free grocery experience, COOP will be available in PICK•A•ROO starting 8.8.2022.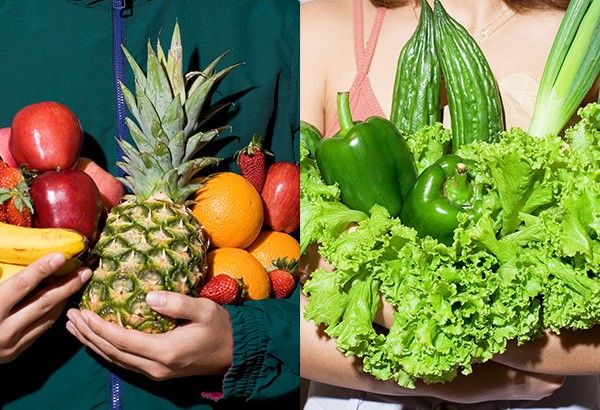 November 5, 2021
Unwrap a luxurious holiday celebration with Kenny Rogers Roasters' new Truffle Roast! Indulge your palate with the extravagant and rich flavor of truffle in a roast, best paired with buttermilk sauce. An aroma and delicious taste that evoke sophistication makes each Truffle Roast the perfect meal this season. An ideal centerpiece for your Holiday celebrations, Kenny's Truffle Roast is infused with the distinct flavor and aroma of this prized delicacy. Soaked in a flavorful marinade of truffle and buttermilk extracts, the Truffle Roast is then roasted to perfection. Drops of truffle oil are added on the chicken just before serving to further enhance the rich truffle aroma of the roast. A gold foil wrapping encloses each Truffle Roast to keep the truffle scent and aroma, for an even more extravagant dining experience.
Each Truffle Toast is served with the new and delicious buttermilk sauce for an even more savory taste. The Truffle Roast Group Meal is good for a group of four as it comes with one whole roast, four side dishes, four cups of rice, muffins, and a 1.5L Coke for P1105. The Truffle Roast Solo B Plate comes with a quarter chicken, the new buttermilk sauce on the side, two side dishes, rice and muffin for P315. Kenny's signature mashed potatoes has been leveled up with the new Spinach Mashed Potato. The Truffle Roast is also available as an upgrade in other menu offerings.
You can now experience these new offerings in all Kenny Rogers Roasters stores nationwide, available for dine-in, take-out and delivery. Vist kennyrogersdelivery.com.ph for more information.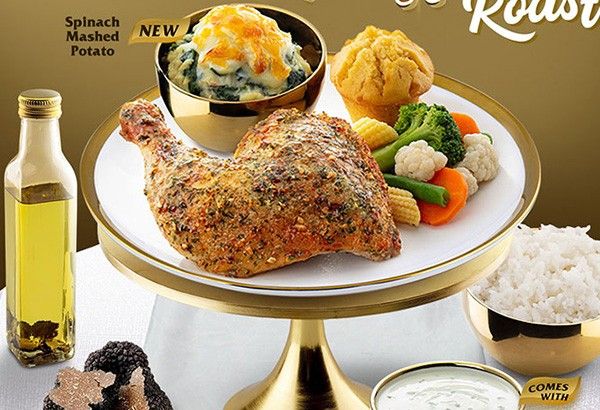 November 4, 2021
Iconic restaurant chain Max's Restaurant, famous for its Sarap-to-the-Bones Fried Chicken, is capping off its 76th anniversary with another great deal and high-profile limited edition collaborations with some of the most respected and dynamic names in the creative field.
Last October 18, Max's actual 76th anniversary date, its legendary Sarap-to-the-Bones Fried Chicken was offered at P200 off its usual price for both Regular and Family Whole Fried Chicken. Numerous guests joined the celebration and shared these with family and friends.
Award-winning photojournalist Hannah Reyes Morales is known for her work in such globally-respected publications as National Geographic Magazine, The New York Times, and The Washington Post, among others. Max's is proud to collaborate with her as its featured photographer for a special 2022 documentary calendar that emphasizes the narrative on how the most special days are those spent with family. Her photos pay gentle, honest tribute to the unshakeable tenderness amidst adversity, celebrating small pockets of joy still present in Filipino homes throughout the ongoing worldwide pandemic. Customers can get the anniversary calendar for free when they buy any regular-priced Max's products for a minimum of P2,000 at select stores. This will be available for dine-in, take-out and delivery.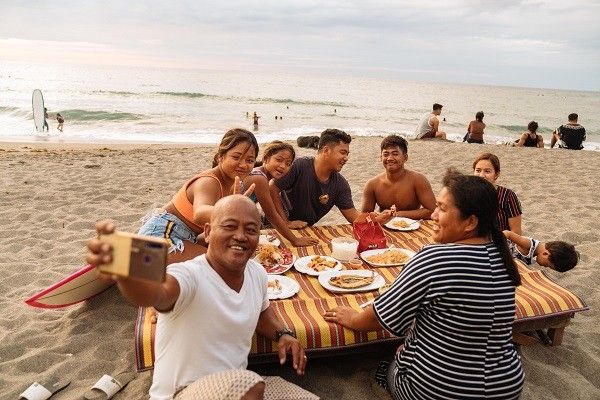 October 30, 2021
Trick or treat! Have a spooky good time as Bacardi introduces its new Gold Rum, a Philippine exclusive limited-edition rum that aims to make the rum experience of Filipinos memorable as it also features the well-loved Philippine jeepney icon, highlighting the Filipino culture for celebrating small and big victories.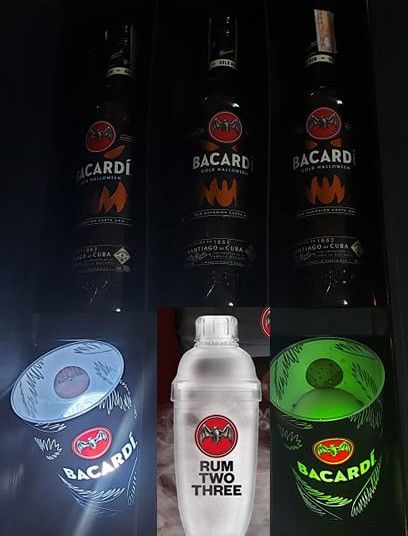 October 22, 2021
It's time to share the spook as Krispy Kreme introduces its famous Halloween doughnuts this year, featuring its iconic Halloween Sprinkles, Jack the Pumpkin and Frankie made even spookier with the newest characters, Halloween Bride, Mr. Skelly and Skelly's Suit.
Say hello to your new favorite mix of spice to keep you company for the season. Think fall, jack-o'-lantern, and holidays. Krispy Kreme's new Pumpkin Spice Series now comes in doughnuts and coffee, ideal for whichever would fit your mood.
The Halloween doughnuts will be available until November 2 while the Pumpkin Spice Series will be until November 7, valid for dine-in, take out, curbside pickup, drive thru and delivery.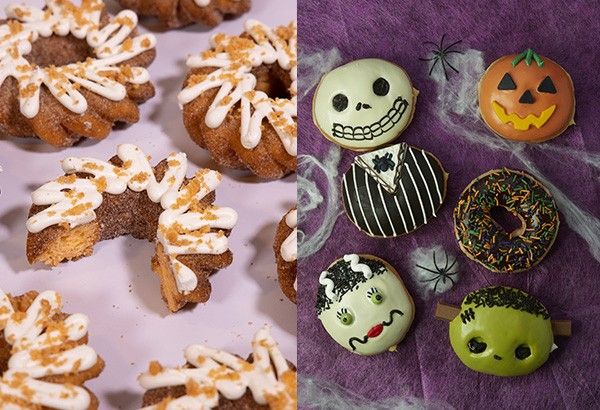 October 20, 2021
To mark its 76th anniversary this year, Filipino restaurant chain Max's collaborates with artists such as award-winning photojournalist Hannah Reyes Morales, known for her works for National Geographic Magazine, The New York Times, and The Washington Post, among others, for a limited-edition anniversary calendar. Also on board for the first capsule are critically-acclaimed artist Manix Abrera, famed creator behind the landmark Kikomachine Komix; Mervin Malonzo, award-winning originator of Tabi Po; and Julienne Dadivas, aka Hulyen, author of the cult favorite UGH series. As a special anniversary offer, Max's will be dropping limited edition T-shirts for its fans in collaboration with Linya-Linya, a young and dynamic apparel brand that offers Filipino-made t-shirts that capture everyday Pinoy pop culture and situational humor.
The bite-sized Caramel Bars have been a staple at Max's for decades. But for the celebration of the brand's 76th anniversary, Max's Corner Bakery is introducing the Birthday Caramel Bars bursting with color. These soft chewy bars are topped with chopped nuts, with the flair of assorted colored sprinkles that lend a joyful, celebratory mood to any occasion. A box of 10 costs just P135.
A birthday celebration wouldn't be complete without Pancit Canton. For a new era come three new varieties to choose from, inspired by some of the most beloved pancit variations from all over the country. Bam-I, also known as Pansit Bisaya, is composed of two types of noodles, which are pancit canton and bihon, then coated with annatto oil, which gives it a vibrant orange yellow hue that lends excitement and joy to any birthday table. Chami is a classic noodle dish from Lucena City made with satisfyingly thick lomi noodles, meat, and assorted veggies in a slightly sweet, spicy, and savory sauce to give zest to the palate, and multiplies the appetite. Seafood Pancit Canton includes cream dory, squid rings, chopped shrimps, button mushrooms, and assorted vegetables. All of these pancit dishes are also included in a new Pancit Combilao wherein customers can get a taste of all these varieties in one order. Each bilao comes with one serving each of Regular Pancit Canton, Seafood Pancit Canton, Bam-I, and Chami. It also comes with a dozen bread rolls and butter. This will be available starting October 18. One Pancit Combilao may be purchased for P1,099, while ala carte orders start at P299 for dine-in.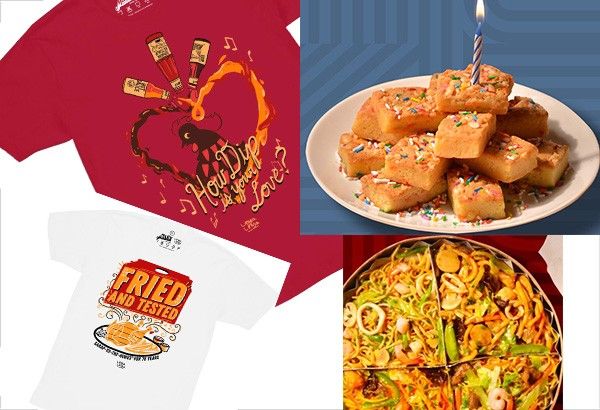 September 8, 2021
Pinoys love buko pandan! We get creative with how we eat this delicacy. It's enjoyed with milk, as an ice cream flavor, and even as a Puto flavor. That said, what if we tell you there's a new way to enjoy this delicious flavor? Imagine combining yummy coconut, sweet pandan and creamy chocolate. Well now, you don't have to imagine anymore because Cadbury goes Pinoy with the limited-edition Dairy Milk Pandan Coconut.
This new Pinoy flavor blends the taste of milk chocolate with the well-known goodness of buko pandan. Pinoys' tastebuds will surely be delighted as this is the first time Cadbury Dairy Milk has blended a Pinoy flavor to the beloved chocolate bar for a limited time only. It's available in a 90g bar for P88 at groceries and convenience stores nationwide.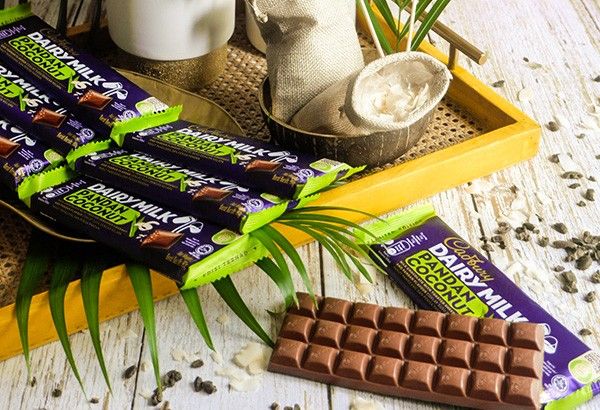 April 23, 2021
Say hello to summer with new beverages and more as Starbucks offers new treats now available in its stores, also via take-out, drive-thru, or delivery via GrabFood.
Made with two premium full-leaf teas, the new iced Teavan beverages aim to refresh senses and uplift spirits. Two fruity blends are paired with aromatic Teavana Zen Clouds Oolong tea. The Sunshine Pineapple Oolong with real golden pineapple chunks, pineapple sauce and a honey cold foam aim to give extra bursts of summer freshness. You can also try the Sunshine Peach Oolong with refreshing peach juice and white peach jelly chunks finished with honey cold foam.
Likewise, there are two new beverages made with Teavana Golden Monkey tea. The Triple Golden Monkey layered with malty oatmilk, silky tea foam and tea-flavored cookie crumbs is a balance of bold and fragrant Asian flavors. Meanwhile, the Cocoa Golden Monkey has additional mocha sauce. All four new Teavana beverages will come in limited--edition reusable cups in Grande size and iced format.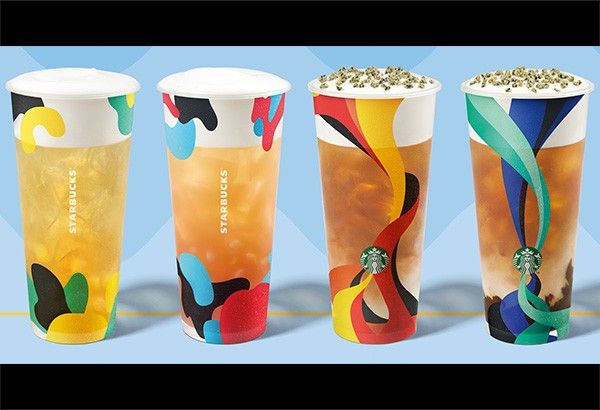 January 22, 2021
Filipino restaurant chain Max's, famous for its signature Sarap-To-The-Bones Fried Chicken, has announced the return of a long-standing tradition missed by fans everywhere: Max's All-You-Can. Designed as a way to give thanks to loyal patrons who have supported "The House That Fried Chicken Built" throughout its 75-year history, the event was last held in 2019.
This 2021, it's back as All-You-Can Weekends, with a new twist: More classic favorites to choose from, all in one plate, including Sarap-To-The-Bones Fried Chicken—always made to order, and best enjoyed with banana catsup with a dash of hot sauce or Worcestershire sauce; Spicy Tofu—tofu cubes with chopped onions and bell peppers, sauteed in a special sauce, and topped with chili for some delightful heat; Chicken Sisig—a crowd-pleasing medley of chopped fried chicken and chicken liver, topped with slivers of chili fingers, onions and celery; and Chicken Lumpiang Shanghai—ground chicken and select spices rolled in a delicate lumpia wrapper and deep-fried in bite size.
Each plate also comes with all the steamed white rice a customer could want. All-You-Can Weekends is available for dine-in on January 22 to 24 and January 29 to 31 in all of the restaurant chain's stores nationwide. Diners may feast to their heart's content for just P499 per head. Interested fans may visit their favorite store nationwide, or book ahead at bit.ly/ReserveMaxsAllYouCan.
January 15, 2021
Ring in 2021 with excitement as Yellow Cab continues to encourage customers to always "You Do You" and celebrate their small wins with its newest NY-Style Thin Crust Pizza. Light and chewy in the middle, and crispier on the edges, this latest product format offers a new way of enjoying Yellow Cab's famed New York-style Edge-to-Edge Pizzas, offering a crisp and softness in every bite with the same edge-to-edge toppings on a lighter crust.
Starting at P249 for dine-in, the Thin Crust is available on all 9", 12", and 15" Classic and Signature Edge-to-Edge Pizza flavors: Pepperoni, Hawaiian, BBQ Chicken, Garden Special, Manhattan Meatlovers, Roasted Garlic and Shrimp, #4 Cheese and Patty Melt.
The new NY-Style Thin Crust Pizzas are now available in all stores nationwide for dine-in, Curbside pick-up, take-out, and delivery. This is also available via GrabFood, foodpanda and LalaFood.
December 10, 2020
Dreaming of a White Christmas? Krispy Kreme's Winter Wonderland doughnuts feature classic snowy holiday characters and ornaments available until December 31. Take flight with Rudolph, your favorite red-nosed reindeer in doughnut form filled with luscious salted caramel, topped with pretzels and, of course, a red candy nose. Say hello to Polar Bear doughnut made with white chocolate and Iced Kreme filling who is ready to join in the holiday fun.
Sprinkle the entire town with the Holiday Sprinkles doughnut, hand-dipped in red or green glittergelli topped with golden sprinkles; or the Cranberry White Choco doughnut hand-dipped in white chocolate topped with fine quality nuts and cranberries. Nearing Santa Claus town, decorate it with the Holiday Tree doughnut that comes in either KitKat Green Tea or Chocolate variants; or the Holiday Wreath doughnut, a rich and deep flavor of double chocolate cake but this time around, it has Chocolate Cream Cheese Icing, Chocolate curls, Vanilla Kreme filling, cherries, all dusted with snow-like sugar on top to make it extra special.
Finally, meet the Santa Claus doughnut made with our world-famous doughnut, hand-dipped in white chocolate, colored sugar coating, Iced Kreme filling. These doughnuts are sold at P55 per piece via in-store purchase, delivery or online at Krispy Kreme website, GrabFood, foodpanda, or LalaFood.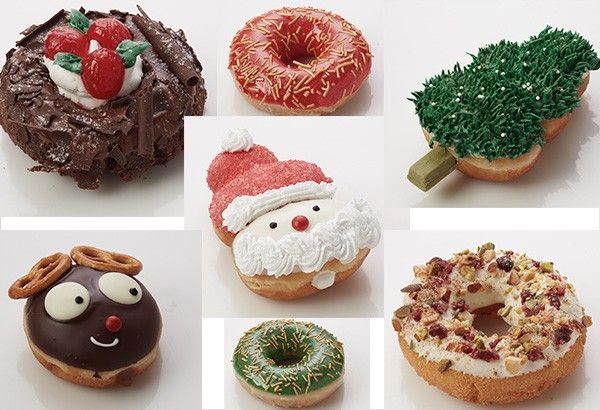 December 9, 2020
With the festivities right around the corner, adding more feel-good experiences into the year's end can do wonders in recharging us for the new year to come. As such, Pancake House aims to remind us that that 'tis the season to feel good again, as it launches its newest bundle fit for celebrations, the Classic Pan Chicken Holiday Bucket.
Now available in all Pancake House stores nationwide, each bundle is good for 4 to 6 people. For P167 per person, a special set of the Classic Pan Chicken Holiday Bucket comes with six pieces of crispy Classic Pan Chicken, a choice of either two large spaghetti with meatball sauce or six servings of rice, a combination of six delicious side dishes with a choice of Mashed Potato with gravy or coleslaw, and a 1.5 Liter bottle of Coke. Starting at P499, the bundle also comes with an ala carte option, perfect for Classic Pan Chicken fans looking to indulge in this well-loved classic. The bundle is available via the restaurant chain's trunk line, website or via GrabFood, foodpanda and LalaMove.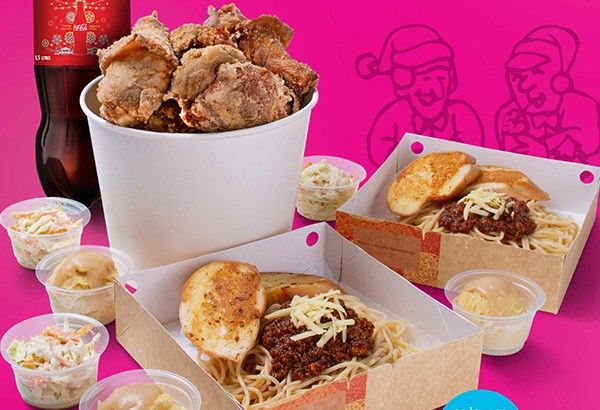 December 7, 2020
For those with no enough time and energy to prepare meals at home, convenience store chain 7-Eleven presents its latest offerings to provide customers an affordable, convenient and safe solution for their everyday home meals. These include HottaUlam by 7-Eleven, single-serve, ready-to-heat viands everyone can prepare easily starting at P55, including viands such as Chicken BBQ, Pork BBQ, Fried Bangus, Ginataang Langka, Pinakbet, Pork Laing, Rico's Lechon Binagoongan and Rico's Lechon Sisig.
To further treat customers and complete their everyday home meals, the store chain also launched its launching its promo, "Combusog," wherein two HottaUlam viands entitle one to a free rice, valid until December 15.
Last March, the Moment Group's Filipino restaurant Manam released its ready-to-eat and microwavable version of their classic sisig and beef kare-kare in 7-11 stores.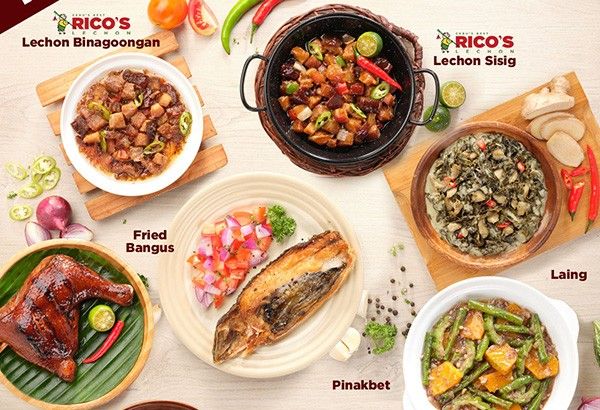 November 26, 2020
Fast-food chain Jollibee recently launched a new campaign in time for the Christmas season that reminds everyone that amid these trying times, being with family is one of the things that we ought to be most grateful for.
The new short film, done in collaboration with its creative agency McCann Worldgroup Philippines and directed by Pepe Diokno, tells a heart-warming story of gratitude, joy and love for family as seen through the eyes of a child, using a real-life family as talents and with an accompanying original song composition, aiming to convey that despite all that we are going through, our family will remain as our greatest source of joy.
"It may be difficult to find joy in every day amid these trying times, and especially as we're accustomed to festive gatherings during the Christmas season, but this period also reminded us to view what's happening from the eyes of a child and treasure what we have in our lives right now — it's family, the love and joy we share, and the heart-warming support we provide one another," said Jollibee Foods Corporation Philippines Country/Regional Marketing head and concurrent Philippine Marketing Head, Francis Flores.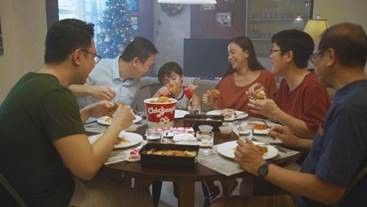 November 20, 2020
Nothing beats a cup of coffee as we keep ourselves snug with loved ones as the season gets a bit chillier, which is why Krispy Kreme recently launched its Signature Coffee Beans in two variants: Rich, which is a full-bodied mix of African, Indonesian, and Central American beans carefully crafted to awaken senses; or Smooth, a light-bodied mix of South and Central American beans.
Available in select stores, via now.krispykreme.com.ph and through delivery partners, the Signature Coffee Line include Signature (Classic, Americano, Latte, Cappuccino, Mocha Latte, Caramel Latte, and Kaffe Kreme), Kremey (Kremey, Toffee, OG, and Latte), Cold Brew (Cold Brew, Iced Glazed Coffee, and Glazed Coffee Chiller), or Chillers (Ice Blend, Mocha Latte, Caramel Latte, and Original Kreme).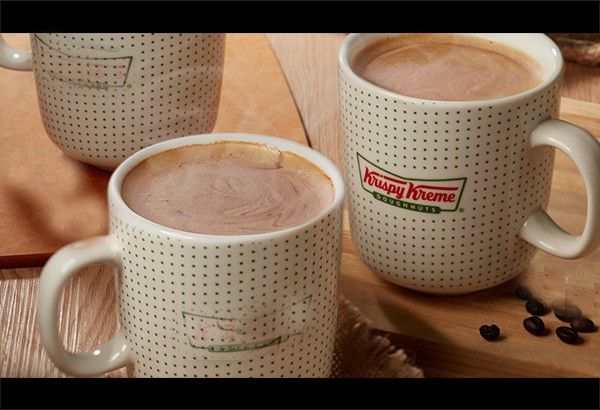 November 18, 2020
Christmas is coming up and as such, Filipino restaurant chain Max's Restaurant and its Corner Bakery aim to find new ways to make holiday feasts merrier with its fresh takes to Filipino all-time favorite dishes: Calderetang Bulalo and Sizzling Bulalo, two new dishes that offer a fresh take on your favorite sabaw staple; and Pinoy Holiday Cheesecakes – Puto Bumbong Cheesecake and Bibingka Cheesecake – Simbang Gabi classics but with a twist.
The saucy Calderetang Bulalo is a fusion of two favorite Filipino dishes in one, made with a rich tomato-based beef shank stew with boiled vegetables and topped with melted cheese and sautéed peppers, while Sizzling Bulalo is tender beef shank lathered in savory gravy, and sprinkled with crispy fried garlic.
From Max's Corner Bakery comes Puto Bumbong Cheesecake, made with glutinous rice flour with ube flavor, smooth and silky cheesecake, and topped with ube crumbs, coconut, and muscovado sugar; while Bibingka Cheesecake is made with fluffy vanilla chiffon, silky cheesecake, and topped with salted egg slices. These Pinoy Holiday dishes are available for dine-in, take-out and delivery via the restaurant chain's delivery website and Metro Manila hotline.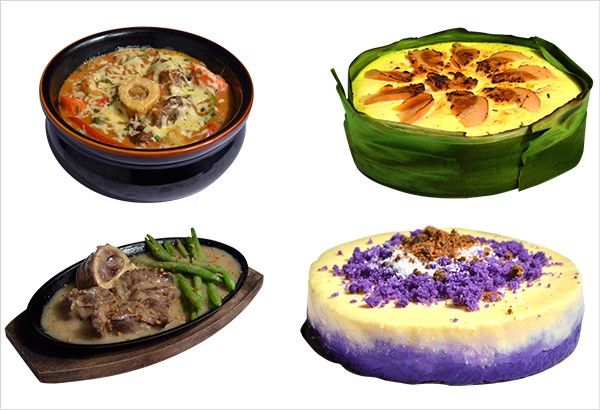 November 17, 2020
Get into the festive spirit and customize your bundle the way you and your squad want to as Yellow Cab offers free delivery for its Squad Stuff bundle from November 16 to January 17, aiming to make customers save as much as P865 when they order Squad Stuff L, Squad Stuff XL or Squad Stuff XXL at prices starting at P999 and available online and in-store.
Choose from Classic Edge-to-Edge Pizzas, local favorite Hawaiian or iconic Pepperoni; get 10 chicken wings and select two flavors from original Hot Chix, buttery Garlic Parmesan, Sweet Soy, or sweet and tangy Sriracha, or make an even bigger feast with pasta dishes from selections such as creamy Chicken Alfredo, signature Charlie Chan and Spaghetti with Meatballs, topped off with a 1.5-liter bottle of Mountain Dew.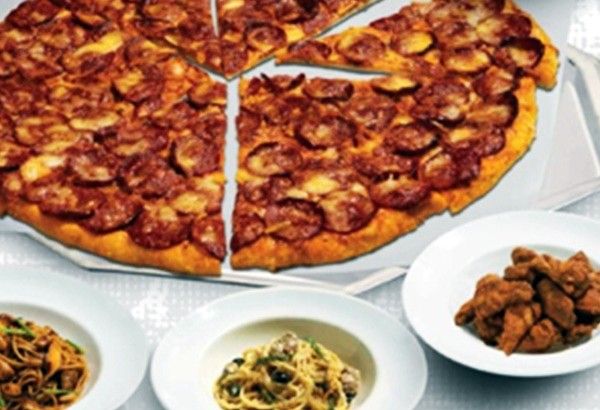 November 17, 2020
Rich in good fats and antioxidants, olive oil monounsaturated oleic acids, heart-friendly fat known for supporting the health of the heart and enhancing brain function, two organs that could be hit by COVID-19, according to studies.
In this period of the new normal, with more and more people finding pleasure in home cooking, Doña Elena, a brand of olive oil made of olives directly sourced and harvested from the farms of Andalucia in Spain, reveals its new look that includes fine engravings on the bottle and its brand insignia near the top.
The brand, which is now available at AceMarket.ph, is a combination of two types of olives, hojiblanca and picual, and each bottle contains 80% monounsaturated oleic acids, which research says is proven to regulate insulin and support weight management.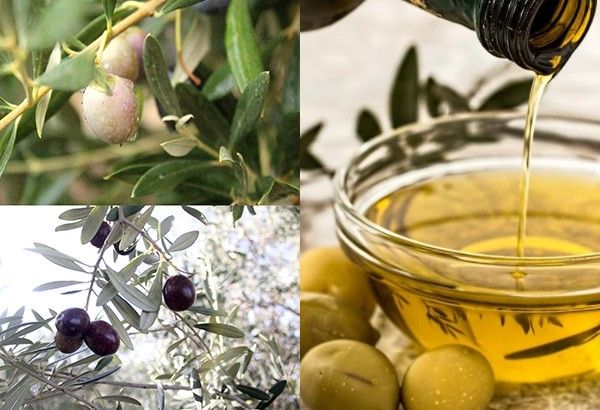 November 10, 2020
Jollibee introduces its brand new Caramel Popcorn Sundae Twirl, a combination of all-time hit Salted Caramel Choco Sundae and timeless snack caramel popcorn.
"We feel we've found a great way to do that with the Jollibee Caramel Popcorn Sundae Twirl, that puts an exciting yet familiar twist on a treat they've always loved. It's the perfect way to end your Jollibee Meal," Jollibee marketing director Mari Aldecoa says.
The Jollibee Caramel Popcorn Sundae Twill is now available for delivery through the Jollibee delivery app, JollibeeDelivery.com, #87000, GrabFood, foodpanda, and LalaFood. It is also available for drive-thru and take-out. — Jollibee PR
November 7, 2020
Jollibee launches its new Crisscut Fries, which comes with extra crispiness in a unique and satisfying potato-filled shape, and made even more fun with its mouthwatering dips.
The new Crisscut Fries bring the flavor with every bite as it's coated with different spices and paired with delicious Honey Mustard or Thousand Island dips. — Jollibee PR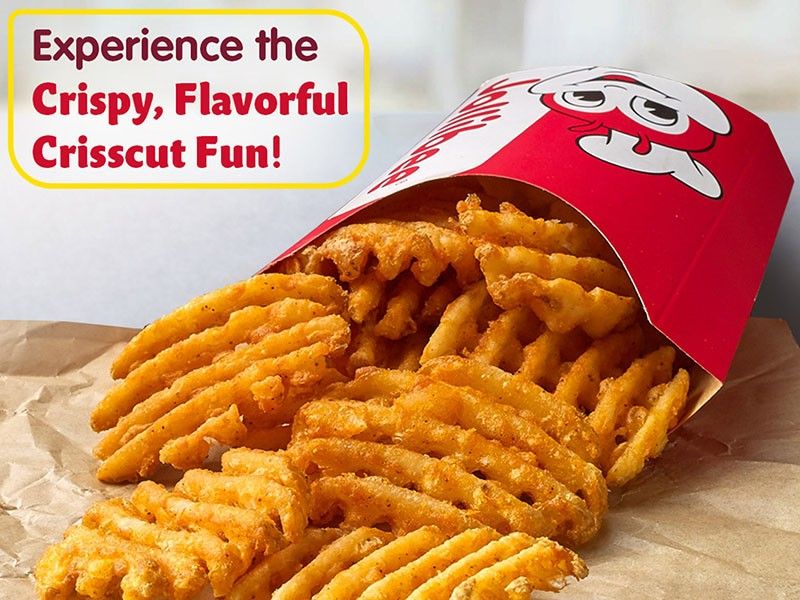 October 30, 2020
The Jollibee Champ is finally back!
With its original flavor plus two new variants to satisfy your every craving, the Jollibee Champ is making a huge comeback.
The Jollibee Champ burgers will land on select 324 Jollibee stores across the country starting Oct. 30, 2020.
October 28, 2020
As we ring-in the holidays amid current circumstances, we continue to embrace familiar experiences in a new way. With this in mind, Pancake House reminds us that 'tis the season to feel good again with the launch of its newest product, the Pan Chicken Burger. This new take on the classic Pan Chicken allows customers to indulge in a crowd favorite anytime, anywhere, and all-day.
Available in all Pancake House stores on November 2, starting at P185, the new product brings the familiar flavor of the juicy, tasty, and filling pan chicken fillet with the addition of cheese, lettuce, tomato, cucumber, pickle, and thousand island dressing on a toasted bun. Choose to enjoy the pan chicken fillet the way you want to, with flavor options ranging from classic, spicy mild to spicy hot. For an additional P64, upgrading a burger into a meal comes with a serving of taco chips and cheese, topped off with a bottle of Minute Maid juice.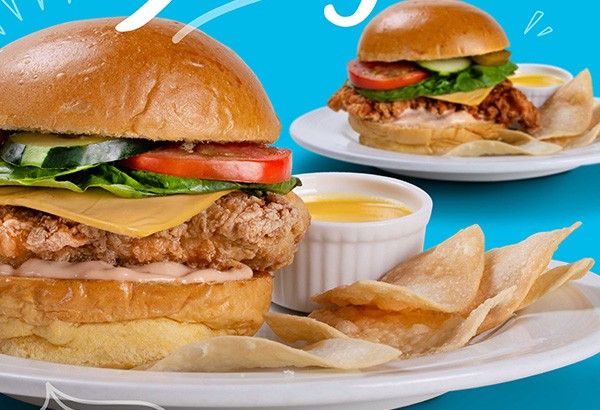 October 21, 2020
As we enter the final few months of 2020, we could all use a little help to dust away the cloud of grey in anticipation of brighter days. Inspired by the sensory power of nature during the Summer solstice when the Earth is tilted maximally toward the Sun, Hendrick's Gin launches Hendrick's Midsummer Solstice, a limited-edition gin that captures the bright, aromatic intensity of a midsummer day.
True to Hendrick's original style, Midsummer Solstice discerns itself with the infusion of deeply floral essences that enhance the liquid's existing botanical bouquet and captures the mystery of some of nature's most effervescent blooms. The result is an enchantingly floral and exquisitely refreshing gin that blossoms on the palate. Midsummer Solstice's fragrant notes include zesty juniper with an initial brightness that melts to reveal hidden undertones of orange blossom and exotic ripeness. This bright and floral take on the brand's house style makes it perfect for sipping in the sun and can be highlighted in the perfect seasonal spritz. Its deep floral character makes the expression pleasantly refreshing in a host of mixed drinks and cocktails.
The delightfully bright liquid was created by Master Distiller Lesley Gracie, at the heart of the Gin Palace in the Cabinet of Curiosities where she keeps her most experimental and treasured liquids under lock and key. "A deeply rooted respect for nature and its most beautiful creations excited me to capture the aromas and flavours of a midsummer day and I am truly enamored over this first release from the Cabinet of Curiosities," said Gracie. "Midsummer Solstice is the latest expression in what will be a long line of innovations from Hendrick's and I'm very much looking forward to not to not only creating new and avant-garde expressions at the Gin Palace, but also sharing them with the world."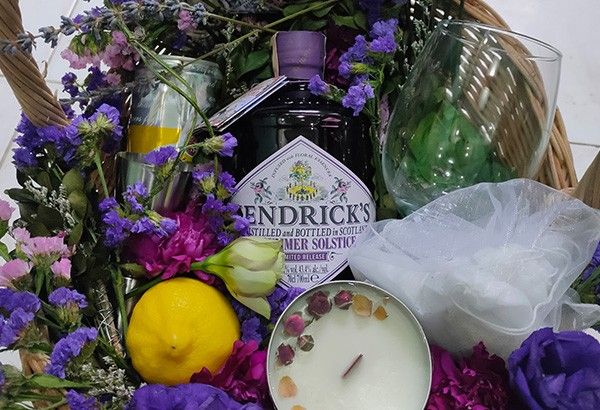 October 16, 2020
San Miguel will hold its first ever virtual Oktoberfest this year on October 17 and 31. Check out San Miguel Pale Pilsen, San Mig Light, Red Horse and the brand's other Facebook pages for schedules.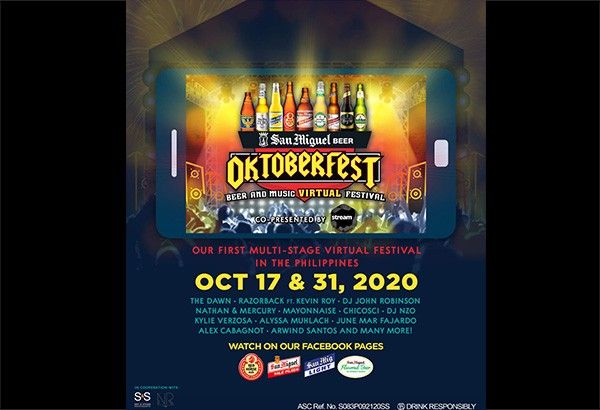 October 16, 2020
Scream and shout! The Slimes are here to slither in on the Halloween fun. Starting October 18, Krispy Kreme's Halloween doughnuts will be available via dine in, takeout, drive thru and delivery via 888-79000, now.krispykreme.com.ph and through our delivery partners GrabFood, FoodPanda, LalaFood, OrderMo, Groover and Mangan.
'Tis yet another reason to Feel Good this holiday season. Enjoy Pancake House's Box of five pieces Classic Pan Chicken for only P499, and get a voucher for a free Krispy Kreme Box of six pieces Original Glazed. Guest can show the Pancake House transaction receipt or official receipt as a voucher at any participating operational Krispy Kreme stores except for Makati Medical Center, Manila Doctors, SM Mall of Asia Arena and Airport stores to redeem the free six pieces Original Glazed Doughnut. Available starting October 1. Only available through takeout and delivery. Order via delivery.pancakehouse.com.ph.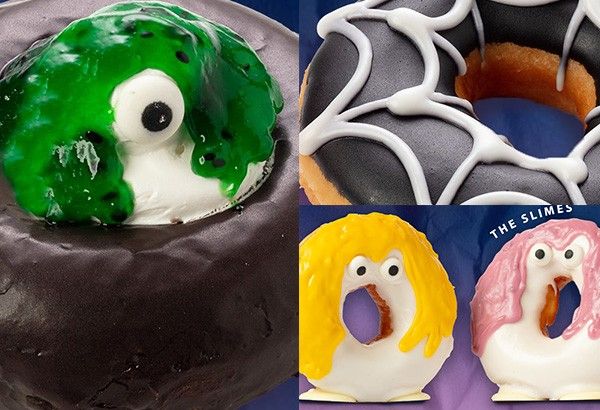 October 15, 2020
When it comes to accomplishing your daily activities, snacking in between helps fuel your energy and keep you motivated. Enjoy your daily breaks at home with Wafertime Rich Cream, Rebisco's crunchy wafer sandwich with rich, creamy and delicious fillings in cheese and chocolate flavors.
Whether you are taking a break from online schooling, watching your favorite YouTube or TikTok videos or catching up with friends and family, Wafertime Rich Cream is there to make you "lost in time, lost in yum."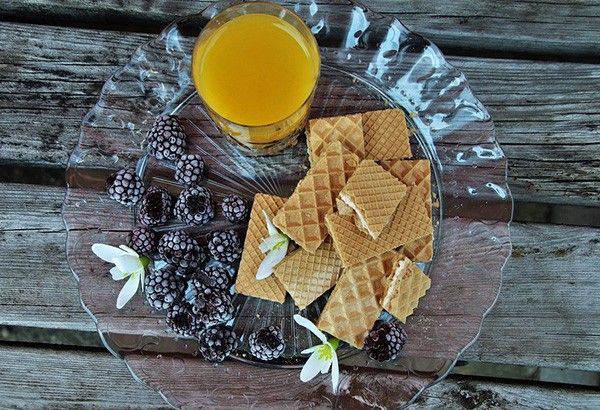 October 14, 2020
Get your forks ready and celebrate National Pasta Weekend with Yellow Cab's latest pasta deal. From October 15 to 18, get a free regular pasta with your large pasta order. Choose between creamy Chicken Alfredo and bestselling Charlie Chan, and make the best out of your short break.
This limited time offer is available in participating Yellow Cab stores nationwide for dine-in, Curbside pick-up, take-out, drive-thru and delivery. This is also available via GrabFood, foodpanda, and LalaFood. All stores comply with proper operating guidelines to ensure you get our signature products as safely as possible.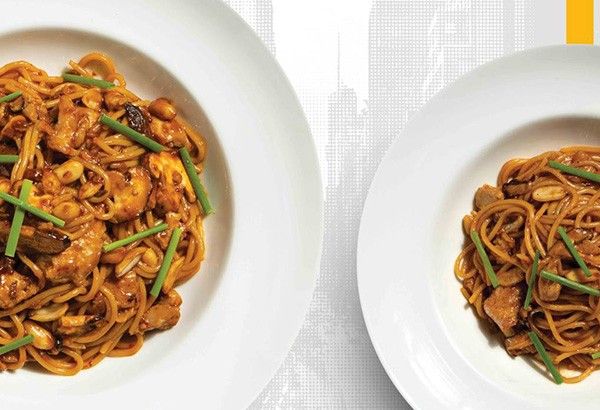 October 6, 2020
Staying true to its purpose of nourishing Filipino families and contributing to nation building, Alaska Milk has been extending a helping hand to various communities and frontliners since the onset of the pandemic. The brand, known for providing generations of Filipino families with easy access to nutrition, signed partnerships with LGUs and NGOs to help distribute assistance where it is needed the most. This month, the brand continues its string of relief initiatives with a month-long online sale that also doubles as a fundraising effort, the Alagang Alaska 10.10 Sale.
The sale starts on October 6 via the brand's official Lazada store, and on October 10 in the brand's official Shopee store. Everyone can enjoy up to 50% off on products including Ready-to-Drink Milk, Fortified Powdered Milk Drink, Créma All-Purpose Cream, Classic Condensed and Evaporated Milk, and Alaska Evaporada and Condensada. Moreover, 10% of the total sales made will go into helping those who are heavily affected by the pandemic in Capas, Tarlac.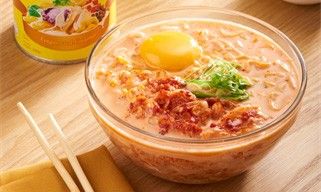 September 29, 2020
Raising children in these present times is not easy. As parents, it is our task to prepare our children to meet any moment with strength and confidence. "The world has gotten smaller and because of this, it is important for us parents to help prepare them to distinguish what is good and what is bad for them," shared Cheska Kramer, wife and full-time mother to three beautiful children, Kendra, Scarlett and Gavin.
As much as parents try to cushion kids from the harsh world and do everything to be sure that they are comfortable, we can better support their growth by teaching them to meet life as it happens. For Cheska, experience is an amazing tool for learning. We will not always be around to solve our kids' problems for them, so it helps to give them plenty of opportunities to figure things out for themselves. "A good balance for the children would mean there should be time for study, sports, play, nature tripping, and serving the community. Most of all, there must be a lot of valuable time with the family where children learn first from their parents," she said.
With everything that lies ahead, kids also need all the nourishment they can get to fuel them not only for their day, but for also for a stronger future. It is important to feed our kids with the right vitamins and minerals that enables them to be their best self, no matter the situation. Power up your kids to meet life's curveballs with Cheez Whiz. Packed with strength-building nutrients such as Vitamin A, Vitamin D, Calcium and Phosphorus, daily servings of this cheesy treat help give kids the strength to explore and experience a well-rounded joyful childhood, enabling them to live life to the fullest.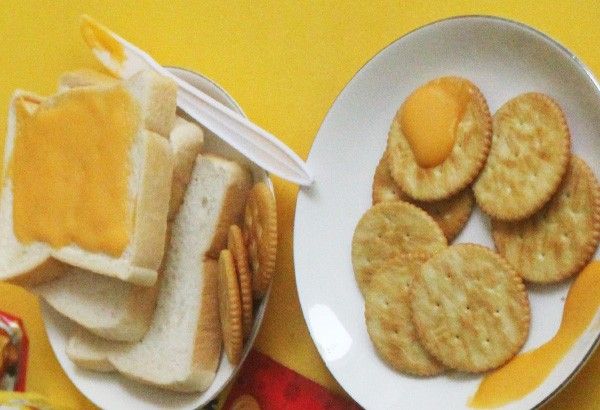 September 22, 2020
No matter the season, or reason, there's always something to celebrate for. Whether you're cooped up studying, working, or hustling– life at home is about to become much sweeter as artisanal chocolate brand Theo & Brom launches the mini version of its moist Tableya Cake draped in their signature Gooey Ganache. This September, the brand launches Gooey Ganache Magic Baby Tableya Cakes in gifting sizes. Crafted in 180g tubs, the cakes are available for pre-order at Theoandbrom.ph or the brand's Facebook and Instagram pages.
These cakes are the new way to experience Theo & Brom's iconic tsokolate drink introduced back in 2018, now made in rich, luscious, and aptly called Gooey Ganache Magic Tableya Cake, a confectionary that lends a deeper tableya flavor with toasty, nutty, and earthy hints that add character to an otherwise ordinary chocolate cake. The cake boasts of the world's first Belgian Tableya's flavors made of Philippine cacao beans, now made bite-sized.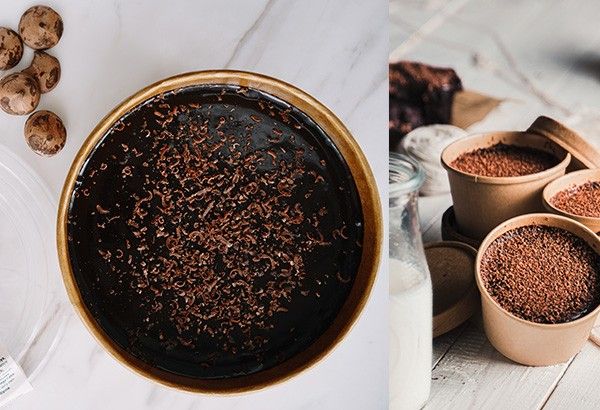 September 16, 2020
The discerning Fil-Chi community gets to celebrate the Mid-Autumn Festival in delicate style and delightful flavor as Hong Kong MX Mooncakes returns to Manila with their classic lineup and brand new additions and packaging. Beloved favorites like White Lotus Seed Paste Mooncake with 2 Egg Yolks and the Lava Mooncake Series will be marking a return along with exciting new flavors such as the Lava Duet (combining custard and chocolate goodness) and the Delightful Moon repack with premium variations and the new Lava Chocolate filling. These will be exclusively available through official online channels and a pop-up store in SM Mall of Asia - Level 1 G/F Main Mall in front of Watsons until October 4.
The Lava Custard Mooncake utilizes the unique 'double-bake' technique to produce the one of a kind texture and flavour of the aromatic and smooth silky filling seeping out from its core. An instant hit last year and heavily anticipated to return for the festivities this year, there is the addition of the Lava Duet Mooncake set to the family. The set includes two flavors namely the signature Lava Custard and delectable Lava Chocolate, which comes in a box of eight allowing you to revel in double the enjoyment that are perfect for this celebratory time of year. The Custard Twins Mooncake is also back with both the classic and the lava variety. Inspired by the auspicious rabbit, the new packaging is sleek and modern while retaining the vibrant colours that signify the festive celebration.
Meanwhile, the flagship products 'White Lotus Seed Paste Mooncake with 2 Egg Yolks' and 'Lotus Seed Paste Mooncake with 2 Egg Yolks', which have brought global recognition to Hong Kong MX Mooncakes, are also going to be making a Philippine comeback. The white lotus seed paste remains delicate and velvety, and the lotus seed paste decadent and thick. The new gift box packaging adds a layer of sophistication and magnificence for these alluring classics. Because the Mid-Autumn Mooncake Festival is a celebration for everyone, Hong Kong MX Mooncakes will also be offering the specially created Low Sugar Mooncake Series. The Low Sugar White Lotus Seed Paste Mooncake with Egg Yolk comes in boxes of six mooncakes.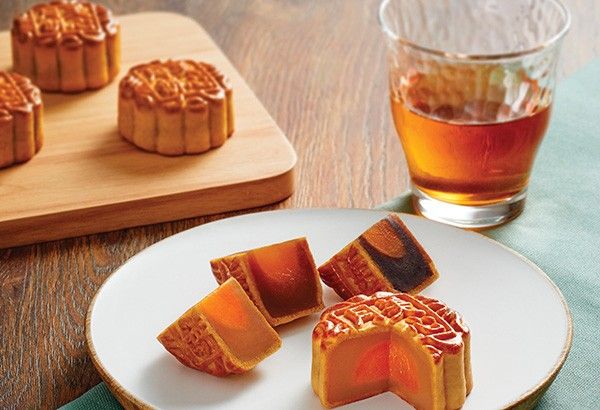 September 14, 2020
September is a special month for Yellow Cab as the dining chain celebrates its bestseller that blends both sweet and savory flavors with a bit of a kick in every bite: the Charlie Chan. From September 16 to 20, buy one large Charlie Chan pasta starting at P339 and get one regular serving for only P20. The pasta dish is known for its of chicken strips, juicy shiitake mushrooms, spring onions and roasted peanuts mixed in a spicy oriental sauce.
This limited time offer is available in participating Yellow Cab stores nationwide for dine-in, pick-up, take-out, drive-thru and delivery. This is also available via GrabFood, FoodPanda and LalaFood. All our stores adhere to proper operating guidelines to ensure customers get signature products as safely as possible.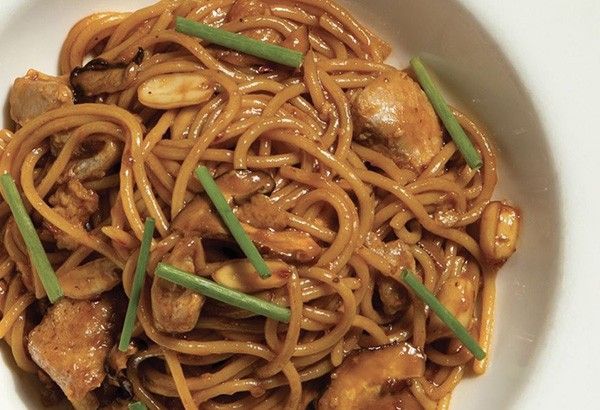 September 10, 2020
Staying healthy and maintaining overall well-being is ideal for everyone. But keeping a good diet and lifestyle, and resisting sweet cravings can be hard. As such, Universal Robina Corporation (URC) offers Nice & Natural, a healthy nut bar can be enjoyable to eat. It is a combination of natural ingredients such as nuts, wholegrain oats and fruit bits, drizzled with chocolate.
This treat contains protein and is a good source of fiber. The nut bar comes in Choco Almond Crunch and Mixed Berry Crunch flavors, and is also available at SM Stores, Robinsons Supermarket, Shopwise, Mercury Drug Stores, Rustan's Supermarket, Ministop and 7-Eleven outlets nationwide, as well as URC's official store on Lazada.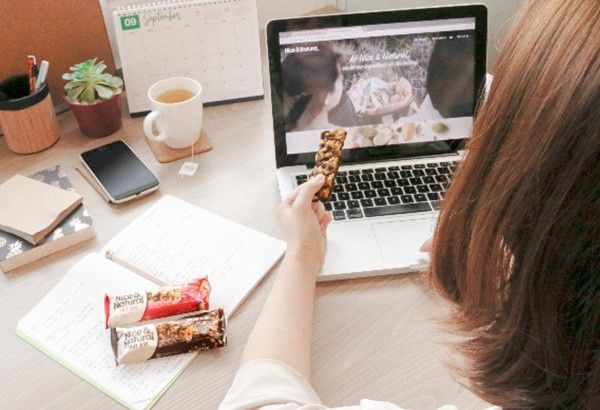 September 8, 2020
In celebration of a year of serving authentic Chinese cuisine and preserving the affluent Chinese tradition, the Empress Dining Palace turns one this September and the fine-dining restaurant is offering royal deals and a special gift on its anniversary week. Until September 9, dimsum platters are on a 30% discount. Both small and large dimsum platters feature dimsum delights such as Steamed Pork & Shrimp Dumpling with Crab Roe "Siew Mai," Steamed Shrimp Dumpling "Hakau," Steamed Shrimp & Spinach Dumpling, Steamed Cream Custard Bun with Salted Egg Yolk, and Steamed Shrimp & Scallop Dumpling with Crab Roe while only the large dimsum platter includes Baked Bolo Pork BBQ Bun.
This deal is available for dine-in and pick-up orders as well as through the Empress Express, the restaurant's official delivery brand and service. On September 8 and September 9, get the crowd favorite Jumbo Steamed Soupy Pork "Xiao Long Bao" for only one peso for every P2000 worth of transaction. Dine-in guests will also be gifted with a special rat plush toy exclusively made for the Chinese restaurant.
The Empress serves an extensive menu of classic Cantonese cuisine and selected dishes from the Northern region, from appetizers and savory, tender meats, down to its highly-prized seafood roster and dimsum. It also offers a wide range of refreshments and desserts at its dining palace at 7th Avenue, Bonifacio High Street, BGC, Taguig City. It is open daily from 10 a.m. to 7 p.m. Last order is at 6 p.m. Also available via Foodpanda and GrabFood.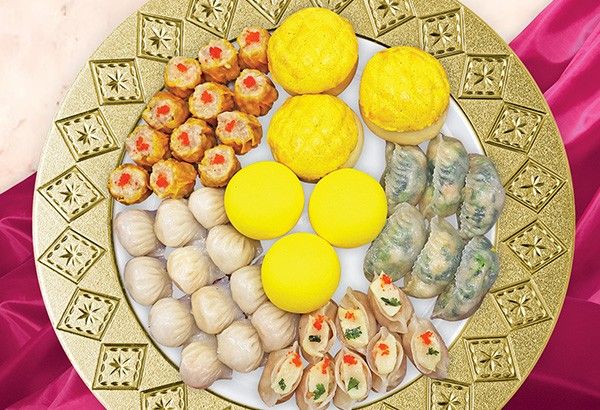 August 28, 2020
Celebrate empowering everyday heroes this long weekend with Yellow Cab's Only The Finest For Our Heroes offering. Get a free regular Charlie Chan or four pieces of original Hot Chix for every order of 12-inch New York's Finest pizza, starting at P735. Offer runs from until October 31 in participating stores nationwide for dine-in, pick-up, take-out or delivery. Also available via GrabFood, FoodPanda and LalaFood.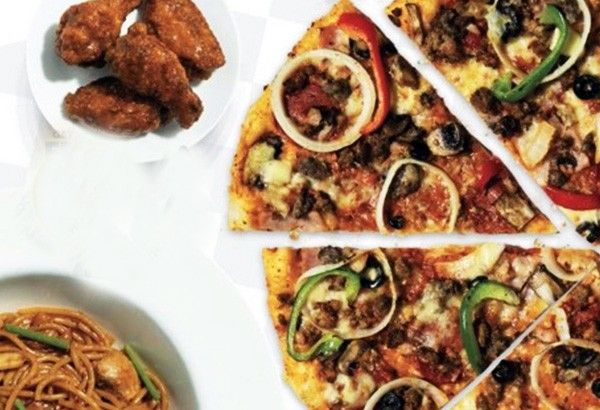 August 20, 2020
"Kung Fu Panda's" Po and the gang are now found in every Cadbury Dairy Milk Lickables. Over 70 "Kung Fu Panda" toys are there to collect inside this Cadbury treat now available in leading supermarkets nationwide.
Now with exciting Kung Fu Panda toys, you have 70 more reasons to scoop the chocolate goodness of Cadbury Dairy Milk Lickables! ASC REF. NO. M139P022720C

Posted by Cadbury Lickables on Saturday, July 4, 2020
August 20, 2020
We all have food cravings and sometimes we go to great lengths to enjoy them. We're always on the hunt for that perfect food trip that tastes delicious and doesn't leave us with guilty feelings. Tiger Crackers from Mondelez Philippines are crispy crackers available in Plain, Ensaymada and Leche Flan flavors made guilt-free with only 120 calories per pack.
Available in leading supermarkets nationwide, the Tiger brand has been in the Philippines since 2009 and also offers nutritious biscuits and choco-filled crackers.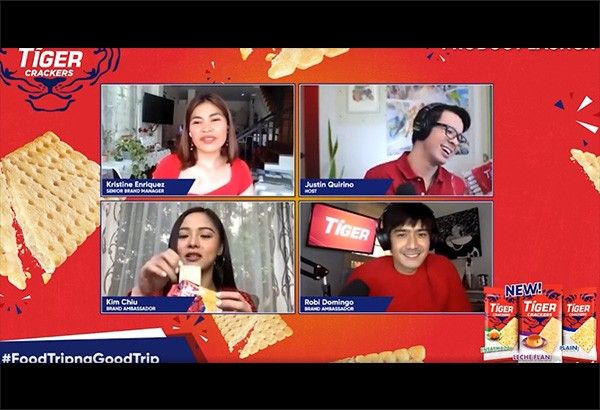 August 18, 2020
As the country continues to adapt to new behaviors, on-demand food delivery service Foodpanda has been spreading good vibes by ensuring the safety and well-being of their delivery riders who many people now consider as modern day heroes especially during this pandemic. During the quarantine, the demand for food deliveries skyrocketed, and unfortunately, this demand came with a steady rise in order cancellations and no-show customers. The riders, however, are never expected to shell out any money—the company itself shoulders these expenses.
To make sure that they can always stay connected, the company partnered with telecommunications providers Globe, PLDT-Smart and Cherry Prepaid for exclusive deals to help its riders save up on their data consumption and communications expenses. They were also given discounts in gasoline stations, tires, and many more. Riders have been thoroughly trained in new practices such as contactless delivery and sanitation. Rain or shine, riders are provided with weather gear for the season. Lastly, to make sure that their riders really have good vibes, the riders were given insurance in partnership with Manulife and Cebuana Lhuillier.
That said, you can be sure that the foodpanda rider delivering your favorite food and essentials is enjoying not just the job, but all the perks and benefits that come with it. This National Heroes Month, they're definitely being treated like the heroes they are especially during these times.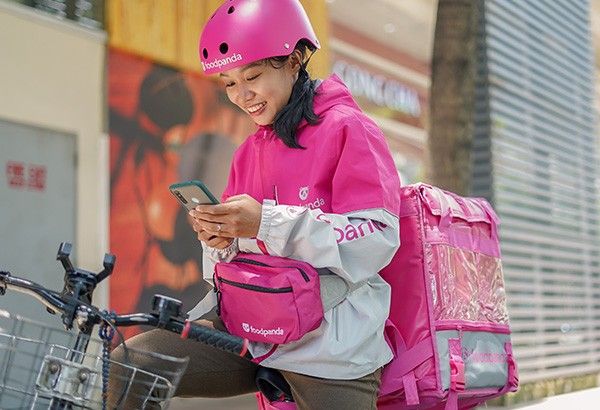 August 13, 2020
Flex your creativity and enjoy a New York-style pizza of your own creation at home with Yellow Cab's new You Do Your Own Pizza Basic Kit. Starting at P199, you can get a kit packed with staple ingredients that you need to create your own pizza masterpiece: A nine-inch chilled dough ball, pizza sauce, minced garlic and oregano, mozzarella, chili flakes and toppings based on your chosen variant: Pepperoni & Ham or Garlic & Cheese. You may also add any additional ingredients from your pantry to make it uniquely yours.
From August 14 to 16, have two of your favorite New York-style pizzas for the price of one with the Crazy Pizza Sale. For every 12-inch pizza, get another pizza of the same size and flavor, for free. Starting at P499, choose from a wide selection of Classic, Signature, and Legendary flavors, such as: the local favorite Hawaiian; iconic Pepperoni; protein-packed Manhattan Meatlovers; fresh Garden Special; light Roasted Garlic and Shrimp; sweet and tangy BBQ Chicken; flavorful #4 Cheese, or the bestselling New York's Finest. The kit and the pizza sale are available in select stores via Curbside pick-up, take-out or delivery.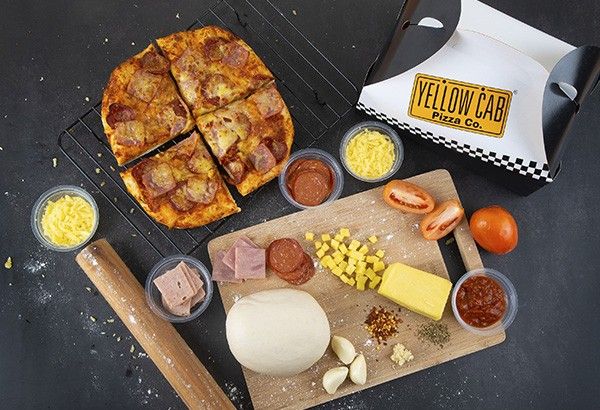 August 6, 2020
To mark 57 years of being in the country, Mondelez Philippines thought to strengthen bonds with its team and its community. The company's actions are guided by its purpose to empower people to snack right; with the right snack, for the right moment and made the right way. Though unable to gather its 480 team members at this time, a virtual celebration will be held where the team will share what they're thankful for, how they remain "Driven at 57," and have delicious snacks to celebrate with. Special thanks will also given to the brave food frontliners who continue to make and sell the Company's snack products, to ensure consumers continue to enjoy deliciousness in their homes.
For the community, Mondelez Philippines wanted to give thanks to the health front liners who are offering their lives in the service of the country at this time. Collaborating with partner Rise Against Hunger, the company shared its chocolate and cheese products to 57 hospitals in Metro Manila, including those in its home city of Paranaque, as well as others in surrounding cities of Muntinlupa, Quezon City, Manila, Pasay, Makati, Navotas and Valenzuela.
In recent years snacks have become more than just a bridge in between meals. According to a 2019 global State of Snacking report supported by the company, people's relationship with food is fundamentally changing. The majority of people in the report say that snacks are just as important to their mental and emotional wellbeing as their physical wellbeing. By sharing these snacks, it is the company's hope that they can bring bright spots to health frontliners' chaotic days.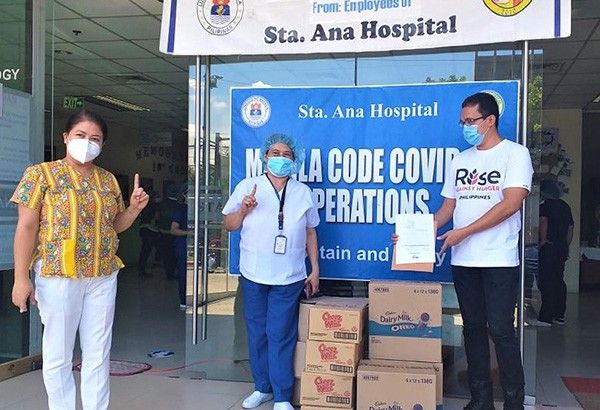 August 5, 2020
Doughnuts brand Krispy Kreme celebrates its anniversary with the new Ring-Filled Salted Caramel Doughnut with Almond Roca, available from August 7 to October 7.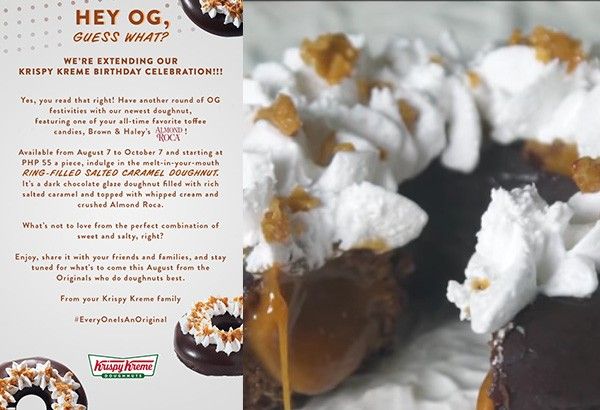 July 31, 2020
We all need a little sweetness to get us by these COVID-19 times as we stay indoors as much as we can, and continue to work-from-home or attend online school sessions. A bite-sized delectable treat in between those online meetings and classes can go a long way to boost your mood and energy. To satisfy those cravings, Cadbury recently introduced its bite-sized Shots.
Mondelez Philippines, the maker of Cadbury Dairy Milk, is proud to introduce the new little treats that are miniature chocolate pieces that will not melt even without refrigeration.
"We at Mondelez Philippines are always looking for ways to innovate, and give our customers the delicious escape they all crave for," Gicelle Medina, Mondelez Philippines' Chocolates Senior Brand Manager explained.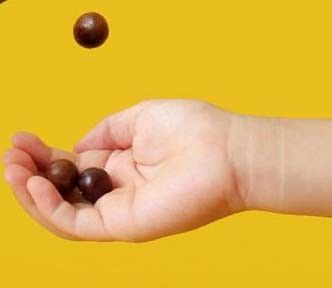 July 30, 2020
Two of Taiwan's most beloved brands have launched their new Minibox Bundle where customers can enjoy Yi Fang's refreshing fruit teas paired with Grand Castella's freshly baked cakes. The tea brand has carved out a niche in the competitive milk tea market by using fresh ingredients with no creamers, syrups and artificial sweeteners. The brand has been growing exponentially in the Philippines since 2018, capped with the release of their newest flavor Pudding Tea Latte (classic black tea latte topped with creamy caramel pudding), as well as a branch in Baguio opening very soon.
Meanwhile, Grand Castella is a premier bakery founded by Master Baker Tai-Cheng Lu in Taiwan, who had been perfecting his recipes since the tender age of 15. He was first to introduce the Taiwanese castella cake experience to the public in 2010, opening his first branch long the scenic Tamsui Old Street in New Taipei. The bakery has since expanded to over 79 branches across Asia. The Philippines' first branch opened in 2019 at Eastwood Mall, and has since built a loyal following for their moist and fluffy cakes. Since June of 2020, Gthe brand's menu of castella cakes and cheesecakes has been available at select Yi Fang branches.
Starting July 20, the new Minibox Series will be exclusively offered containing two baked flavors, good for up to four people. Customers may purchase any two large drinks to get an Original & Cheese Minibox or the Cheese & Ube Minibox available at the following branches of the milk tea brand: Bonifacio High Street, Bonifacio Stopover, M. Paterno (San Juan), Legaspi St. (Makati), Rufino St. (Makati), Binondo, Banawe, Tomas Morato and Maginhawa.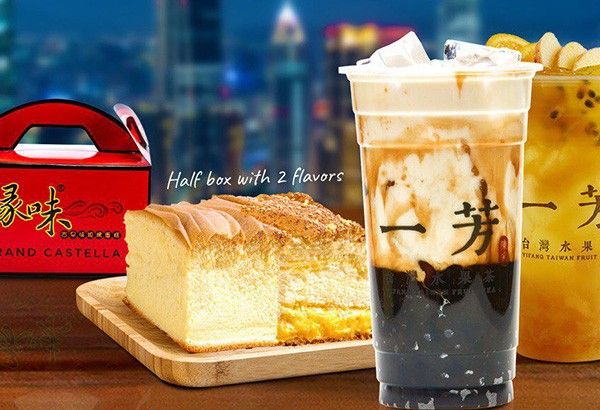 July 29, 2020
From July 29 to August 2, buy 16 pieces of wings and get extra four pieces for free at Yellow Cab. Choose from up to four flavors: original Hot Chix, Sweet Soy, buttery Garlic Parmesan, or sweet and tangy Sriracha. Price starts at P649. This limited time offer is available in participating Yellow Cab stores nationwide for dine-in, curbside pick-up, take-out and delivery. This is also available via GrabFood, FoodPanda and LalaFood.
All stores comply with proper operating guidelines to ensure you get signature products as safely as possible.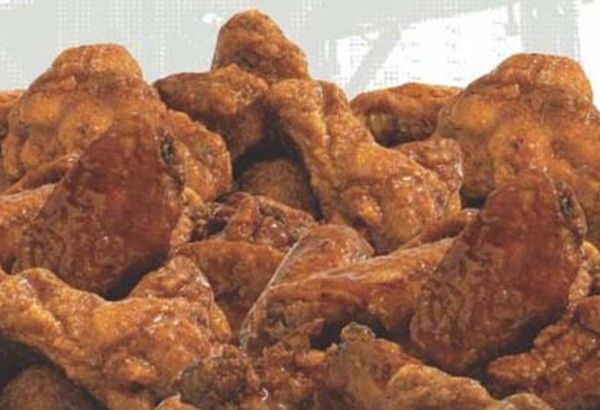 July 29, 2020
In celebration of National Corporate Social Responsibility (CSR) month, Metro Retail Stores Group, Inc., in partnership with Vicsal Foundation Inc., launched the First Virtual Metro Community Bazaar via a well-attended online ceremony last July 6. The virtual bazaar simulates the experience of shopping and exploring an actual bazaar. By clicking on a virtual storefront, shoppers will be led to the exhibitor's website, e-commerce platform or social media page. Here, they can shop and get more information on the advocacies that they champion.
Unlike e-commerce platforms, it encourages you to explore the exhibitor's online spaces. There are also free activities like cooking and baking demonstrations, and dance, yoga, and fitness exercises, classes that shoppers can try. Gourmet food products on offer at the bazaar include savory Bangus in Corn Oil, Gourmet Tuyo, and Crispy Mushrooms created by Caritas Margins, a program under Caritas Manila that provides skills and entrepreneurship training to marginalized sectors. All-natural and healthy items such as Virgin Coconut Oil, Coconut Sugar, and Pure Honey are also available from Caritas Margins. Those looking for lighter drink options will love the Moringa Tea from GreenEarth Foundation, Inc.
Shoppers can also avail of produce from Mad Market and Blessed Earth Farm, adlai rice from Bukidnon's Kiboa Ridge Farms, healthy meals from MDF Diet2Go, organic jams and spreads from Tree Hill Grocer and tasty snacks from SeaKid; and lifestyle items from local brands Bambuhay, Gifts that Give Back by the Artisan Women of Tondo, Likha Lokal, and Wow Carmen Handicraft. Aside from shopping and enjoying fun activities, bazaar-goers can also make a donation to support various advocacies. This includes Bahay ng Dios Foundation, which spearheads church conservation efforts; Caritas Segunda Mana, the donations-in-kind program of Caritas Manila; and Green Earth Heritage Foundation, which promotes sustainable community-based farming. The First Virtual Metro Community Bazaar will run until July 31, 2020. Visit Metroretail.com.ph/bazaar to learn more.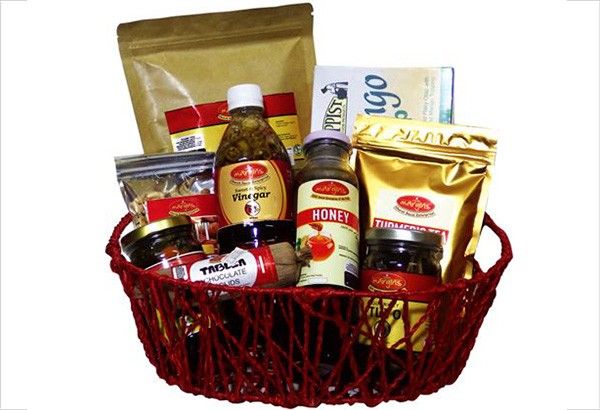 July 24, 2020
Satisfy your cheese cravings with Tokyo Tokyo's new Wasabi Cheese Wings, the new addition to the Japanese restaurant chain's flavor collection. Enjoy crunchy chicken wings and discover the unique combination of wasabi and cheese.
The Wasabi Cheese Wings are Japanese-style chicken wings covered with creamy, spicy cheese sauce and sprinkled with Nori-Wasabi seasoning for a cheese indulgence. Served with vegetable misono and rice. The products will be available in the following formats: Bento Ala Carte, Bento Meal (with sides and drink), six-piece platter, 12-piece Sampler Platter (four pieces Wasabi Cheese, four pieces Sriracha, four pieces Teriyaki).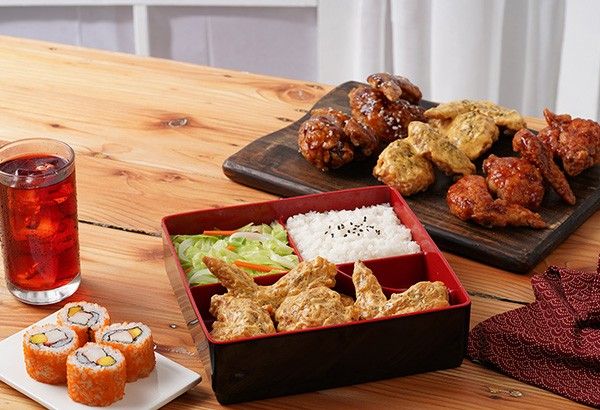 July 22, 2020
For those hungry but tired of cooking, Yellow Cab offers two nine-inch classic pizzas in two flavors with edge-to-edge toppings — sweet and savory Hawaiian and crowd-favorite Pepperoni. Top these off with 16 pieces of expertly fried wings in up to four flavors of your choice. Everything is for P999, with savings for up to P316. The offer runs until October 4, 2020 and is available for curbside pick-up, take-out and delivery also via GrabFood, FoodPanda and LalaFood. All Yellow Cab stores comply with proper operating guidelines to ensure you get its signature products as safely as possible.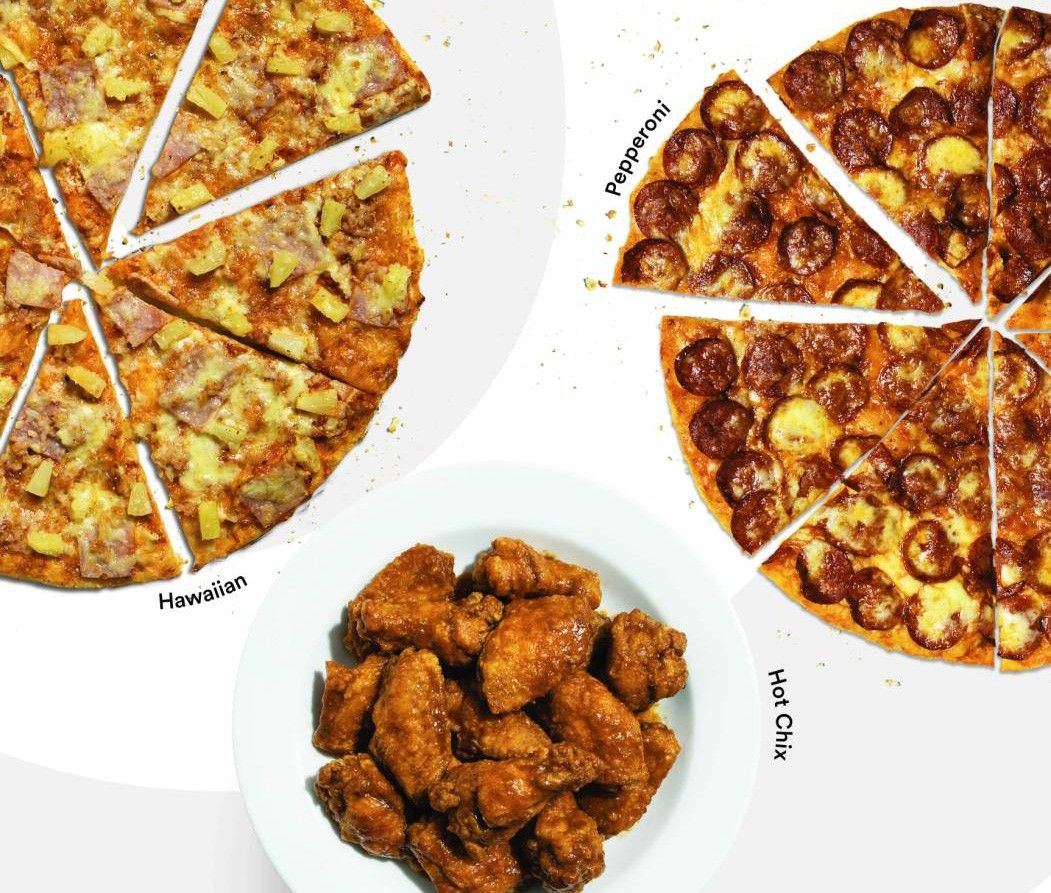 July 16, 2020
Raise a glass and celebrate any occasion in the comfort of your own home with the new Welch's Sparkling Rosè, now available at Waltermart, Robinsons Supermarket and Landers.
"Yes, it's true! It's 100% non-alcoholic. It's everything you love about rose wine without the alcohol. It's the perfect way to make pregnant and breastfeeding women, non-drinkers, and anybody living a non-alcoholic lifestyle a part of the celebration," said Erika Rodriguez, Vice President for Marketing of GEMCo, the Philippine marketing agent of Welch's International. "What's more, it's a health-conscious way to celebrate, since Welch's Sparkling Rosè has only 70 calories per serving. There are no added sugars too!"
With the quarantine still in effect, celebrations such as birthdays, anniversaries, and baby showers need not be delayed. Online parties can also become more lovely and "pink" with a light, refreshing taste and the sweetness and tartness of a ripe summer fruit. As the bottle is also pretty in pink, it looks great on any Zoom background or as part of your dining table for your Instagram photos.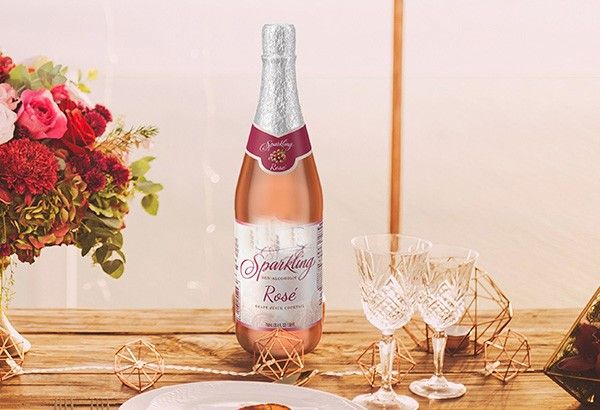 July 7, 2020
For those thinking of having a milk tea party at home, Gallontea has transitioned from a home-based business into a full physical store in GLI Building, J.D. Villena, 6189 Gabaldon, Makati, 1210 Metro Manila, open from Monday to Saturday, 10 a.m. to 6 p.m.
COVID-19 pandemic has been rough for businesses like Gallontea, but as soft opening last July 3, the brand held a small housewarming gift of free sinker (pearls, nata de coco or egg pudding) for every gallon. Their milk tea variants include classic, Wintermelon, chocolate and Okinawa, while fruit teas include strawberry, lychee, blueberry, green apple and lychee apple. Soon, the store will also offer snacks like dimsum. More details can be found on the brand's Instagram and Facebook pages.
July 7, 2020
In an effort to give back and celebrate its 6th year anniversary, on-demand food delivery service Foodpanda donated grocery packages to the local communities in Makati City, Taguig City, and Quezon City in Luzon, Cebu City in the Visayas, and Davao City in Mindanao. With the help and dedication of employees and riders, soldiers from the Philippine Army, and local government units, foodpanda, through their grocery delivery service, shops, distributed thousands of packages containing premium quality rice, canned goods, instant coffee, instant noodles and cooking oil to frontliners. Frontline workers who were able to receive the packages include emergency team responders, quarantine center personnel, garbage collectors and street sweepers.
To date, foodpanda distributed food packs to healthcare institutions during the enhanced community quarantine with their food delivery service, and now, as COVID-19 restrictions ease, they still continue to serve the needs of families and communities affected by the pandemic as they now deliver groceries and essential items via shops.
July 3, 2020
With the recent resumption of dine-in services, McDonald's Philippines has shared how they have elevated their commitment to quality, service, safety and cleanliness with stringent policies for both their customers and employees. The company has also released a video on its M Safe Program, featuring their President and Chief Executive Officer Kenneth Yang.
Employees also now follow enhanced stringent safety protocols, which include: daily submission of health check forms; temperature checks before and after every shift; increased hand washing frequency to every 30 minutes; provision of M Safe Care kits, including vitamins to help them take better care of their health. For customers, the number of those entering the stores will be managed. The following are implemented before entering the store: 'no mask, no entry,' temperature check, hand and footwear disinfection, and completion of a health check form.
In stores, physical distancing in all areas including order queues and dine-in areas will be observed. Table service is done for dine-in customers to avoid any crowding in the claim area. Counter and table shields are also in place, among many other precautionary measures in-store. More importantly, a dedicated safety manager is assigned in every store to ensure all protocols are followed, and goes the extra mile of offering hand sanitizer to customers every 30 minutes. To better improve its safety protocols, send feedback to [email protected].
July 1, 2020
Eating healthy during the community quarantine doesn't need to be that complicated.
For Nutrition Month this July, San Miguel Del Mar Tuna, made from 100% Pure Tuna Chunks, offers its healthy recipes such as Tuna Poke Bowl, Aglio Olio Tuna Pasta, Tune Crepes with Truffle Mushroom Cream Sauce by Chef Happy Ongpauco-Tiu, Tuna Rilette by Steph Zubiri and Tuna Adlai Grain Bowl by Chef Ed Bugia, which can be found in the brand's Instagram page. Available in leading supermarkets nationwide, the brand comes in Chunks in Vegetable Oil and Chunks in Water variants.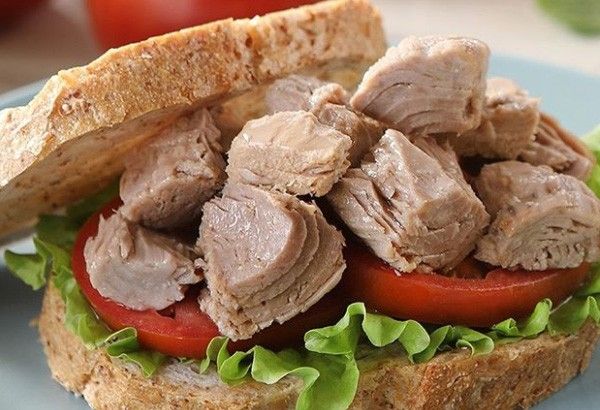 June 24, 2020
As lockdowns start to ease, The Bistro Group opened some of its restaurants for dine-in guests while strictly following protocols and regulations set by government agencies to ensure the health and safety of the customers and their staff.
Those who have missed eating inside Bistro restaurants can now do so at the following branches: TGIFridays (Bonifacio High Street, Alabang Town Center, SM MOA, Glorietta from 10 a.m. to 6 p.m.); Italianni's (BGC Ayala North Exchange, Greenbelt, Glorietta, Eastwood, Evia, Midtown, Alabang Town Center, Vista Mall Sta. Rosa from 10 a.m. to 6 p.m. except Vista Mall - from 11 a.m. to 6 p.m. and Midtown from 11 a.m. to 7 p.m.); Denny's (Uptown Parade, Midtown, Eastwood, Vista Mall from 8 a.m. to 6 p.m., except Uptown – from 8 a.m. to 7 p.m.); Texas Roadhouse (Greenbelt, inside Italianni's Evia Lifestyle Center from 10 a.m. to 6 p.m.); Modern Shanghai (Evia Lifestyle Center, NOMO (Vista North of Molino) from 10 a.m. to 6 p.m.); Watami (Greenbelt, Ayala North Exchange, and inside TGIFridays Glorietta, Bonifacio High Street, SM MOA, Alabang Town Center and Evia from 10 a.m. to 6 p.m.). Buffalo Wild Wings offers take-out and delivery service inside Denny's Vista Mall and Uptown.
Satisfy your longing for tasty tapas, hearty paellas and tender on the inside/ crispy on the outside, Cochinilo, among other soulful dishes at Spanish - Mediterranean restaurants Las Flores BGC and Rambla in Rockwell that are now open for dine-in guests from 11 a.m. to 8 p.m. while adhering to safety protocols for the protection of their guests. Curbside pickup and delivery are also available via GrabFood and FoodPanda.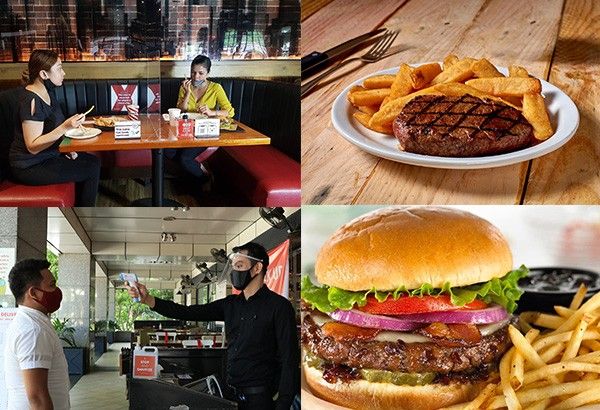 June 3, 2020
Food delivery service Foodpanda announces grocery and essential items delivery through shops. In partnership with a variety of retailers nationwide, customers can now order products and groceries without any minimum order requirement. They can have items delivered right to their doorsteps, at an average delivery time of 25 minutes or less. No need to schedule a grocery run when the pantry is empty with snacks, beverages, and bread as 7-Eleven's list of favorite essentials are just a few taps away. Racks is also offering their ready-to-cook entrees from meats to seafood, while Tous Les Jours offers its frozen bread. For those who need their daily caffeine fix, they can now set up a cozy coffee station at home with Coffee Project and Bo's Coffee. Foodpanda shops offers Subway's staple ingredients so anyone can recreate their signature favorites any time of the day.
With more than a hundred partners already on board, and growing every day, the app aims to continue to expand an even broader range of lifestyle and convenience offerings for its customers. Its growing pipeline of new business is fueled by its industry-leading network of partnerships, innovative technological platform and dispatch algorithm.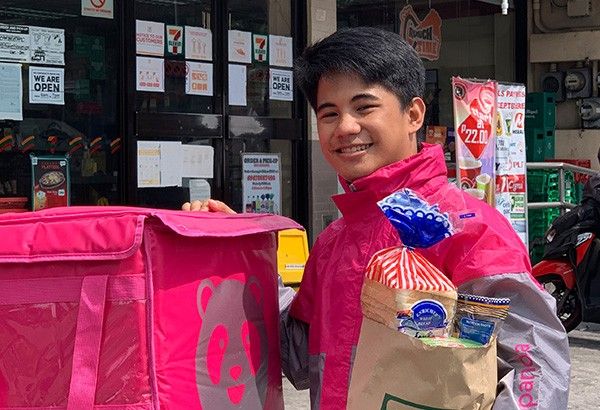 June 2, 2020
Familiar KFC favorites are making a comeback as pizza and chicken flavors combine as the fast food chain re-introduces its no crust, all chicken innovation the Chizza, now updated with more toppings. Chicken fillet covered with pizza sauce, slathered with melted mozzarella cheese and garnished with pineapple tidbits, diced bell peppers, and finished with chicken pepperoni, the Chizza has no crust; it's all chicken snack.
Due to insistent public demand, the brand also brings back its Pizza Twister - signature Fun Shots, laced with chicken pepperoni, slathered with pizza sauce, and quickmelt cheese, all wrapped in tortilla bread. The products will be available in ala carte, combo and fully loaded meal.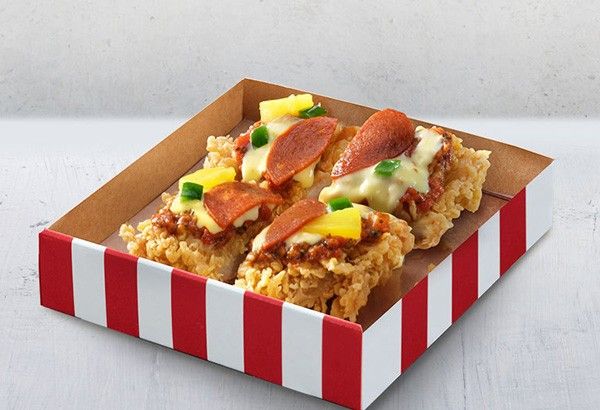 April 22, 2020
To ease the burden of frontline healthcare workers as they fight against COVID-19, Foodpanda has been helping out the best way they know how – through delivering good food right to their workstations.
As a showing of their appreciation and gratitude in keeping the community safe and healthy, the company partnered with local government units and restaurant partners such as Café Cueva in Baguio, Pizza Hut-Caltex Bacoor and Pizza Hut-Robinsons Imus in Cavite, Betmoto Worldwide Wings, Tita Jo Kitchenette and Alamak BBQ in San Pedro to bring warm meals to hundreds of healthcare frontliners in hospitals and checkpoints across 13 cities – from Baguio to General Santos City. The people who have been working tirelessly to fight COVID-19 received hearty meals and refreshments.
Foodpanda aims to visit and send out food and refreshments to more hospitals and checkpoints in the coming days.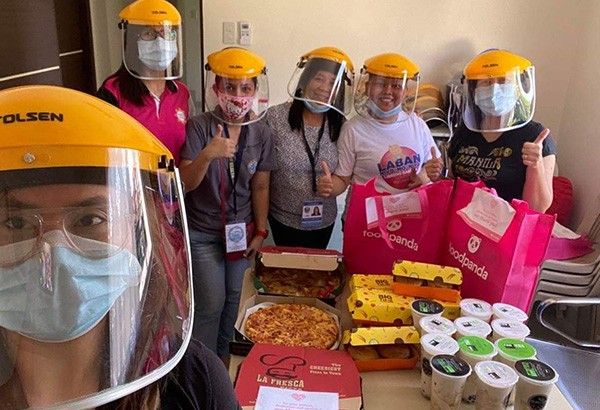 April 3, 2020
For Lent, Greenwich recently introduced Tuna Lasagna Supreme following last year's high demand. The Tuna Lasagna Supreme is prepared with layers of al-dente lasagna noodles with herby-tangy tomato sauce, tuna chunks, and rich creamy cheese. This multilayered pasta is now available for delivery via the food chain's website.
"There was such a huge positive reaction from our Greenwich kabarkadas when we introduced the Tuna Lasagna Supreme last year. Since then, we've been getting inquiries to put it back on the menu. We value our kabarkadas, kaya this summer – made with patong-patong na sarap of tuna chunks combined with other delicious ingredients you love in the best-selling Lasagna Supreme," said Pam Reyes, marketing head.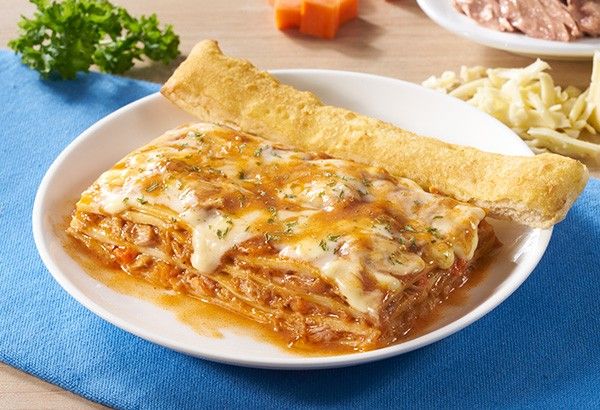 March 24, 2020
Food delivery service Foodpanda launches its contactless delivery due to the enhanced community quarantine. Both customers and riders are able to opt for contactless delivery with the following steps: 1. Place an order and opt for online payment; 2. Go to the rider chat function on the app and inform the rider/customers that they are opting for the contactless delivery; 3. Food will be placed at the designated drop off spot at the customers' home or office; 4. Rider will notify customers that food has arrived via the rider chat function on the app or call; 5. One-meter distance will be maintained between rider and customers; 6. Customers to verify the delivery; 7. Delivery completed!
"We value the safety of everyone in our community, and have introduced new measures to ensure you feel secure while using our service. Our riders are instructed to wash their hands every two hours and after each time they handle a delivery and follow the rider safety guidelines and proper handling of delivery," said Camille Hadjeri, Managing Director, Foodpanda Philippines. "We also encourage you to switch to online payment so we can reduce human interactions to a minimum."
February 21, 2020
Whether raising a glass to romance or celebrating independence, let love come in the form of food delivery.
On-demand food service Foodpanda celebrates the Love Month with 50 percent off and free delivery offerings from restaurants and fast food chains in Metro Manila, Cebu, Iloilo, Bacolod, Dumaguete, Tacloban, General Santos, Davao, and Cagayan de Oro. This allows diners to skip the long queue and enjoy having a date at the comforts of their own home, office, or anywhere they want.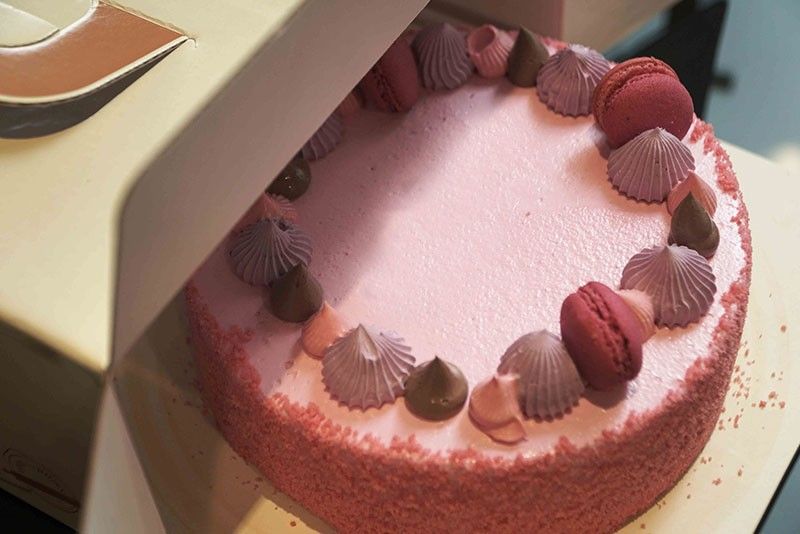 February 21, 2020
For those looking for meat alternatives especially this Lenten season, pizza chain Yellow Cab offers its three nine-inch pizzas in light Roasted Garlic & Shrimp, flavorful #4 Cheese and Garden Special meatless flavors for P699, with savings for as much as P561. Offer runs from February 26 to April 12 for dine-in, take-out, delivery and curbside pickup.
February 10, 2020
Fans of Jollibee's Tuna Pie can once again enjoy biting into its crispy golden crust and savor that rich creamy tuna filling as it is back in stores today but with a surprise. Fans can now enjoy two variants: Original Tuna Pie and the new Spicy Tuna Pie.
"With the Spicy Tuna Pie, you can now dig into the same crispy crust and creamy tuna filling, but this time with an exciting hot and spicy kick that makes it extra flavorful," Jollibee says in a statement.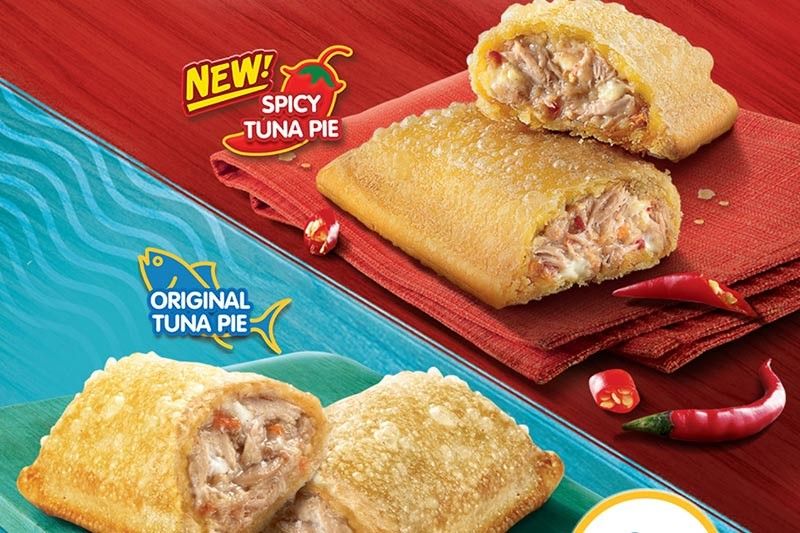 November 21, 2019
As Christmas day approaches, Max's Restaurant offers new treats inspired by the holidays. Nilagang Pasko is the restaurant's own take on the well-loved pochero dish, a tender trio of beef bulalo, cured meat, and chicken submerged in a rich annatto oil-infused broth with potatoes, pechay, squash, sweet potatoes, green beans, saba banana, partnered with eggplant salsa.
With Simbang Gabi just around the corner and the year almost ending, cap off every get-together with Bibingka Cheesecake, Max's Corner Bakery's unique take on the classic Filipino Christmas staple. This "kakanin" and cheesecake concoction is a marriage of soft, fluffly vanilla chiffon and smooth and silky cheesecake, generously topped with salted egg slices wrapped in banana leaves. Until January 3, 2020, the new Nilagang Pasko and Holiday Classics Supreme Bundle is available in all Max's Restaurant branches nationwide, and Bibingka Cheesecake and Caramel Fudge Cake in all Luzon stores only.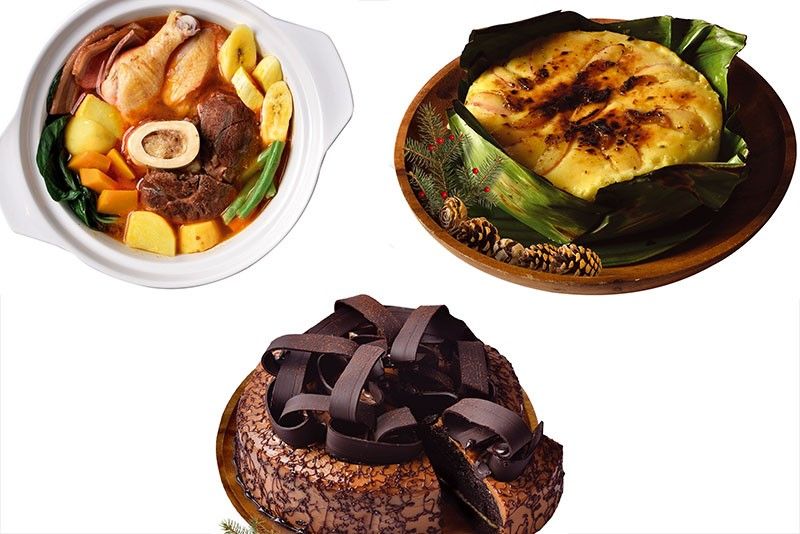 November 4, 2019
Philippine fast-food giant Jollibee unveils brand-new breakfast offerings: Cheesy Corned Beef Pie and Cheesy Bacon Pie.
"It has Jollibee's signature crispy, golden pie crust, stuffed with a choice of breakfast favorites, corned beef or bacon, mixed with creamy cheese and delicious mashed potato. It really is a breakfast sarap on-the-go!" it says in a statement.
"The Jollibee Breakfast Pies are the new perfect easymusal meal for busy folks as it is not only deliciously satisfying, but it can also be enjoyed even while on-the-go—perfect for those who don't want to be late for work or school."
The new pies cost P49.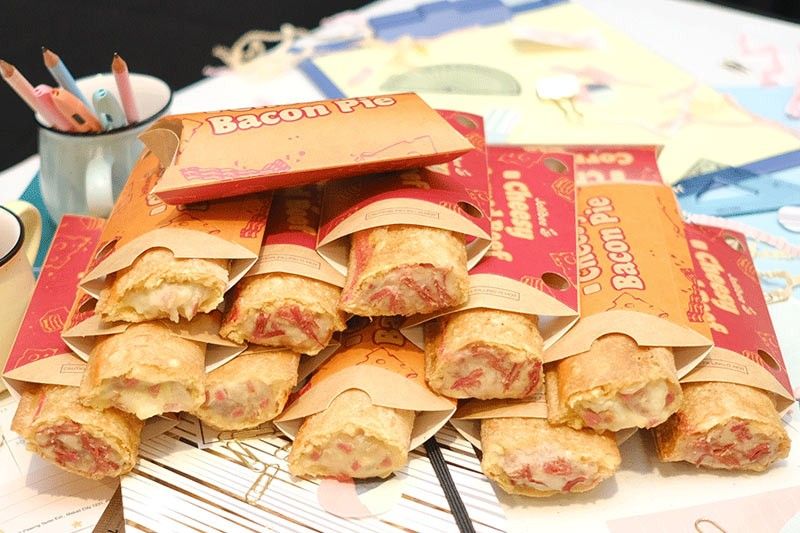 October 15, 2019
Craving for buko pie? You may not need to go far to satisfy your craving for the well-loved Filipino delicacy as Jollibee introduces the buko pie as its newest treat.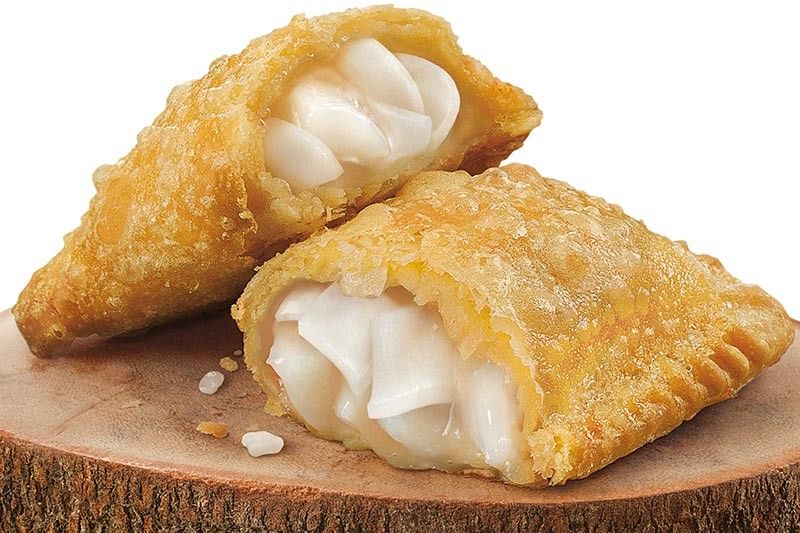 Grab a bite from the latest the Philippine food scene has to offer.