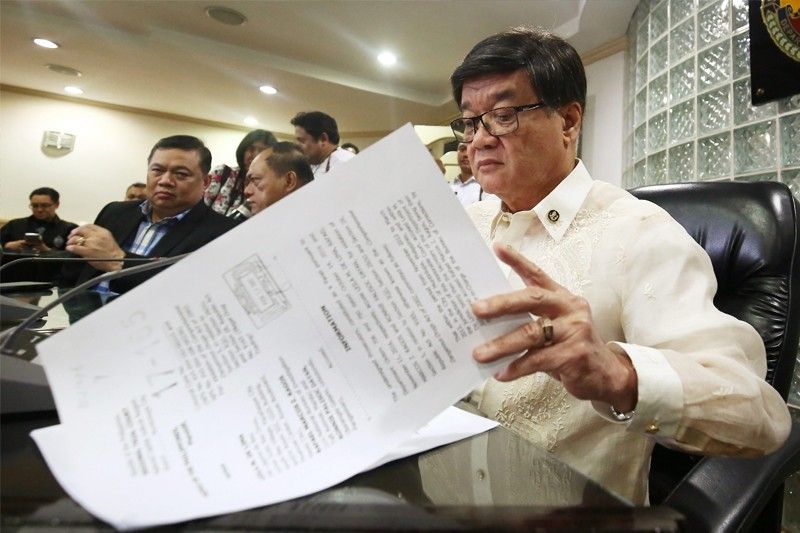 Dismissal of cases against Peter Lim, Kerwin Espinosa and other high-profile drug personalities
LATEST UPDATE: March 14, 2018 - 9:05am
+ Follow Story
March 14, 2018
The DOJ orders probe into the public prosecutors who dismissed drug charges against Kerwin Espinosa and presidential campaign supporter Peter Lim.

On Tuesday, President Rodrigo Duterte warned that DOJ chief Vitaliano Aguirre would replace Lim and Espinosa in jail if the two were cleared: "Pag nakawala yan si Lim at Espinosa, siya ang ipapalit ko."

March 14, 2018
The DOJ orders probe into the public prosecutors who dismissed drug charges against Kerwin Espinosa and presidential campaign supporter Peter Lim.
Justice Secretary Vitaliano Aguirre II has formed a new panel to review the dismissal of drug cases against Kerwin Espinosa and Peter Lim, presidential spokesperson Harry Roque says on his social media accounts.
PRRD: ( on DOJ dismissal of case vs Lim and Espinosa) I will invoke my power of supervision and control and will review dismissal.

— Harry Roque (@attyharryroque) March 13, 2018
The dismissal of the case, which the Department of Justice panel said was due to weak evidence from the Philippine National Police, has stirred outrage on social media and from senators, especially since Espinosa previously confessed his involvement in the drug trade.
Authorities had tagged him and his father Albuera, Leyte Mayor Rolando Espinosa as the biggest drug lords in the Visayas. The elder Espinosa was killed by police while in detention in a Leyte jail. Police said he was killed in a shootout but the National Bureau of Investigation said it was a "rub out".