The fate of Rappler under Duterte's administration
November 29, 2021 | 12:48pm
Location:
MALACANAN, PHILIPPINES
+ Follow Story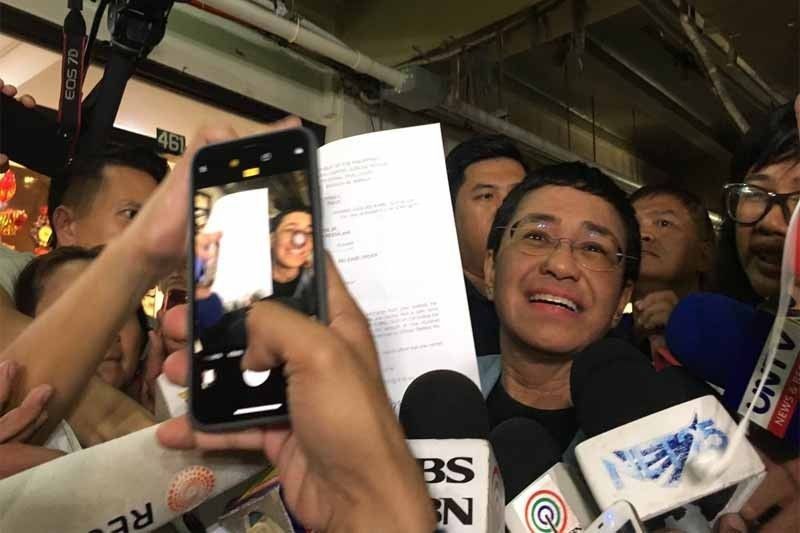 November 29, 2021
Movement Against Disinformation — a coalition with members from he academe, legal profession, civil society groups, international non-government organizations — has issued a statement urging the courts to allow Rappler CEO Maria Ressa to travel to Oslo, Norway to accept the Nobel Peace Prize.
"This historic occasion, whereby a Filipino will be honored to receive the most prestigious international award, cannot be understated. Between 1901 and 2021, only 109 individuals have been conferred with this award," the group said.
"This brings great honor and recognition not only to Ms. Ressa but to the Philippines, Filipinos both present and unborn, and all journalists whom she represents through this award. Her presence in the ceremony is symbolic, urgent and necessary."
"Ms. Ressa's conviction for Cyber Libel in 2020 is still under appeal, and until the same has been decided with finality, she is presumed innocent. She was allowed in the past to leave the country 36 times on bail, and returned and made herself available when the Court required her presence," MAD also says.
June 15, 2020
Manila court convicts Rappler CEO Maria Ressa and ex-researcher Reynaldo Santos of cyber libel.
The court orders them to pay P200,000 for moral damages and P200,000 for exemplary damages.
Ressa and Santos are sentenced to imprisonment of six months and one day to up to six years. Rappler says they are posting bail. — report from Kristine Joy Patag
June 14, 2020
"As we await the decision on the cyber libel charges against Maria Ressa, Reynaldo Santos Jr. and Rappler, the National Union of Journalists of the Philippines holds fast to the hope that the court will see this case for what it is, part of this vindictive government's ruthless campaign to silence or intimidate independent and critical Philippine media," the National Union of Journalists of the Philippines says in a statement.
"We have seen how the State and its agencies twisted the application of an already bad law into one more weapon in the legal arsenal it has brought to bear against Rappler, not to mention the misbegotten ban on coverage by a chief executive whose personal whims hold more weight than the public interest," it also says.
"On Monday, we, together with all those who treasure our rights and liberties, will be watching and waiting, hoping judicial independence and wisdom will set things right," NUJP also says.
October 14, 2019
Pasig Regional Trial Court Branch 159 remands, or sends back, the case of violations of the Securities and Regulation Code filed against Rappler and its executives for preliminary investigation.
It says there was "undue haste in [the] transmittal of records of the case." — Philstar.com/Kristine Joy Patag
September 26, 2019
The Office of the Solicitor General says it has answered a petition at the Supreme Court filed by Rappler reporter Pia Ranada and others questioning an order to bar Rappler journalists from covering President Rodrigo Duterte's events.
The OSG says Ranada's media accreditaton has lapsed and that the Securities and Exchange Commission has revoked Rappler's certificate of incorporation.
"Under the [International Press Center] and [Media Accreditation and Relations Office] accreditation rules, a legitimate media entity must be accredited in order to cover the President."
"Even the Malacañang Press Corps By-laws require, among others, that to be a member of the MPC, it must be duly-recognized by the Presidential Communications Operations Office as a bona fide media organization, duly-accredited by the IPC and duly-registered at the SEC."
The OSG adds that despite the ban, Rappler has access to Palace press releases and briefings and can ask questions through SMS.
August 14, 2019
The Supreme Court orders the Office of the President, Office of the Executive Secretary, the Presidential Communications Operations Office, Media Accreditation Registration Office and the Presidential Security Group to comment on petitions questioning the banning of Rappler reporters and correspondents from Malacañang and from other events where President Rodrigo Duterte will be.
The petitions were filed by Rappler staff as well as by supporters from civil society and by colleagues in the media.
April 3, 2019
Rappler CEO Maria Ressa pleads "not guilty" in four tax evasion cases at the Court of Tax Appeals.
Rappler Holdings Corp. (RHC) chief executive officer Maria Ressa pleads not guilty to P70.228-M tax evasion cases before the Court of Tax Appeals (CTA). @PhilippineStar

— Elizabeth T. Marcelo (@marcelo_beth) April 3, 2019
April 3, 2019
Rappler CEO Maria Ressa is set to be arraigned at the Court of Tax Appeals on Wednesday, April 3, on four counts of tax evasion, she says in a tweet.
Arraignment is when a person charged with a crime enters a plea of "guilty" or "not guilty". In case the person refuses to enter a plea, the court will enter a plea of "not guilty" for them.
March 29, 2019
Karapatan statement on Ressa arrest
Karapatan is one with journalists and media workers in decrying the vivid violations on the people's right to information and freedom of expression, as exemplified by the cyber-attacks against websites of alternative media organizations and the rearrest of Rappler's Maria Ressa on politically-motivated charges.
We welcome and support today's filing of civil charges against entities alleged to have been used by state actors in undertaking cyber-attacks against alternative news media organizations Bulatlat, Kodao, and Pinoyweekly.
Websites of organizations such as that of the National Union of Journalists of the Philippines, Karapatan, Ibon Foundation and Bayan have been subjected to similar attacks. These insidious acts, coupled with threats and even arrests of members of alternative press, are meant to silence journalists and human rights defenders in online spaces, which are channels of news reports that expose the realities of human rights violations. These reports openly challenge the mainstream government narrative on human rights, as well as highlight the various facets of the people's struggles and campaigns against repressive and anti-people policies and projects.
We condemn today's rearrest of Maria Ressa of news site Rappler on yet another set of charges which many deem as politically motivated cases by the Duterte administration. We view the charges and acts against Rappler and its reporters as forms of reprisal on Rappler's reportage on the government's sham drug war. This form of judicial harassment as well as the use of draconian laws criminalizing libel in broadcast, print and online media are direct violations on press freedom.
The Duterte government's persistent attacks against those who remain critical to his government is a glaring indication of its vindictiveness and non-tolerance of the people's exercise of their civil and political rights. This judicial harassment is also in stark contrast to the leeway and shameless favors granted to government-allied plunderers and alleged drug lords, to the point that these parasites are almost guaranteed freedom amid the outstanding cases against them.
Such attacks, including the killings of journalists, are not just against particular groups or individuals, but these are systematic acts of suppression of the people's right to information and freedom of expression. Attempts to muzzle the dissemination of information on issues of public interest, including human rights cases, deny the general public of our right to know and access these information. Harassment of journalists through online attacks and filing of politically motivated charges seeking to intimidate them or hamper their work conveys a chilling effect on the public's exercise of freedom of expression.
We call on all free press and human rights advocates to push back against any and all forms of infringement on basic rights and fundamental freedoms under the current administration.
March 29, 2019
National Union of Journalists of the Philippines statement
Rappler has clearly become the whipping boy of the Duterte administration as it seeks to silence or intimidate the independent and critical press.
Apparently not content with the barrage of lawsuits already filed against the news outfit, its CEO Maria Ressa, and other officers and staff, one of the original cases, the still contested revocation of license by the Securities and Exchange Commission, has actually given birth to new charges of allegedly violating the anti-dummy law. This brings the number of cases filed against Rappler to 11.
With all these, it is hard to shake the suspicion that the filing of this latest case was timed to make sure Maria would be welcomed home by an arresting team as soon as she stepped off her flight from abroad.
But this intolerant and vindictive government's ham-fisted efforts to humiliate Rappler and its officers and personnel have succeeded only in humiliating itself in the eyes of the world and everyone who values freedom and democracy.
Let us all stand by Rappler and the community of independent Filipino journalists in resisting this administration's attempts to muzzle us and, in doing so, silence our people's voices and deprive them of the information they need to decide on their personal and collective futures.
March 29, 2019
Statement of Francis Lim, legal counsel of Maria Ressa
"This latest episode is not surprising and we prepared ourselves for it. But let it be crystal clear that these acts of harassment will not deter our clients from doing their duty as journalists. We believe in the rule of law and it is our fervent hope that we will prevail in the end."
March 29, 2019
Rappler CEO Maria Ressa is undergoing booking proceedings at the Pasig City Police Headquarters, the news site reports.
This, after she was served an arrest warrant at the Ninoy Aquino International Airport on Friday morning on a case for an alleged violation of the Anti-Dummy Law.
Six members of Rappler's board posted bail of P90,000 each at Pasig Regional Trial Court Branch 265 earlier this week for the same case. Ressa, who was abroad, was not able to post bail along with them.
READ: Rappler's Ressa, six others face charges over anti-dummy law violation
According to an earlier report by The STAR report, the case stemmed from the Securities and Exchange Commission's ruling that ordered the cancellation of the certificate of incorporation of the online news site and of foreign investor Omidyar Network's Philippine Depository Receipts.
Rappler is accused of violating the constitutional restrictions on ownership and control of mass media entities for receiving funding from Omidyar Network, a fund created by eBay founder and entrepreneur Pierre Omidyar.
PDRs are instruments that give foreign investors a passive economic interest in a Philippine company.
The Court of Appeals has ordered to SEC to review Omidyar's donation of its PDRs to Rappler managers, and the legal effect of the "alleged supervening donation" on whether it has mitigated, if not cured, the violation the commission had earlier found.
March 25, 2019
A Rappler correspondent was told to leave the University of Science and Technology in Southern Philippines in Cagayan de Oro on Sunday as President Rodrigo Duterte was to lead a PDP-Laban campaign rally there, the National Union of Journalists in the Philippines says in an alert.
Rappler reporters and correspondents are still banned from events where Duterte will be more than a year since Rappler's Malacañang reporter Pia Ranada was barred from entering the Palace.
According to the NUJP alert, correspondent Bobby Lagsa was outside the USTP gymnaisum doing man-on-the-street interviews when he was told to leave the campus by a staff of the Media Accreditation and Relations Office.
Lagsa had been denied accreditation for the PDP-Laban rally the day before and was staying outside the gymnasium where the rally was underway when he was told to leave, JB Deveza, NUJP safety officer for Western Mindanao, says in the alert.
"Lagsa said he did encounter any problem getting inside the USTP campus at about 5 p.m, and was able to interview several persons outside the gymnasium before he was told to leave. He said he was wearing his Rappler ID while doing the interviews but said he did not try to get inside the gymnasium," the alert reads.
February 14, 2019
Wilfredo Keng, the complainant in the cyber libel case against Rappler CEO Maria Ressa and former reporter Reynaldo Santos Jr. has issued a statement on the charge, saying "it is a test case on the how the Philippine legal and judicial system will fare against the dangerous precedent that is being set by one reckless and irresponsible member of the media and of the online community."
The full statement is below:
Official Statement of Mr. Wilfredo D. Keng on the Cybercrime of Libel criminal case filed against Reynaldo Santos, Jr., and Maria Angelita Ressa, of Rappler, Inc.
Of the many virtues guarded by democratic nations, justice and protection against libelous speech may well be the most difficult to attain. Apart from the unfortunate reality that necessary legal machinery may be inaccessible to many, technology and modernity have so drastically changed the information highway such that information-sharing has become virtually and instantaneously boundless – both global in reach and perpetual in duration.
It is for this reason that now, more than ever, democratic freedoms such as those of speech and of the press must all the more be vigilantly balanced against the standards of responsible exercise and accountability, as well as the dictates of conscience, justice and the truth, lest they serve to oppress rather than liberate the citizens whose lives they are meant to enhance.
It is for this same reason that I am deeply grateful that after the conduct of a lengthy, careful and meticulous investigation, the Department of Justice has categorically resolved to criminally charge Rappler, Inc., Maria Angelita Ressa and Reynaldo Santos, Jr. with cyber libel in court because of their publication of clearly defamatory statements against me through their online news platform, the penalty for which crime is imprisonment for a minimum of four years, two months and one day to a maximum of eight years.
While I am aware that this vindication is but the start of what may be a long and arduous process, I am committed to see this legal battle to the very end. Upon seeing the libelous article and prior to resorting to judicial remedies, I tried to formally and informally communicate with Rappler in order to have the said article taken down, clear my name and restore my reputation, at least, to the extent possible given the fact that irreparable damage had already been done, multiplied a million-fold because Rappler's website continues to be accessible by the whole world. In turn, Rappler, likewise through formal and informal channels, repeatedly promised me that they will take down the subject article, but never did. The libelous attacks remain posted on their website until now.
Rappler, Ressa and Santos never attempted to obtain my side on the crimes they wrongly imputed to me or to fact-check their baseless attacks against my name. I have never had a criminal record. For almost four decades since I started working, I have consistently secured official clearance from the National Bureau of Investigation certifying that I have never been involved in any criminal case and have never had any criminal history. Since the 1980's, I have never been investigated by or summoned before any law enforcement agency in connection with any alleged criminal act, much less have I been indicted, arrested, detained or convicted of any crime in the Philippines. Further, the National Bureau of Investigation, as the central repository and chief administrator of the country's criminal history records, would never have found in my favor and filed the complaint against Rappler, along with its concerned officers and reporter, for cyber libel concerning defamatory imputation of crime if had any criminal record or history in their files.
Against this kind of limitless harassment and wanton disregard for the rule of law, I was left with no other choice but to file a case and seek protection from our courts. To date, the perpetrators have not once denied having published clear defamations against me but simply continue to hide behind a single claim: that unfortunately for me, I allegedly can no longer complain.
Rappler, Ressa and Santos continue to hold themselves high above any accountability to provide credible and justifiable reason for why they continue to harass an ordinary private citizen and businessman despite having absolutely no basis for their claims. What is their motive? With one click of a button, they destroyed my reputation and endangered my life.
They attempt to mislead the public by releasing "news" that my complaint against them was purportedly "dismissed" by the National Bureau of Investigation, knowing absolutely well that it is the National Bureau of Investigation itself which filed the complaint for cyber libel against Rappler, Ressa, Santos and other named individuals before the Department of Justice. Rappler's inaccurate, nay reckless, reports and statements continue to be quoted by other news outfits, thereby perpetuating the clearly incorrect version of the said story. Such reckless, premature and inaccurate reporting on official government processes reek of actual malice and cyber bullying and border on the intentional propagation of "fake news".
It is thus high time that we remember that the foundation of our independence, democracy and freedom is based on one simple truth: no one is above the law. As I pursue this case to its just conclusion, I pray that the dispensation of justice be lawful and swift in recognition of the global platform of the perpetrators, the length of time the libelous statements against me have remained available for the entire world to see, and other factors which exponentially threaten my life, limb, property, health, well-being and peace of mind. I further hope to not just seek remedy and redress for myself and my family, but to move all other victims of cyber libel and cyber bullying to stand up and seek just and legal action.
In the end, this story is not just about an ordinary suit filed by a private and hardworking citizen to clear his name. It is, in reality, a test case on the how the Philippine legal and judicial system will fare against the dangerous precedent that is being set by one reckless and irresponsible member of the media and of the online community. If left unaccountable, Rappler, Ressa and Santos' example of impunity will be emulated and replicated, and will destroy not just individual lives but our entire country.
May Justice and Truth continue to be on our side.
February 14, 2019
The Foreign Correspondents Association of the Philippines condemns the arrest of Rappler CEO Maria Ressa on a cyberlibel case and says it "stands with her and Rappler in this latest legal stratagem that threatens the freedom of the press all of us have fought for and will always defend."
In a statement, FOCAP also says its members "will always stand against any move, explicit or otherwise, that is designed to undermine the freedoms that are a lifeline to truly free, relevant and courageous journalism."
We will continue to hold those in power led by President Rodrigo Duterte or any other leader and their administrations accountable every time we need to. We will speak truth to power with all independent media across the Philippines.

— FOCAP (@FOCAP2019) February 13, 2019
FOCAP also expressed "deep concern" when the Securities and Exchange Commission revoked Rappler's business registration over issues over the news site's foreign investors in January 2018.
"[It] sends a chilling effect to media organizations in the country. Journalists must be able to work independently in an environment free from intimidation and harassment," the group said then.
February 13, 2019
News outlet Rappler issues a statement as its CEO and executive editor Maria Ressa spends the night at the National Bureau of Investigation headquarters in Manila.
At least 4 agents and lawyers from the NBI's Cybercrime Division came to serve the warrant signed by Manila RTC Presiding Judge Rainelda H. Estacio-Montesa. The warrant dated February 12, 2019 was served close to 5 p.m. today, when courts were about to close.

A complaint was filed by businessman Wilfredo Keng 5 years after a story was published on May 29, 2012, or months before the Cybercrime Law was enacted. Our story said former chief justice Renato Corona used a vehicle registered under the name of Mr Keng, who, based on intelligence reports and previously published stories, had alleged links to illegal drugs and human trafficking. We called Mr Keng and got his side before the story was published.

The filing of the case is preposterous and baseless. No less than NBI Cybercrime Division chief Manuel Eduarte closed an investigation in February 2018 after finding no basis to proceed, given that the one-year prescriptive period had lapsed. Eight days later, however, the NBI revived the case, and filed it with the Department of Justice on the basis of a theory they call continuous publication.

This is a dangerous precedent that puts anyone – not just the media – who publishes anything online perennially in danger of being charged with libel. It can be an effective tool of harassment and intimidation to silence critical reporting on the part of the media. No one is safe.

Maria Ressa was accused of cyber libel allegedly because she was the editor of the story that was published. She was not. If this is another of several attempts to intimidate us, it will not succeed, as past attempts have shown. Maria Ressa and Rappler will continue to do our jobs as journalists. We will continue to tell the truth and report what we see and hear. We are first and foremost journalists, we are truthtellers, and we will not be intimidated.

As Ressa herself has said: "We are not intimidated. No amount of legal cases, black propaganda, and lies can silence Filipino journalists who continue to hold the line. These legal acrobatics show how far the government will go to silence journalists, including the pettiness of forcing me to spend the night in jail."
February 13, 2019
Rappler CEO Maria Ressa says she has until 9 p.m. to post bail or she will stay at the NBI headquarters tonight.
"We've been trying to post bail."
She is now signing the booking sheet.
Now signing booking sheet pic.twitter.com/qEDHJmFzqF

— Jonathan de Santos (@desamting) February 13, 2019
February 13, 2019
Rappler says it is looking for a night court or an available judge so they can post bail for its CEO Maria Ressa.
February 13, 2019
Ressa arrives at NBI headquarters after her arrest.
February 13, 2019
Rappler CEO Maria Ressa says they're heading to NBI Headquarters and will see if they can post bail tonight.
February 13, 2019
Agents of the National Bureau of Investigation are at the Rappler office in Pasig to serve an arrest warrant on its CEO Maria Ressa, its news editor says in a tweet.
Rappler news editor Miriam Go says NBI agents entered their building at past 5 p.m. to serve an arrest warrant on Ressa. Government office hours are from 8 a.m. to 5 p.m. although warrants can be served at any time.
February 6, 2019
The Department of Justice recommends cyberlibel charges against Maria Ressa and other executives of news company Rappler.
The case stems from its publication of an article about businessman Wilfredo Keng in 2012. The piece was allegedly republished in 2014, when the Cybercrime Prevention Act was already enacted.
December 3, 2018
Maria Ressa, CEO of online news company Rappler, posts a P60,000 bail at the Pasig Regional Trial Court Branch 265 upon voluntarily surrending. Prior to this, a warrant of arrest against Ressa was issued dated November 28 over tax evasion charges.
"No warrant of arrest was served on Maria Ressa upon her arrival in Manila last night or even this morning," her lawyer Francis Lim says in a statement.
"The police can no longer arrest her as the court just approved the cash bail that she posted for her liberty during the pendency of the case," Lim adds.
November 12, 2018
The Department of Justice's finding of probable cause to indict Rappler for tax evasion shows "nobody is above the law," the Palace claims.
"In the Duterte administration, obedience to the law is not, and cannot be an option. No one is above the law. Everyone or every entity is accountable for every transgression of the law," presidential spokesperson Salvador Panelo is quoted as saying by the Manila Bulletin and Manila Times.
"No one is exempted, rich or poor, powerful or weak. Friendship, fraternal and political ties, as well as blood relationship do not matter to this president," he also says on Monday.
Earlier Monday, Philippine National Police Director General Oscar Albayalde said the police are considering the age and health of Ilocos Norte Rep. Imelda Marcos, whom the Sandiganbayan found guilty of graft last Friday, in her impending arrest.
"The former first lady is a very... hindi naman natin sabihin... baka magalit satin na matanda pero may edad na kasi," the country's top cop also said.
Rappler has been in the crosshairs of government officials, including President Rodrigo Duterte, for reports deemed critical of the administration. The tax evasion complaint was preceded by an investigation by the Securities and Exchange Commission, which ruled that Rappler had violated a constitutional prohibition on foreign ownership of media.
Rappler has questioned the SEC's findings in court. In July, the Court of Appeals denied Rappler's bid to overturn the SEC's decision but also remanded the case to the commission after Omidyar Network donated the questioned Philippine Depositary Receipts to Rappler staff.
November 9, 2018
The Department of Justice indicts online news site Rappler, its president Maria Ressa and its independent certified public accountant Noel Baladiang for tax evasion.
Assistant state prosecutor Zenamar Machacon-Caparros ruled that Rappler has violated the Tax Code.
The Bureau of Internal Revenue had alleged Rappler Holdings Corporation of buying a total pf 119,434438 common shares from Rappler, Inc. at P1 per share and "acted as a middleman whose profits were taxable under the Tax Code."
DOJ statement on Rappler's tax evasion case.?@PhilippineStar? pic.twitter.com/8StS9jbAiq

— evelynzmacairan (@EZMacairan) November 9, 2018
July 27, 2018
The Court of Appeals denied the petition of online news site Rappler to reverse the ruling of the Securities and Exchange Commission, which revoked its business registration.
In its decision issued Thursday, the apellate court said, "Preliminary, this COurt notes that the exercise of press freedom is not an issue in this case. Rather, the issue involves the exercise of regulatory powers by the SEC over domestic corporations duly registered with it."
May 7, 2018
Rappler CEO Maria Ressa denies the P133-milion tax evasion charge before the Department of Justice. She also accuses the Bureau of Internal Revenue of selective prosecution, reports The STAR's Edu Punay.
March 8, 2018
Rappler's woes continue as the Bureau of Internal Revenue files a criminal complaint accusing the news organization, which has been critical of President Duterte, of "willful attempt to evade or defeat tax and for deliberate failure to supply correct and accurate information in its annual income tax return."
March 1, 2018
Presidential spokesman Harry Roque says the donation of foreign investor Omidyar Network of its $1.5-million investment to Rappler's 14 Filipino managers is an admission that the Constitution was violated.
February 28, 2018
Malacañang is not convinced that Rappler is already cleared from the dismissal order by the Securities Exchange Commission following news that investor Omidyar Network has donated $1.5 million in Philippine Depository Receipts to Rappler's managers.
"It does not remove the fact that Rappler breached the Constitution," says presidential spokesperson Harry Roque.
Presidential spokesman Harry Roque: This latest act is nothing but a circumvention of the law, which restricts ownership of media entities in the country to 100 percent Filipino-owned @PhilippineStar @PhilstarNews

— Alexis B. Romero (@alexisbromero) February 28, 2018
Roque also slammed the news outfit's cry for protecting press freedom, dismissing it as a "ploy to distract from the real issue."
The Omidyar Network bought PDRs of Rappler, supposed giving it some form of control over the media entity. The Constitution only allows media organization to be 100-percent Filipino controlled.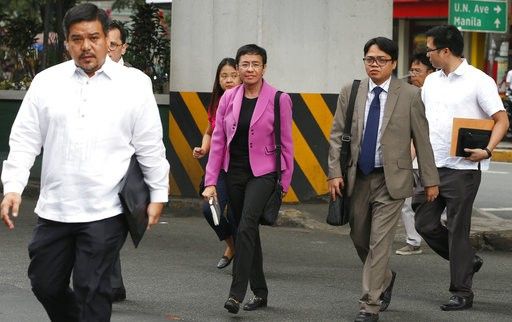 February 22, 2018
President Rodrigo Duterte says he was only invoking an executive action based on the ruling of the Securities and Exchange Commission (SEC) when he ordered to ban Rappler reporter Pia Rañada to cover Malacañang events.
"It is not a legitimate agency, according to SEC," Duterte told reporters in a press briefing in Iloilo.
The Rappler reporter will be allowed to cover again once the online news site proves that they are legitimate, the president said.
"O baka CIA-sponsored bawal rin 'yan... That is the history of America's CIA and 'yung political dissenters inaalagaan nila. Eventually mamili 'yan sila ng kandidato na mautusan nila kagaya nito ngayon," he said.
(They may be CIA-sponsored, that is illegal too... That is the history of America's CIA and they are taking care of political dissenters. Eventually they will choose a candidate that they can control.)
February 22, 2018
Presidential spokesperson Harry Roque likens President Duterte's order to ban Rappler from Malacañan complex to a house owner who does not want annoying visitors. Roque is speaking at a press briefing:
Sa sarili niyong tahanan, babastusin kayo ng bisita, masisisi nyo ba kung palalabasin ninyo sa tahanan ang nambastos?
In August 2016, two months after he assumed power, Duterte said he wanted to rename the presidential residence as the "People's Palace" and announced it would be open to the public.
"I have a new policy: You can now go inside Malacañang," he said to an audience in Tondo, Manila.
February 22, 2018
Salvador Panelo, the president's chief legal counsel, says the barring of Rappler from Palace premises is because of its production of "fake news." Panelo told ANC's "Early Edition" that other people spreading so-called fake news should similarly be banned.
Panelo, however, refuses to admit that the president's own staff who are spreading lies should be prevented from accessing Palace grounds. He defends Presidential Communications Assistant Secretary Mocha Uson, who runs a popular Facebook-based blog, as having committed "mistakes" which are different from "fake news."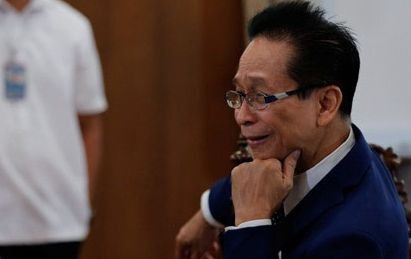 February 21, 2018
Malacañang continues to show animosity toward Rappler. The beleaguered news site reports that Pia Ranada, its main reporter covering President Rodrigo Duterte, is no longer just restricted from entering the Palace. She informed that she is now banned from the entire Malacañan compound.
Ranada was previously told that it was the president himself who gave the initial order.
February 21, 2018
The Malacañang Press Corps stands by Rappler reporter Pia Ranada who was banned from the Palace's New Executive Building the day after President Rodrigo Duterte's aid Bong Go, censured the news outlet as producing "fake news."
The press corps insists it has the prerogative to revoke the membership of a news organization.
Here's part of the reporters covering the president's statement:
Rappler will remain a member of the Malacañang Press Corps (MPC) unless the Court of Appeals upholds the decision of Securities and Exchange Commission (SEC) revoking its registration.

MPC, an independent organization of journalists regularly covering the president and Malacañang activities, asserts its prerogative to accept, suspend or revoke membership to the body.

While we respect the discretion of Malacañang to set accreditation rules for presidential events, we deplore any arbitrary attempt to bar access and harass reporters performing their duty as an independent monitor of power and guardian of public interest.
The group of journalists also called on the Palace to be transparent about the grounds the restriction imposed on their colleague. — Report from Alexis Romero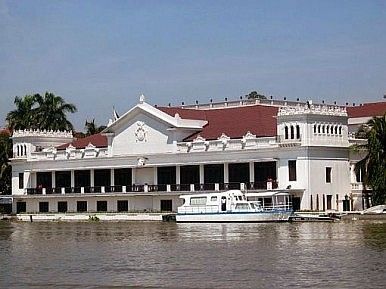 February 20, 2018
Malacañang says Rappler's accreditation as part of the press corps has ended. Senior Deputy Executive Secretary Menardo Guevarra says in a statement:
The Executive Secretary's position as relayed to presidential spokesman Harry Roque is this: unless the [Court of Appeals] issues a [temporary restraining order] against the [Securities and Exchange Commission] ruling, Rappler's accreditation with the Malacañang Press Corps has accordingly ceased.
Here's a video by STAR reporter Alexis Romero which shows Rappler reporter Pia Ranada being barred from covering a Palace event.
Palace answers questions on barring of Rappler reporter Pia Ranada from entering Malacañan New Executive Building to cover. It was later clarified that Ranada is allowed to enter the New Executive Building but not Malacañan, where the president's events are held.