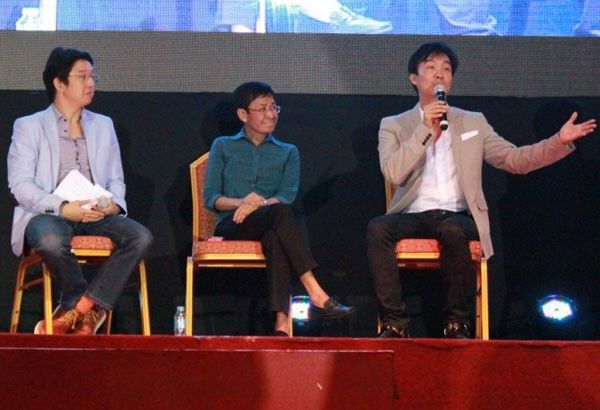 Rappler CEO Maria Ressa (center) at a forum for students in Cebu.
File photo
SEC revokes news site Rappler's registration
MANILA, Philippines (Updated 4:21 p.m.) — The Securities and Exchange Commission on Monday ordered the revocation of online news site Rappler's business registration over questions on foreign ownership that the site has long addressed.
In a statement, Rappler said the SEC "is ordering us to close shop, to cease telling you stories, to stop speaking truth to power, and to let go of everything that we have built – and created – with you since 2012."
"The [SEC] En Banc finds Rappler, Incorporated and Rappler Holdings Corporation, a Mass Media Entity and its alter ego, liable for violating the constitutional and statutory Foreign Equity Restriction in Mass Media, enforceable through laws and rules within the mandate of the commission," the SEC order reads.
"The SEC's kill order revoking Rappler's license to operate is the first of its kind in history – both for the Commission and for Philippine media," Rappler said in a statement.
In his State of the Nation Address in July 2017, President Rodrigo Duterte claimed that Rappler is owned by foreigners and should be investigated.
Rappler has contended that its funding from Omidyar Network is through Philippine Depositary Receipts.
"A PDR is a financial instrument that does not give the owner voting rights in the board or a say in the management or day-to-day operations of the company. Several large media companies have PDRs," Rappler said in its report on the SEC decision.
Solicitor General initiated Rappler probe
The SEC issued the 29-page ruling on January 11.
It was penned by SEC chair Teresita Herbosa. Commissioners Antonieta Ibe Ephyro Luis Amatong, Emilio Aquino concurred. Commissioner Blas James Viterbo did not sign the ruling.
The investigation into issues on Rappler's ownership was prompted by a letter from the Office of the Solicitor General in December 2016.
"The Commssion en banc received letter dated December 14, 2016 requesting investigation into Rappler Inc., Rappler Holdings for any possible contravention of strict requirements of the Constitution with regard to the issuace of the PDRs (Philippine Depositary Receipts) to NBM (North Base Media) Rappler, LP and Omidyar Network Fund LLC in 2015," the ruling read.
Rappler then responded to the notice of conference called for by the SEC's Company Registration and Monitoring Department.
In its statement on the decision, Rappler said "we have consistently been transparent and above-board in our practices."
It added: "Every year since we incorporated in 2012, we have dutifully complied with all SEC regulations and submitted all requirements even at the risk of exposing our corporate data to irresponsible hands with an agenda. Transparency, we believe, is the best proof of good faith and good conduct."
The SEC en banc, issued Resolution 437, Series of 2017, in July 2017 and formed a special panel to conduct a formal investigation.
According to SEC, Rappler Holdings Corp. "acted with deceit in a scheme to justify the grant of control and also financial returns, to foreign investors when they sold the Omidyar Network PDR."
Rappler Inc. allegedly formed Rappler Holdings Corp., with all Filipino shareholders, directors and officers, for the "sole purpose of issuing PDRs wich derive their value from equity" in December 2014.
The investigation also showed that Rappler Holdings Corp. in 2015 purchased Rappler Inc.'s shares and issued derivatives to two foreign investors: North Base Media and Omidyar Network.
In a statement prior to the ruling, Rappler denied the allegations that it violated the constitutional and satutory Foreign Equity Restrictions, maintaining that it is Filipino owned.
"Philippine Depositary Receipts (PDRs) do not indicate ownership. This means our foreign investors, Omidyar Network and North Base Media, do not own Rappler," the news site said.
NUJP throws support behind Rappler
The National Union of Journalists of the Philippines on Monday expressed outrage at the revocation of Rappler's business registration.
"We are sure Rappler, as it has said, is capable of mounting a legal defense against what amounts to theit closure," NUJP said in a statement on Monday afternoon on the heels of news on the SEC decision.
NUJP said Duterte's threat to have Rappler investigated was one of many that the president has made against media perceived critical of the adiministration "such as the Philippine Daily Inquirer and broadcast network ABS-CBN, whose franchise renewal he threatened to block."
The NUJP said it "declares its full support to Rappler and all other independent media outfits that the state has threatened and may threaten to shut down."
It also called on "all Filipino journalists to unite and resist every and all attempts to silence us."
Meanwhile, Rappler executive director and CEO Maria Ressa stood by her media outfit and said they will fight the SEC decision using all legal means.
"We will not be afraid. We will not be silenced. Rappler will not go down," Ressa said. — with Jonathan de Santos