US and Taiwan
+ Follow Story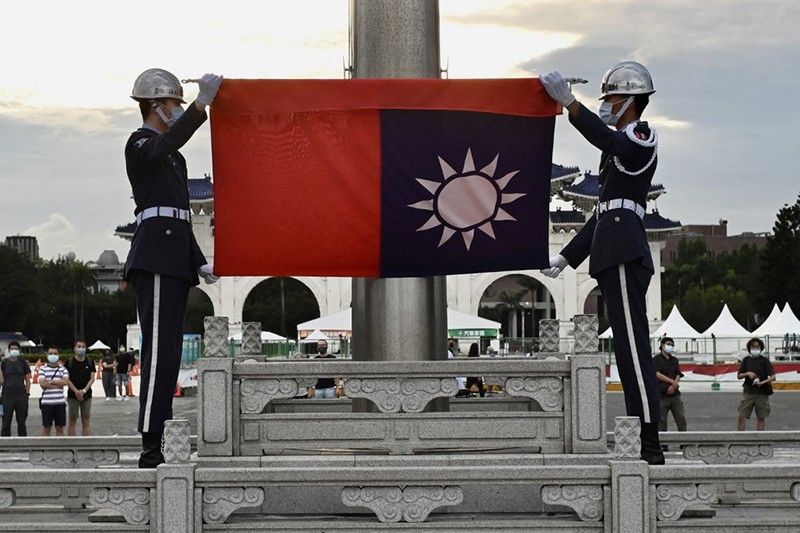 1 day ago
China's recent decision to fire missiles over Taiwan is a "gorilla in the room" that has to be contested, a top US military commander said Tuesday.
Beijing has carried out huge air and sea drills this month around Taiwan in a furious reaction to visits by US House Speaker Nancy Pelosi and a congressional delegation.
Those exercises included firing multiple ballistic missiles into waters off Taiwan -- some of the world's busiest shipping routes -- and it was the first time China has taken such a step since the mid-1990s.
"It's very important that we contest this type of thing. I know that the gorilla in the room is launching missiles over Taiwan," Seventh Fleet Commander Vice Admiral Karl Thomas told reporters in Singapore.
"If we just allow that to happen, and we don't contest that, that'll be the next norm," he added.
"It's irresponsible to launch missiles over Taiwan into international waters, where the shipping lanes, where free shipping operates."
The Seventh Fleet is based in Japan and is a core part of Washington's navy presence in the Pacific. -- AFP
1 day ago
A Chinese research vessel has entered Sri Lanka's Chinese-run southern port of Hambantota despite concerns from India and the United States about its activities.
The Yuan Wang 5 entered the Hambantota deep sea port after securing permission to enter Sri Lankan waters on the condition it will not engage in any research, port officials says.
The vessel was originally due to arrive last week, but Colombo asked Beijing to defer the visit following objections by India, which shares Western concerns about Chinese activities in the region.
But on Saturday, after intense negotiations, Colombo announced a U-turn, saying permission had been granted for the ship to dock at Hambantota and remain for six days. — AFP
2 days ago
United States lawmakers are set to meet Taiwan's president on Monday days after China reacted to a similar visit by House Speaker Nancy Pelosi with huge military drills that raised fears of conflict.
The unannounced two-day trip came after Beijing sent warships, missiles and jets into the waters and skies around Taiwan, a self-ruled democracy that China's leaders claim and have vowed to one day seize.
The five-member congressional delegation -- led by Senator Ed Markey of Massachusetts -- was due to hold a meeting with President Tsai Ing-wen on Monday morning followed by a banquet at the foreign ministry.
Their visit will focus on trade, regional security and climate change, Washington's de facto embassy in Taipei says. — AFP
August 13, 2022
The United States will boost trade with Taiwan in response to China's "provocative" behavior, the White House says, as it insists on the right of air and sea passage through the tense strait.
A new trade plan will be unveiled within days, while US forces will transit the Taiwan Strait in the next few weeks, says Kurt Campbell, White House coordinator for Asia-Pacific issues and an adviser to President Joe Biden.
The statement came after Beijing raged at last week's trip by US House Speaker Nancy Pelosi, launching its largest-ever military drills around the self-ruled island. — AFP
August 6, 2022
Chinese missiles flew over Taiwan during Beijing's latest military drills, state media reports, as the country pressed ahead with exercises encircling the island following a visit by US House Speaker Nancy Pelosi.
Pelosi was the highest-profile US official to head to Taiwan in years, defying stark threats from Beijing, which views the self-ruled island as its territory.
China launched a series of exercises in multiple zones around Taiwan in response, straddling some of the busiest shipping lanes in the world.
Beijing is yet to formally confirm whether missiles overflew the islands during the drills, while Taipei has refused to confirm or deny the flight paths, citing intelligence concerns.
But Japan's defence ministry says of the nine missiles it had detected, four were "believed to have flown over Taiwan's main island". — AFP
August 4, 2022
Southeast Asian foreign ministers urge restraint as China readied massive military drills off Taiwan, warning the situation risked spiralling into "open conflicts".
A furious Beijing is planning its biggest-ever exercises around Taiwan in response to US House Speaker Nancy Pelosi's visit to the self-ruled island.
Ministers from the 10-member Association of Southeast Asian Nations (ASEAN) meeting in Phnom Penh warn against "provocative action".
The situation "could lead to miscalculation, serious confrontation, open conflicts and unpredictable consequences among major powers," the ministers say in a joint statement. — AFP
August 4, 2022
China is due on Thursday to kick off its largest-ever military exercises encircling Taiwan, in a show of force straddling vital international shipping lanes following a visit to the self-ruled island by US House Speaker Nancy Pelosi.
Pelosi left Taiwan Wednesday after a less than 24-hour visit that defied a series of increasingly stark threats from Beijing, which views the island as its territory.
The House speaker, second in line to the presidency, was the highest-profile elected US official to visit Taiwan in 25 years. — AFP
August 3, 2022
Chinese Foreign Minister Wang Yi vows Wednesday to punish those who offend Beijing, state media reported, as the country seethes over US House Speaker Nancy Pelosi's visit to Taiwan.
"This is a complete farce. The United States is violating China's sovereignty under the guise of so-called 'democracy'... those who offend China will be punished," Wang says on the sidelines of a meeting of the Association of Southeast Asian Nations (ASEAN) in Phnom Penh. — AFP
August 3, 2022
Southeast Asian foreign ministers will seek ways to help quell the diplomatic storm over Taiwan at regional talks Wednesday, after US House Speaker Nancy Pelosi arrived on the island, enraging Beijing.
Pelosi's dramatic late-night flight to Taipei, defying threats of reprisals by China, looks set to dominate the meeting of the Association of Southeast Asian Nations (ASEAN) in Phnom Penh, which had been expected to tackle the bloody crisis in Myanmar.
Attention will focus instead on Chinese Foreign Minister Wang Yi and his American counterpart Antony Blinken -- both flying into the Cambodian capital for regional security talks with ASEAN on Thursday and Friday.
ASEAN spokesman Kung Phoak, Cambodia's deputy foreign minister, says the meeting would seek to calm the waters. — AFP
August 2, 2022
China warns that the United States will "pay the price" if US House Speaker Nancy Pelosi visits Taiwan, as tensions between Beijing and Washington soar.
"The US side will bear the responsibility and pay the price for undermining China's sovereign security interests," foreign ministry spokeswoman Hua Chunying says at a regular press briefing. — AFP
July 31, 2022
US House of Representatives Speaker Nancy Pelosi will lead a congressional delegation to the Asia-Pacific region, her office confirmed on Sunday, with stops in Singapore, Malaysia, South Korea and Japan.
The statement made no mention of whether the six-member delegation would visit Taiwan, a flashpoint in conversations between China and the United States in the run-up to the trip.
"The trip will focus on mutual security, economic partnership and democratic governance in the Indo-Pacific region," Pelosi's office said in a statement. -- AFP
June 17, 2022
China launches its third aircraft carrier, the first designed and built entirely in the country, marking a major military advance for the Asian superpower.
The announcement comes as tensions between China and the United States have ramped up significantly in recent weeks over Beijing's sabre-rattling towards self-ruled Taiwan, which it views as a breakaway province to be seized by force if necessary.
Launched in a Shanghai shipyard to great fanfare, the Fujian is more technically advanced than the other Chinese carriers. — AFP
June 9, 2022
Taiwan welcomes US approval of a $120 million sale of naval equipment that the two allies said would bolster the island's "combat readiness" and ability to work with American forces.
Self-ruled, democratic Taiwan lives under constant threat of invasion by authoritarian China, which views the island as part of its territory to be retaken one day -- by force if necessary.
Under a law passed by Congress, the United States is required to sell Taiwan military supplies to ensure its self-defense against Beijing's vastly larger armed forces. — AFP
Follow this page for updates on the diplomatic relation between the US and Taiwan. (Photo courtesy of AFP/Sam Yeh)