'Sneaky!': Harry Styles responds to marriage proposal at 2023 Manila concert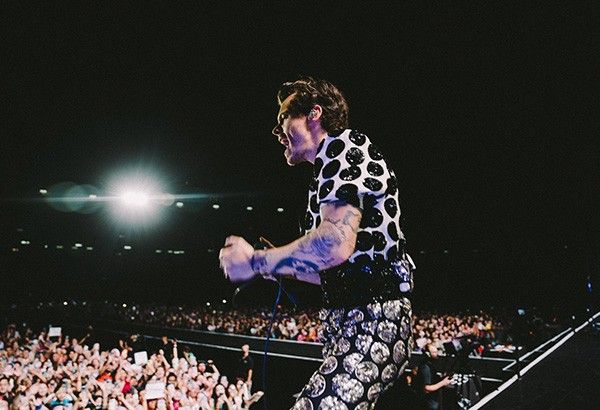 MANILA, Philippines — It's been five years, three Grammy Awards, two albums, and one Album of the Year win, but Harry Styles has finally made it back to the Philippines.
The COVID-19 pandemic prevented Harry from bringing his "Love On Tour" much earlier, but the British singer eventually came around to make his third visit to the country — his second as a soloist.
The Philippine Arena was swarming with people in colorful outfits, ranging from clothes inspired by fruits and love, or simply in 'fits that very much resembled Harry's style.
Presented by Live Nation Philippines, the Manila leg of "Love On Tour" started promptly. At about the middle of the night, Harry took another break for a sip and to read a few of the signs people in the VIP Standing area had brought, including one fan whose sign said she had just seen him at his Bangkok concert a few days earlier.
He scolded one fan for attempting to propose to him, "Sneaky! We should get to know each other first. 2023 is the year we shoot our shot!"
Related: Harry Styles wins the Grammy for Album of the Year, beats Beyonce, Adele
Coincidentally, the last sign he read was from a woman named Michelle who said her boyfriend Jeff would propose to her right then and there if Harry did it with him.
Harry took up the challenge and invited Jeff to pick a song to propose to — he chose Harry's first-ever single "Sign of the Times" and Harry obliged, even changing some of the lyrics to "Michelle is gonna marry Jeff."
Jeff indeed proposed to Michelle and the crowd shared in the joyous moment. Harry promised he would sing "Sign of the Times" again later in the show, but for the meantime he asked everyone to dance for his next few songs.
"Manila thank you so much... mahal ko kayong lahat, maraming salamat Philippines, maraming salamat," Harry said as he closed the main set, even greeting some people a happy birthday.
RELATED: 'Mahal ko kayong lahat!': Harry Styles performs One Direction song, brings the house down at Philippine 2023 concert