'Mahal ko kayong lahat!': Harry Styles performs One Direction song, brings the house down at Philippine 2023 concert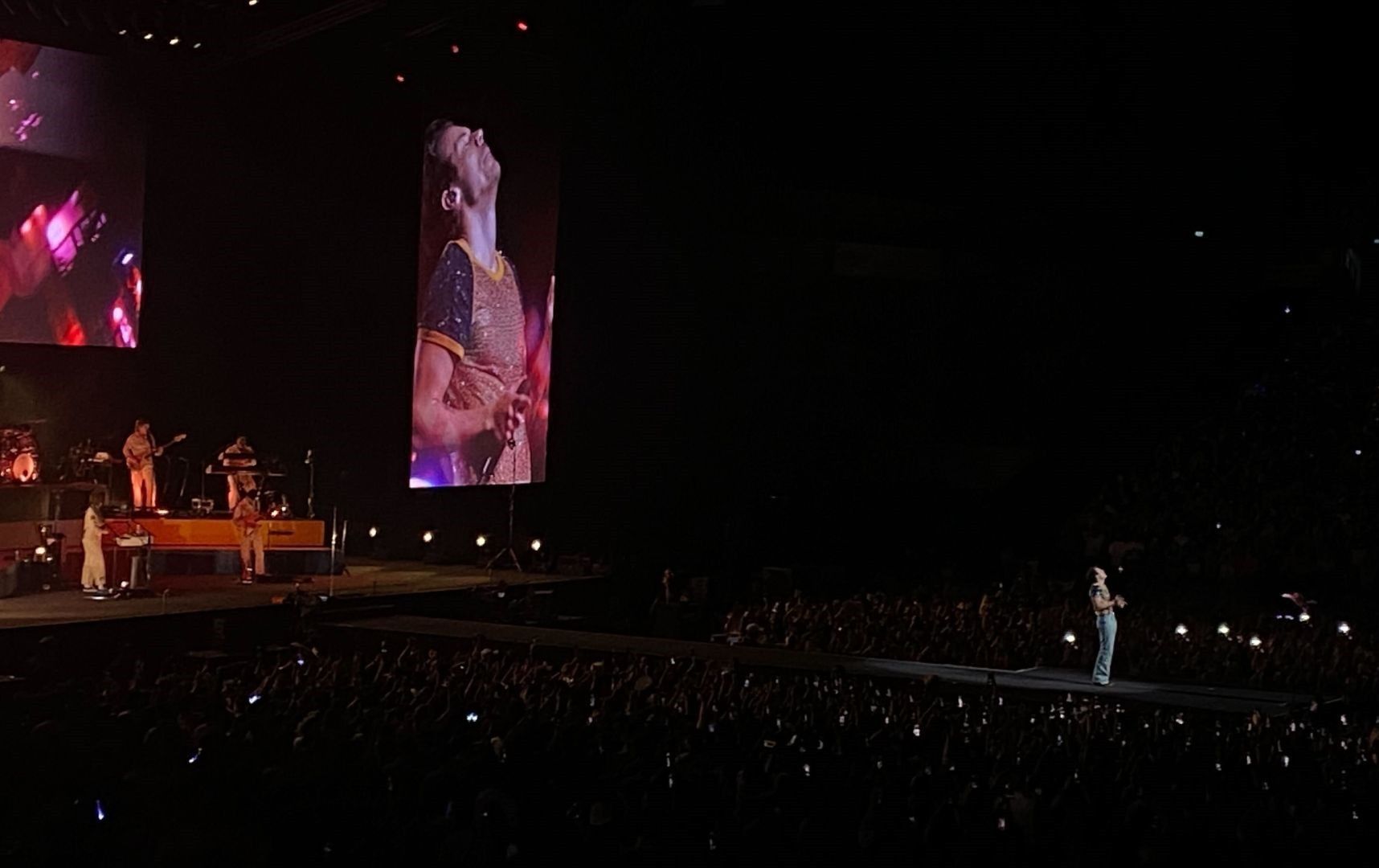 MANILA, Philippines — It's been five years, three Grammy Awards, two albums, and one Album of the Year win, but Harry Styles has finally made it back to the Philippines.
The COVID-19 pandemic prevented Harry from bringing his "Love On Tour" much earlier, but the British singer eventually came around to make his third visit to the country — his second as a soloist.
The Philippine Arena was swarming with people in colorful outfits, ranging from clothes inspired by fruits and love, or simply in 'fits that very much resembled Harry's style.
Presented by Live Nation Philippines, the Manila leg of "Love On Tour" started promptly as Harry stepped from behind the colorful platform where his touring band were playing, dressed in a sprarkly blue and gold T-shirt, teal-gray jeans, and Adidas x Gucci Gazelles as he performed the opener "Music for a Sushi Restaurant" — the first track of his newest album "Harry's House."
Harry then strapped on a guitar and greeted the crowd, "Maraming salamat Philippines!," and performed "Golden" from his second album "Fine Line"; he followed it up with "Adore You" from the same album, and as he sang he was checking the people out, blowing them kisses and waving.
After a sip of water, Harry took a moment to talk to the audience in the Philippine Arena, "Kamusta Philippines! Good evening people of Manila, my name is Harry," noting that it's been five years since his last solo concert in the country.
"Our job tonight is to entertain you, we promise to do that," Harry said, and asked that the crowd enjoy and danced along. "We're gonna have some fun, we're gonna do it together. Are you ready? Are you sure? Let's go!"
Related: 'Thank you for stopping by': Makati shopping mall gushes over Harry Styles' visit
Right there, Harry performed "Keep Driving," brought back a guitar for a wonderful rendition of "Daylight," and "Woman" — toward the latter, Harry even danced behind the platform as his guitarist and drummer performed solos.
"Manila make some noise! Are you feeling good?" the former One Direction member said after the three continuous songs. "Thank you for your support. It's been a great privilege to perform here... thank you so much."
Harry then toned things down as he went further up the stage with two guitarists to perform "Matilda," a song from "Harry's House" which he considers very special to him; the Album of the Year Grammy winner started out the song quietly, but the crowd soon joined him in the emotional chorus.
He belted the bridge in the high notes placed on the track, then asked the crowd to finish the song, "You can let it go, you can throw a party full of everyone you know. You can start a family who will always show you love, you don't have to be sorry for doing it on your own."
Still in the same place, Harry followed up with "Little Freak." Later, the two guitarists returned to the platform but Harry stayed to perform "Satellite," where he included his viral "Satellite Stomp," much to amusement of the crowd.
Related: 'Sneaky!': Harry Styles responds to marriage proposal at 2023 Manila concert
In succession, Harry performed "Cinema," "Treat People With Kindness," and a revamped version of One Direction's "What Makes You Beautiful," which Harry had co-written with his groupmates.
During the chorus of "Treat People With Kindess," a portion of the VIP Standing crowd began a conga and Harry waved a pride flag up and down the stage, and in "What Makes You Beautiful," he danced with his percussionist Pauli.
After introducing his touring band and praising the crowd once more, Harry performed "Late Night Talking," "Watermelon Sugar," and "Love of my Life."
"Manila thank you so much... mahal ko kayong lahat, maraming salamat Philippines, maraming salamat," Harry said as he closed the main set, even greeting some people a happy birthday.
Related: Harry Styles sweeps board at Brit Awards, acknowledging 'privilege'
Following a brief intermission, a spotlight shone on Harry as he fulfilled his promise to sing "Sign of the Times," and the crowd responded by flashing their cellphone light and belting the final lyrics.
"Manila did you have a good time with us tonight? You've been absolutely wonderful, thank you for the warm, warm welcome back," Harry said. "You can do whatever you want, you can go anywhere, you can do anything. I promise this is a good thing."
Harry then thanked his band, the backstage crew of the Philippine Arena, and "each and every single one in the building" for changing his life before proceeding to singing the humorous Banana Song after spotting six people in the crowd in banana suits, "It's a shame we waited until the encore to do that."
Some people thought the encore ended there, but then the words "Come on Harry, we wanna say good night to you" screeched through the speakers and the singer was in full swing for his chart-topper "As It Was."
During the song's bridge, the crowd emphasized loudly the line "Leave America," to which Harry replied with a resounding "Okay!"
Harry then walked up the stage to throw water into the crowd and bow, but the audience kept cheering "Kiwi!" until he finally performed his closing song.
During "Kiwi," he danced with Pauli once more, and to cap the night off he took the pride flag from earlier to place it on a mic stand and did The Whale — a crowd favorite move where he blew water into the air, officially baptizing the Philippines as a member once more of Harry's House.
RELATED: WATCH: Harry Styles drinks from shoe at Australia concert