Elton John a billionaire concert artist soon
February 5, 2023 | 12:00am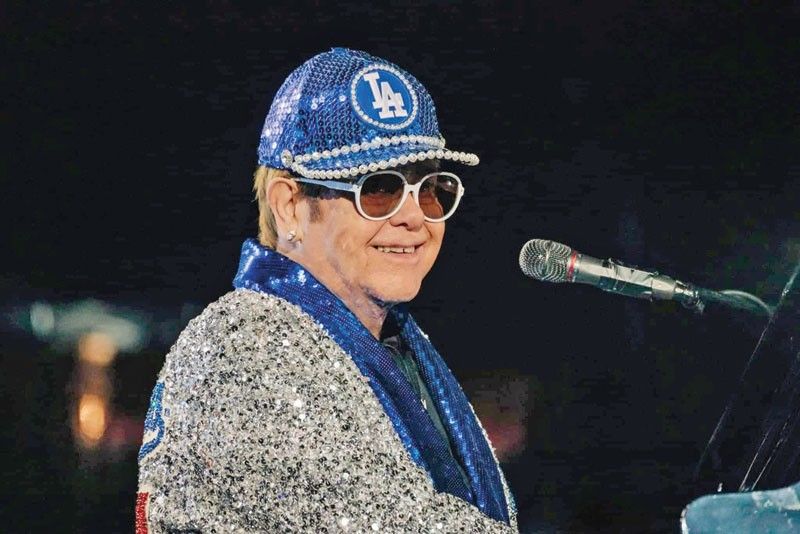 Sir Elton John is seriously on the road to set a new enviable, hard to top and I must say only dreamed of, record soon. And that is as the first pop music star to make a billion dollars in a concert tour. As of this writing, Elton has already earned, well, I do not really know if net or gross, but whatever, $817.9M in his Goodbye Yellow Brick Road Tour. He has already passed former record holder Ed Sheeran, who made $776.4M during the 258 shows of the Divide (÷) Tour and former second placer U2, which made $736.4M from the 360 Tour. That means that Elton only needs something over $182.1M to reach the record setting one billion bucks. Adding another date or two to his tour will surely accomplish that feat.
Remember that way back in January, 2018, Elton announced that he was retiring from performing. But not so fast, he will only retire after he had finished a worldwide farewell tour. I guess he wanted to revisit all those places where he experienced his many triumphs. So on September of that same year, Elton embarked on the Goodbye Yellow Brick Road Tour, which will be made up of 278 shows, more than any tour in Boxscore history.
As we all know, the pandemic happened and like all other live performances, the tour was put on hold starting in 2020. But life is better now and we are able to watch live concerts again. No word if Elton will be visiting Asia soon. He is set to go around the UK starting March. Then after a huge gig at the O2 in London, he is going to visit Germany and then France until the middle of the year. Then maybe he will announce new dates that might include Asia.
Those who have seen him perform know how frenetic he is on stage. He also keeps a grueling schedule. That is no joke for a 77-year-old. But thank heaven, he is in good health and he is doing what he loves. That is bringing his great music to his fans of the past 50 years or so all over the world. That means songs that have become the soundtrack of the lives of millions and millions and millions. No wonder his concert tickets are selling like mad.
It is also no wonder then that his lifetime hits compilation album Diamonds continues to be in the Top 200 Albums chart. It is at a high number 14 after 272 weeks. People watching his shows and fans unable to watch his shows are probably all buying the album to treat themselves to the music of Elton John covering the period of 1970 to 2016.
Now a triple Platinum seller, Diamonds is in an excellent career spanning album. It comes in a two-disc vinyl set, as a single CD, a double CD and the boxed set of three CDs, which comes with a book. My only beef here is that if you want all of Elton, your only choice is to buy the pricey boxed set. If you get only the two-CD set, you will lose Skyline Pigeon, Pinball Wizard, Part Time Love, That's What Friends are For, Written in the Stars from Aida with Lee Ann Rimes and other goodies.
But then, it is a fact that Elton has composed so many great songs with lyricists like Bernie Taupin and Tim Rice, that it is just impossible to get all of them into one or two discs. Don't forget Elton is one of the greats, maybe the greatest even. In fact, he was named by Billboard as the top solo artist of all time. He actually came in third in the tally but in first and second places were The Beatles and the Rolling Stones, so he is No. 1 as a soloist.
Then, soon maybe also the first billionaire concert performer. That is thanks to songs like Your Song, Tiny Dancer, Rocket Man, Honky Cat, Crocodile Rock, Daniel, Saturday Night's Alright for Fighting, Goodbye Yellow Brick Road, Candle in the Wind, Bernie and the Jets, The Bitch is Back, Philadelphia Freedom, Island Girl, Someone Saved my Life Tonight, Don't Go Breakin' My Heart, Sorry Seems to be the Hardest Word, Can You Feel the Love Tonight and so many others.