Gloc-9 and Thyro collab in Kagat ni Eba
September 14, 2022 | 12:00am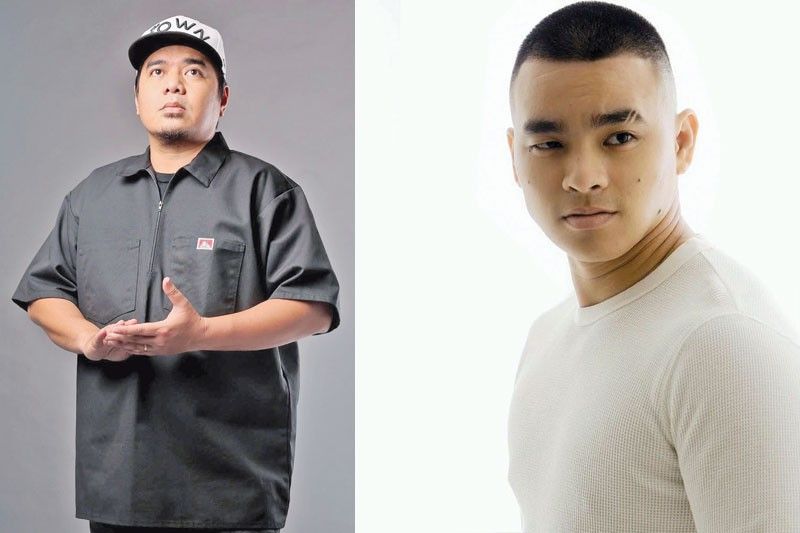 Check out The Escort Wife on Vivamax and you will come across one of the most compelling rap tunes ever heard. This is Kagat ni Eba, a collaboration by two giants of Pinoy pop music, the master rapper Gloc-9 and the multi-awarded hitmaker Thyro Alfaro.
Gloc-9 is the man responsible for such memorable rap recordings as Upuan, Simpleng Tao, Laklak with Dong Abay and my all-time favorite Sirena. Under Alfaro's belt are hits like Triangulo, Kiss, Dati, Ginto and others. Finding them together in a new release is like hitting upon a gold mine. Think masterpiece.
Kagat ni Eba is very strong and compelling from the get-go. The pronounced beat gets a sense of eerie foreboding with the synth interlude. Very apt indeed for the song's theme, which is about a woman's revenge. With Gloc-9 and Alfaro writing together about this tale, the result is powerful poetry.
Gloc-9 raps "…Kahit ang pako ay nasasagad, ang duwag pumapalag/ gapos ay nakakalag, lason ay tumatalab/ liham ay nagliliyab, haligi may natitibag/ alaalang parang salamin, nagkabasag basag/ hinayaan mo kasing uhaw/ naasiman na sa lahat ng mga pangako mong hilaw/ di mo inakala na siya mismo ang tutuklaw/ at ang siyang magtatapos sa ang nagsimula ay ikaw…
"Mahuhumaling sa maamo mong mukha/ 'di akalain na sa 'yo magmumula/ ang hapdi sa latay at haplit ng iyong galit/ nakakubli sa bango at kagandahan mong gamit…"
And then Alfaro's soaring vocals comes in. "Pag gumanti si Eba, kahit ahas ay aamo/ gusto mo ng pruweba, katinua'y maglalaho/ pag gumanti si Eba, lahat ng malinaw lalabo/ simula na ng gera, pag gumanti si Eba/ pag gumanti si Eba/ pag gumanti si Eba…."
I say that listening to Gloc-9 and AIfaro certainly makes me wonder what sort of revenge this Eba of The Escort Wife has in store for the man who betrayed her. The steamy flick is directed by Paul Basinillo and stars Janelle Tee, Ava Mendez and Raymond Bagatsing.
Now, I do think the music is also one of the stars of this movie. This is because Basinillo also bagged another great song for his soundtrack. Aside from Kagat ni Eba, The Escort Wife also features Usok performed by Shanne Dandan of the heavenly tones and today's biggest selling hip-hop star Lo Ki.
Usok is a folk-rock classic from the '70s. It is a composition by the legendary Lolita Carbon and was originally recorded and turned into a huge hit by her group Asin. Dandan sings the famous lyrics beautifully. If I remember right, she earlier recorded another Asin classic Himig ng Pag-ibig. And then Lo Ki raps.
The reclusive Lo Ki has been a mainstay in the charts these past weeks because of his hit tune Kagome. Think 39 million hits and that is only the original video on YouTube. Listen if you want to find out what that title means. It was, by the way, used in another Vivamax movie titled Hugas. Let us wait and see if he will be able to duplicate the feat with his follow-up single Manifest. Maybe it will help if the track will be used in a Vivamax flick.
Speaking of hip-hop music, such also figure prominently in the sex and gang-war plot of Sitio Diablo, which is also on Vivamax, which seems to have become a productive outlet for hip-hop. Director Roman Perez Jr., not only used rap music in the soundtrack. He also tapped rappers to play key roles in the picture.
Taking their turn as actors are rappers Because of BMW fame, Pio Balbuena, Drizzy Ace and Cean Jr. They play angry young men involved in the gang war and they also rap about it with new works in the soundtrack.
These are the theme Diablo by Because, Cean Jr., Pio and Just Hush; Usapan by Because and Cean Jr; Sungay by Because; Sungay II by Because, Drizzy Ace ft. FTD; Huwad by Flow Minister and Louna; and Hirap o Sarap by Cean Jr.